Artist-Technicians are at the Core of Filmmaking
Location : UR CAMPUS – Jepson School Lecture Room 118
Cinematographer Pierre-William Glenn with Rémy Julienne, THE Artist-Technician of Stunts

Pierre-William Glenn, President of the High Commission on Cinema Technologies (CST), and professor at La FEMIS, worked closely with François Truffaut as his choice cinematographer for "action and contemporary films" such as La Nuit américaine (Day for Night), for example. On this award-winning film, Truffaut and Glenn worked with renowned stuntman and stunt director Rémy Julienne. This master class and discussion moderated by Pierre-William Glenn allows us to meet with THE Master of Stunts, Rémy Julienne, and to enter into the universe of this "Flying Frenchman's" inventiveness, technical innovations, and engineering feats behind scenes from many of his stunts which have marked the history of world cinema.

Everyone knows and has been mesmerized by the extraordinary artistic-technical, acrobatic and mind-blowing work of Rémy Julienne. From international blockbusters like Da Vinci Code, 007 James Bond films, French Connection II, Operation Condor, Frantic, La Grande Vadrouille, Fantomas, to films where he worked sideby- side and mentored French stars and friends such as Jean-Paul Belmondo and Alain Delon, Rémy Julienne's filmography of more than two hundred films is packed with adventure which appears to defy physics. Whether in automobiles, on motorcycles or speedboats, hanging from helicopters, looping in planes, or jumping off waterfalls, Rémy Julienne has masterfully stunned and fascinated us all. Rémy is the first to say that one of the keys to his craft and art is actually meticulously planning a film's stunts in order to reduce the risk involved. Director Claude Lelouch says, Julienne is "a scientist, the Einstein of stuntmen". For decades, Rémy Julienne's ingenuity has been sought out by directors throughout the world. Chinese director, John Woo, states that Julienne is "the biggest pro that he has ever met". Whether we know it or not, we are all familiar with Rémy Julienne's work captured in unforgettable films and spectacular television ads. Not everyone however knows the man himself and even fewer people realize that stunt(men) coordinator is one of the many artist-technician professions in the cinema industry responsible for bringing spectators back to see films on the big screen. Film economists would argue that Rémy's artistry is what keeps bringing large crowds to the ticket booth. In 2014, French television aired the new documentary Rémy Julienne, 50 ans de cascades. One can find his autobiographies Rémy Julienne, ma vie en cascades and Rémy Julienne, silence … on casse!, as well as dozens of articles and interviews with him in popular and professional journals and magazines, but if you missed those, here is your chance.

During this Master Class, you will tell yourself as Rémy discusses his famous stunts, "Wow! That was Rémy!!!". Yes, those scenes are his and now he comes from France to Richmond to share with us his science and technology behind his art. Rémy Julienne has also contributed his skills and talents to help develop the now popular airbags found in automobiles. First-responders and firemen receive training by Rémy on automobile safety and accident prevention. Scotland Yard has even called upon Julienne's expertise in helping British and French authorities resolve the mysterious death of Isabel Peake, a UK student who was studying in Paris. In 2001, Walt Disney World asked Rémy to develop an attraction for their amusement parks in France and in Florida. This Master Class with Rémy Julienne will be a ride and adventure you will surely not want to miss.
Pierre-William Glenn describes his first encounter with Julienne: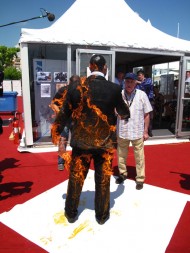 I met Rémy Julienne on a film by José Giovanni in 1971: Où est passé Tom? After having spent months in the hospital, he was recovering from a serious injury, torn ankle ligaments from a stunt. The director was asking him to reproduce the exact same stunt…
All of us were much more anxious and impressed than he was when he jumped from a car before precipitating it into a ravine. Five minutes afterwards, without waiting for congratulations or thanks, he was helping his crew dismantle the springboard….
I have always felt very close to stuntmen whose inventiveness, know-how, enormous courage, and generosity are linked to a rare modesty. Is that due to the fact that they should not be recognized when they stand in for actors? From the net in which he had just landed after a terrible free-fall, backward, of almost 20 meters, the first question Lionel Vitrant, another great athletic stuntman, asked me was « Were you able to recognize me? »
Rémy often says that if you would see him in a swimming suit, with all the scars on his body from so many blows and injuries for which he never complained, you would immediately understand… that he has not spent his life in an office. It is the humor of genuine people who really gave their lives to Cinema. Throughout my long career as a director of photography, I experienced, while filming them, unforgettable moments of closeness and communion with stuntmen. And that is why, for me, the star of the film La Menace is not the actor Yves Montand but truly Rémy Julienne…