Artist-Technicians are at the Core of Filmmaking
Location : UR CAMPUS – Jepson School Lecture Room 118
Processes and Approaches to Screenwriting
A masterclass by French screenwriters Juliette Sales and Fabien Suarez
Screenwriting is an art and a most rigorous craft. Screenplays are the driving forces of the entire filmmaking process. Nothing would move forward without a screenplay.

In this Master Class, co-screenwriters Juliette Sales and Fabien Suarez, whose screenplay turned into the hit movie Belle et Sébastien followed by two sequels Belle et Sébastien, l'aventure continue (still in post-production), and Belle & Sébastien, pour la vie still in the writing process, will address the following issues concerning their creative processes and approaches:
• items/subjects regarding the art of screenwriting; key elements of creating scripts for feature film and television, including story structure, plot, scene development, characterization, dialogue and shot breakdown
• writing and working with or for the film director
• screenwriting from a well-known children book and for television series
• considerations to take into account when writing for film vs television series?
• the screenwriting processes/approaches regarding Belle & Sebastien compared to Belle & Sebastien, l'aventure continue.
• how the above screenwriting experiences compare to other films they have written, for example,Poupoupidou and Je ne suis pas là pour être aimé (screened during the 14th and 20th French Film Festival-Richmond, Virginia)

This Master Class will be illustrated with video clips from their films.

About screenwritters Juliette Sales & Fabien Suarez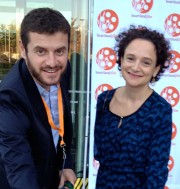 Juliette Sales studied at Sciences-Po and ESSEC before joining the University of Kent in Canterbury. In 1995, she started working as a producer for UGC Images on films such as Une femme française by Régis Wargnier and Libera me by Alain Cavalier.
In 1998, she starts writing scripts, exploring various genres. Her filmography includes an animation movie Piccolo, Saxo & co , a historical film Zaïna, raider of the Atlas, a dramatic comedy Je ne suis pas là pour être aimé (Not here to be loved) directed by Stéphane Brizé (4 nominations for the 2006 Césars, presented at the 14th French Film Festival), and a fantasy thriller, Dorothy, directed in Ireland by Agnès Merlet (4 nominations at the 2009 IFTAS).
She has also co-written a musical Toi, moi et les autres with director Audrey Estrougo (released in February 2011), and an eccentric thriller Poupoupidou with director Gérald Hustache Matthieu (released in January 2011, and presented at the 20th French Film Festival).
Fabien Suarez started his career at the age of 17, first as a stand-up comedian on numerous theater stages, in Paris and throughout France. At the same time, he wrote and directed several series of short-films for cable television channels.
In 1997, he started co-writing scripts (more than ten scripts for 90 minute TV series). At the same time, he directed two video-clips for French pop singer Tom Poisson.
He then started to co-write for cinema with a new adaptation of Treasure Island , directed by Alain Berberian, then Eclipse, a thriller directed by Philippe Liegeois staring Sophie Marceau, to be shot next summer in Toronto.
Juliette Sales and Fabien Suarez began writing and directing together in 2011. They have co-written Belle & Sébastien, produced by Gaumont, a cinema adaptation of the famous children book and TV serie directed by Nicolas Vanier. The sequel, Belle & Sébastien, l'aventure continue, directed by Christian Duguay (Jappeloup) is in post-production and will be released in time for Christmas 2015. They are currently writing the last movie of the trilogy (Belle & Sébastien, pour la vie), and a comedy for actor/director François Cluzet known for his role in the blockbuster Intouchables.
Together they have directed two short films, Supergirl (selected in several festivals : Off Courts in Trouville, Paris Court Devant, Festi Val d'Oise, Doï Saket Film Festival, etc.) and Samouraï, which will be screened Saturday morning.