Discussion with original playwright and co-screenwriter Cyril Gély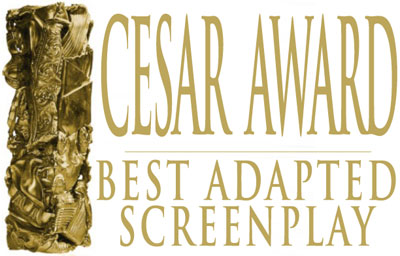 August 1944. During the night of the 24th to the 25th while the Allies are moving closely toward Paris, Adolf Hitler orders General Dietrich von Choltitz to destroy the city. Everything has been set up and put in place to carry out the Führer's command. The Swedish consul Raoul Nordling finds his way into the general's quarter at the Meurice Hotel in an attempt to dissuade von Choltitz from giving the fatal final order. An ordinary summer night when diplomacy settled the fate of the most beautiful city in the world.

Based on the stage success Diplomatie by Cyril Gély, adapted and directed by Volker Schlöndorff , winner of an Academy Award in 1979 for Best Foreign Language Film for his film The Tin Drum.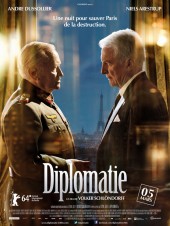 Cast & Crew
Director • Volker Schlöndorff
Screenwriters • Volker Schlöndorff, Cyril Gély
Based on the play by Cyril Gély Diplomatie
Producers • Marc de Bayser, Frank Le Wita
Starring :
André Dussolier, Niels Arestrup, Burghart Klauβner…


Pictures
Filmography
Choose a picture to see the filmography (source : IMDB)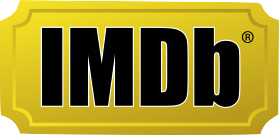 Interviews
Interview with director Volker Schlöndorff
What drew you to the project?
War places men in extreme situations and brings out the best as well as worst in humanity. Nowadays, a conflict between France and Germany is so unthinkable that I found it interesting to remind us of the past relationships between our two countries. If by misfortune, Paris had been leveled to the ground, I doubt that the Franco-German bond would have been formed or that Europe would have pulled through. Besides, what appealed to me was the opportunity to pay tribute to Paris. I have hung around the city since I was 17, and I know each and every bridge and monument – I think that during all those years when I was assistant director to Louis Malle and Jean-Pierre Melville, I explored more streets than a Paris cab driver! Needless to say that I love Paris and being asked 50 years later to celebrate its survival was a real privilege.
How did you develop the characters?
Without being a martyr, far from it, Von Choltitz was in a difficult predicament: he was one of the Führer's loyal soldiers, he allegedly participated in the massacre of the Jews in Eastern Europe and of the destruction of Rotterdam, which are war crimes at odds with the traditions of Prussian soldiers. Indeed, the General embodies the third or fourth generation of a long lineage of officers and his identity is epitomized by such military rules as obedience – the basis of an effective army – the love of one's country and family honor. While in August 1944, all the German generals had stopped believing in the German victory, Von Choltitz received the order to destroy Paris. In response, he had an asthma attack: he was incapable of carrying out the order, but he did not know how to shun his duty either. It was a question of free choice with no choice. He knew what he ought to do, but he did not have the strength to do it. He could not make up his mind, and his body took over instead. That is when Consul Nordling showed up, almost as a savior, even if the General regarded him at first as an intruder sneaking into the suite like a burglar. However, each time the Consul was about to leave, Von Choltitz had an asthma attack, as to hold him up: that is the voice of his unconscious. The Consul wanted to put an end to the war. According to him, all is fair to achieve his aim, and, besides, the ways used by diplomats are hardly less noxious than those of the military authorities, although admittedly less lethal. Therefore, I really wanted to pay tribute to the courage, dedication and craft of this successful diplomat who is, for me, the real hero of the film. He is the embodiment of human values which go beyond state laws.
Both actors are inhabited by their characters…
During the rehearsals, I immediately realized that not only is Niels an amazing actor, he also has a strong personality which he brought to the role. He sort of offered it as a gift to the General by totally immersing himself into the role. So much so that sometimes it became scary. He had become unreservedly this German general more than any German actor could have been, with his conflicting feelings, his stubbornness and his loyalty to the traditions of the army. He was so inhabited by the role that he seemed almost in a trance, as though he was not in control of his acting. In front of him, Dussollier is a virtuoso who has everything under control and whose acting became more sophisticated take after take. Sometimes it was a little difficult to synchronize the two types of approach, each with its own dynamic and pace. But their mutual trust and affinity, that they shared with me, were such that we never experienced any tension except for our common concern for quality work.
Their mutual understanding was made easier by the fact that they had portrayed the same roles on-stage.
Of course it was an advantage because they perfectly knew their characters, but it could have been a drawback because a certain routine could have developed that would have been immediately perceived by the camera. In cinema, actors must act out their scenes "as if for the first time". It was necessary to regain spontaneity, some sort of virginity. To do so, they had to rehearse over and over again. That is what we did before even starting to shoot the film. Then, on Saturdays, we rehearsed scenes again that were planned to be shot the following week. The rather sophisticated setting helped us tremendously: thanks to the lay-out of the various rooms of the suite, we were able to separate the characters, re-invent gestures and intonations in this new space, moments of weakness and hesitations, moments when they spy on each other, and at other times when either character is alone, disheartened and lost, and definitely exhausted, since we had long hours of shooting. . .
Interview with actor André Dussolier
What drew you to the project?
What I found interesting was the prospect to address a relatively unknown chapter of history. In fact, you realize that Paris was a breath away from absolute disaster. Cyril Gély and Volker Schlöndorff managed to showcase the importance of men's consciousness and their ability to confront each other as well as to transcend themselves – the two protagonists represent their nation and their people. And what is most noteworthy – and dangerous for both of them – is that they deliberately overstepped their bounds. We must not forget that Sweden was neutral during the war and that Hitler wanted to destroy Paris.
What about your collaboration with Niels Arestrup?
I was delighted to work with Niels. I appreciate his search for truth in acting. We sought to be true to our characters. We enjoyed honing each scene and totally investing ourselves to make the film as accomplished as possible. Because for us both, the most important thing was the finishing line and the encounter that led us there.
How did you prepare for the role?
Contrary to Stalin or de Gaulle whose images are in the public and collective minds, Nordling is a relatively unknown figure. Besides, the film is not so much about Nordling as an individual. And so the point was not to be a Nordling look-alike – what I was interested in was the smooth attitude he maintained with other people, while being inwardly inflexible. Therefore, it was the persona of the ambassador – and his attitude – that seemed most important to me.
Interview with actor Niels Arestrup
Were you familiar with the historical details on which the script is based?
No, not really. The talks and deals mentioned in the film did indeed take place, but for an entirely different purpose- the goal was to free political prisoners, then to negotiate a truce with Resistance fighters in order prevent Choltitz from blowing up the Paris police headquarters. This part is historical. The rest was created by screenwriter Cyril Gély. Because nowadays, everybody agrees that the decision not to destroy Paris was Choltitz's alone and nobody else's.
Did you do any background-research on the character?
I went through his biography and I found online interviews of Choltitz conducted in the 1960s in Baden Baden. His French is basic and hesitant – he explains that he had decided to disobey Hitler's order because he thought it was an absurdity to destroy Paris and that it would not have change anything for the outcome of the war. He was not a funny guy. At any rate he was not the kind of man you would have wanted to spend your holidays with! (laughing)
Tell me more about your collaboration with André Dussollier?
What drew us closer together was that we are both extremely demanding: we are both anxious people and we both wanted to do our utmost. We were heading in the same direction and on many occasions we agreed that we could go ahead and outperform ourselves. André is a very hard worker who likes rigor. And I humbly think that I am too. We had mutual recognition of our work and we both had at heart to achieve a form of perfection out of respect for the audience.
Press Kit

English ~ 17 pages ~ 724 Ko ~ pdf


French ~ 29 pages ~ 3,7 Mo ~ pdf