en français | time schedule | feature films | short films | program [PDF]
2008 Festival Feature Films (March 28-30)
---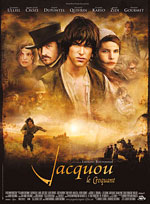 French actor Léo Legrand presents the American premiere of Jacquou le Croquant
director Laurent Boutonnat screenplay Franck Moisnard, Laurent Boutonnat based on the novel Jacquou le Croquant by Eugène Le Roy producers Romain Le Grand, Dominique Boutonnat, Laurent Boutonnat starring Gaspard Ulliel, Marie-Josée Croze, Albert Dupontel, Jocelyn Quivrin, Tcheky Karyo, Malik Zidi, Olivier Gourmet, Léo Legrand running time 2 h 35 min although not rated, parental guidance suggested
Synopsis
The year is 1815. Jacquou, a young peasant from the Périgord in southwestern France lives happily with his parents. By the actions of a cruel and arrogant nobleman, the Count of Nansac, he is orphaned and lives in abject poverty. Vowing to take revenge, Jacquou grows up and develops under the protection of the good priest Bonal, who takes him in. Thanks to faithful friends and the patient and radiant young Lina, in a few years' time he will become a determined, handsome young man. He will learn to transform his desire for vengeance into a fight against injustice, and prove that even a simple peasant can rise above his lot. Read more
---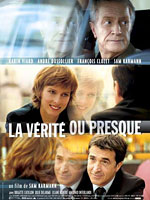 French director Sam Karmann presents La Vérité ou presque with American author Stephen McCauley and French actress and lyricist Catherine Olson
director Sam Karmann screenplay Sam Karmann, Jérôme Beaujour based on the novel True Enough by Stephen McCauley, published by Washington Square Press producers Jean-Philippe Andraca, Christian Bérard starring André Dussollier, Karin Viard, François Cluzet, Sam Karmann running time 1 h 35 min although not rated, parental guidance suggested for viewers under 13
Synopsis
Anne is married to Thomas, who is attracted to Caroline, the young wife of Marc, the ex-husband of Anne, who herself has noticed the charms of Vincent, who is terribly jealous of Lucas. As for Rose-Marie, she knows that when desire comes knocking, it's often deceit that answers the door.
And the truth in all this?
It's that we can love forever, but not all the time. That's true … enough.
A story of two people who couldn't be more different, whom life and work unite by chance. One is a married woman, a TV show producer plagued by professional and sentimental doubts, the other a homosexual author of biographies on more or less forgotten artists, struggling with his latest work.
Read more
---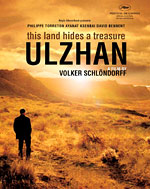 Thanks to French actor Philippe Torreton and German director Volker Schlöndorff, the VCU French Film Festival is proud to present the North American premiere of Ulzhan
director Volker Schlöndorff screenwriters Jean-Claude Carrière in cooperation with Volker Schlöndorff producers Régis Ghezelbash, Tasbolat Merecenov, Svetlana Novak starring Philippe Torreton, Ayanat Ksenbai, David Bennent, Maximilien Muller running time 1 h 35 min although not rated, parental guidance suggested for viewers under 13
Synopsis
A man named Charles leaves his native France for Kazakhstan. His initial impression is surprise; history has moved faster than he thought. His unexpected meeting of Ulzhan changes his path and his life.
Somewhere in the endless steppes of Central Asia lies a treasure. One man has the key to it — a fragment of an ancient map. In his relentless quest, Charles seeks neither fortune nor glory, only to save his soul. Ulzhan understood the moment she laid eyes on him.
Read more
---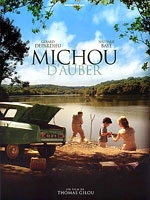 French director Thomas Gilou presents the feature film Michou d'Auber
director Thomas Gilou screenplay Thomas Gilou, Messaoud Hattou producers Pierre-Ange Le Pogam, Luc Besson, Michel Feller starring Gérard Depardieu, Nathalie Baye, Mathieu Amalric, Samy Seghir, Akli Fellag running time 2 h 04 min although not rated, parental guidance suggested
Synopsis
Messaoud, a 9-year-old Algerian boy, lives in Aubervilliers, a suburb of Paris. Due to his mother's illness, his father is forced to send him to a foster home in the countryside. The year is 1960 and the context the troubled events of the Algerian war. Gisèle, his foster mother, decides to conceal Messaoud's identity from the local villagers and, most importantly, from her husband, Georges, a former soldier. Messaoud becomes Michel, or "Michou d'Auber," and under this name, with the support of Gisèle and Georges' affection, he is introduced to life in rural France. But Gisèle's deception is soon revealed, endangering this nascent relationship.
Read more
---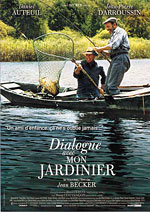 French director Jean Becker presents the American premiere of Dialogue avec mon jardinier
director Jean Becker screenplay Jean Cosmos, Jacques Monnet, Jean Becker based on the novel Dialogue avec mon jardinier by Henri Cueco, published by Éditions du Seuil producer Louis Becker starring Daniel Auteuil, Jean-Pierre Darroussin, Fanny Cottençon running time 1 h 45 min although not rated, parental guidance suggested
Synopsis
An established 50-something painter, weary of Parisian life and on the verge of a divorce, returns to the countryside of central France to live in the house where he grew up. He needs someone with the skill he lacks to bring a vegetable garden back to life from the wilderness the grounds have become. He places a local ad for a gardener and the first to apply — and who gets the job — happens to be an old grade-school classmate, whom the painter hasn't seen in years. Spending long days in each other's company, the two men live a kind of delayed and brotherly adolescence which co-mingles their families, their knowledge, carrots, pumpkins, life, death, plane travel, currant bushes, tastes and colors. And through each other's eyes they see the world's spectacle in a different light. Read more
---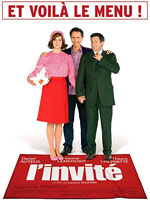 French actor Thierry Lhermitte presents the North American premiere of L'Invité
director Laurent Bouhnik screenplay David Pharao adapted from the play L'Invité by David Pharao, published by L'Avant Scène théâtre producers Maurice Illouz, Pierre-Ange Le Pogam starring Daniel Auteuil, Valérie Lemercier, Thierry Lhermitte, Hippolyte Girardot running time 1 h 22 min although not rated, parental guidance suggested
Synopsis
Fifty years old, three years out of work, unemployment insurance about to run out … Gérard is at the end of his rope when a new job comes up in Indonesia. To win the favor of his new employer, Gérard invites him over for dinner.

Fatal error! Terrified at the idea of not being up to scratch, his wife Colette begs Alexandre, their neighbor, to help them. A communications guru, Alexandre rises to the challenge and gives the couple a new look in 24 hours. Their apartment, decor, lifestyle, dinner menu, outfits, general culture — everything goes through the mill! Twists and turns, dramatic turns of events, blunders and unexpected incidents … it's all a hectic mess until, completely on edge, at the end of their tether, wracked with anxiety, our couple finally opens the door to their guest. Read more
---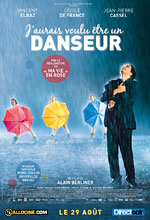 The VCU French Film Festival presents the American premiere of J'aurais voulu être un danseur
director Alain Berliner screenplay Alain Berliner, Sonia Bekhor producers Patrick Quinet, Serge Zeitoun starring Vincent Elbaz, Cécile de France, Jean-Pierre Cassel, Circé Lethem, Pierre Cassignard, Jeanne Balibar running time 1 h 47 min although not rated, parental guidance suggested
Synopsis
François Maréchal leads a happy, tranquil life. Married to a pretty young woman, he's the father of a small boy and has just been promoted — he's now the manager of a video store. Everything seems to be going wonderfully in his well-ordered life — until the day Singin' in the Rain comes out on DVD and François is caught in the spell of the wonderful world of musicals. He very quickly comes to a decision — he wants to become a tap dancer! Turning his back on his peaceful happiness, he dumps his wife, child and job to live his sudden, all-consuming passion. A mediocre but persevering dancer, he finally manages to exercise his craft in a provincial nightclub. There he must confront his past in the shape of his father, whom he thought was dead and who, like François, left home and hearth many years ago to become a tap dancer. Read more
---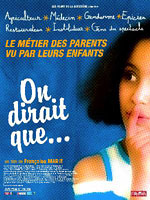 French director Françoise Marie and French producer Annie Miller presents the North American premiere of the documentary film On dirait que...
director Françoise Marie screenplay Françoise Marie associate producer Annie Miller
starring
Farmers' children: Pauline Combaudon, Mathilde Courdert, Maureen Coudert, Nicolas Desgranges, Fabien Leclair, Clément Lerousseau, Jean Lerousseau, Laura Peyrot, Baptiste Peyrot Restaurant owners' children: Pauline Brun, Tara Di Piazza, Léa Lhermite, Victor Morin Oyster-farmer's child: Nicolas Castro
Policemen's children: Maud Berjon, Valentin Michaud, Corentin Didou, Maud Walliang
Doctors' children: Julie Caretti, Marie Hintzy, Augustin Ducret Circus performers' children: Nabil Hakkar, Alice Kudlak, Thaïs Miny, Marius Miny Teachers' children:
Louis Fages, Pauline Gonzalez, Mathieu Muller, Thibault Rangier Grocers' children:
Yasmine Ben Khaled, Chamientha Justin-Leslie, Kubra Karaca, Mickaël Oliva
running time 1 h 22 min general audience
Synopsis
"Let's say ... " and imaginations take flight.
Rather than playing cowboys and Indians, children from 8 to 13 years old, sons and daughters of doctors, farmers, policemen and grocers, play their parents' professions on camera.
Nothing is written down or rehearsed. They improvise as their fancy takes them and thereby show us the world as they understand it or guess it to be. Have these stories been experienced, heard or seen on TV? Are they the products of active imaginations or faithful snapshots of reality? Through their perceptions of these jobs and the challenges, pleasures and sorrows that come with them, children tell us a great deal about adults!
Read more
---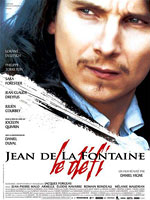 French director Daniel Vigne presents the North American premiere of Jean de La Fontaine, le défi
director Daniel Vigne screenplay Jacques Forgeas producers Fabienne Servan-Schreiber, Jean-Pierre Fayer starring Lorant Deutsch, Philippe Torreton, Sara Forestier, Jean-Claude Dreyfus, Julien Courbey, Jean-Pierre Malo, Jocelyn Quivrin running time 1 h 40 min although not rated, parental guidance suggested
Synopsis
On Sept. 5, 1661, Paris awakens to news that the superintendent of finance, Fouquet, has been arrested by order of Colbert, Louis XIV's powerful adviser. The young king is becoming an absolute ruler. While other artists betray their original patrons and rush to pay court to the almighty monarch, only the poet Jean de La Fontaine remains faithful to the fallen superintendent. Colbert vows to crush the rebel, the only artist in the kingdom to place his art above the king. But in spite of his poverty, La Fontaine remains true to his convictions and, though penniless, continues his resistance. His acute and spirited observations inspire his Fables, satirical tracts against the despotic regime. Read more
---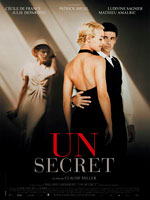 Screenwriter Natalie Carter presents Un secret by Claude Miller, honorary president of the VCU French Film Festival
director Claude Miller screenplay Claude Miller, Natalie Carter based on the novel Un secret by Philippe Grimbert published by Les Editions Grasset producer Yves Marmion starring Cécile de France, Patrick Bruel, Ludivine Sagnier, Julie Depardieu, Mathieu Amalric running time 1 h 40 min although not rated, parental guidance suggested
Synopsis
The exploration of a dark family secret and the story of a passion, told through the interior journey of François, a solitary child who invents a brother and imagines his parents' past. On his 15th birthday, a family friend reveals a shattering truth to François — one that will enable him to develop his own personality at last. Read more
---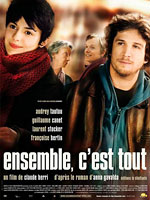 VCU French Film Festival Directors Peter and Françoise Kirkpatrick present the feature film Ensemble, c'est tout
director Claude Berri screenplay Claude Berri based on the novel Ensemble, c'est tout by Anna Gavalda, published by Éditions le Dilettante producers Pierre Grunstein, Nathalie Rheims starring Audrey Tautou, Guillaume Canet, Laurent Stocker, Françoise Bertin running time 1 h 37 min although not rated, parental guidance suggested for viewers under 13
Synopsis
This is the story of four apparently disparate lives that come together under the same Parisian roof. Camille Fauque, an artist by day, "surface technician" (or cleaning lady) by night, is wasting away in a small attic of an apartment building when she meets her neighbor, Philibert, an aristocratic history buff who suffers from bouts of anxiety. His housemate Franck is a chef who lives hard and fast, and whose only worry is the welfare of his elderly grandmother, the fragile and funny Paulette. Together, they learn to ease their doubts and sorrows and try to make their dreams come true. Through their discovery of one another, they learn that together we are stronger. Read more
---