en français | time schedule | feature films | short films | program [PDF]
2008 Festival Feature Films (March 28-30)
---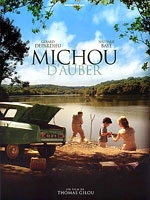 French director Thomas Gilou presents the feature film Michou d'Auber
director Thomas Gilou screenplay Thomas Gilou, Messaoud Hattou producers Pierre-Ange Le Pogam, Luc Besson, Michel Feller starring Gérard Depardieu, Nathalie Baye, Mathieu Amalric, Samy Seghir, Akli Fellag running time 2 h 04 min although not rated, parental guidance suggested
Synopsis
Messaoud, a 9-year-old Algerian boy, lives in Aubervilliers, a suburb of Paris. Due to his mother's illness, his father is forced to send him to a foster home in the countryside. The year is 1960 and the context the troubled events of the Algerian war. Gisèle, his foster mother, decides to conceal Messaoud's identity from the local villagers and, most importantly, from her husband, Georges, a former soldier. Messaoud becomes Michel, or "Michou d'Auber," and under this name, with the support of Gisèle and Georges' affection, he is introduced to life in rural France. But Gisèle's deception is soon revealed, endangering this nascent relationship.
director/screenwriter
Thomas Gilou
| | |
| --- | --- |
| 2005 | Le Temps n'efface rien (documentary) |
| 2001 | La Vérité si je mens 2! |
| 1999 | Chili con carne |
| 1998 | Astérix et Obélix contre César (scriptwriter) |
| 1997 | La Vérité si je mens! |
| 1995 | Raï |
| 1992 | À la vitesse d'un cheval au galop (scriptwriter) |
| 1987 | Chamane |
| 1986 | Black Mic Mac |
| 1984 | La Combine de la girafe (short film) |
actor/producer
Gérard Depardieu
selected films since 1990
| | |
| --- | --- |
| 2007 | La Vie en Rose by Olivier Dahan |
| 2006 | Quand j'étais chanteur by Xavier Giannoli |
| | Paris, je t'aime by Olivier Assayas, Gérard Depardieu, et al. |
| 2005 | Olé by Florence Quentin |
| | Combien tu m'aimes? by Bertrand Blier |
| 2004 | Boudu by Gérard Jugnot |
| | Les Temps qui changent by André Téchiné |
| | Je préfère qu'on reste amis by Eric Toledano, Olivier Nakache |
| | 36, quai des Orfèvres by Olivier Marchal |
| 2003 | San Antonio by Frédéric Auburtin |
| | Nathalie… by Anne Fontaine |
| | RRRrrr!!! by Alain Chabat, Les Robins des Bois |
| 2002 | Tais-toi by Francis Veber |
| | Bon voyage by Jean-Paul Rappeneau |
| 2000 | Astérix et Obelix: Mission Cléopâtre by Alain Chabat |
| | Le Placard by Francis Veber |
| | Vidocq by Pitof |
| 1999 | Les Acteurs by Bertrand Blier |
| | Vatel by Roland Joffé |
| 1998 | Astérix et Obélix contre César by Claude Zidi |
| 1997 | The Man in the Iron Mask by Randall Wallace |
| 1996 | Le Garçu by Maurice Pialat |
| 1994 | Elisa by Jean Becker |
| 1993 | Germinal by Claude Berri (VCU French Film Festival 2) |
| 1991 | Green Card by Peter Weir |
| | Tous les matins du monde by Alain Corneau |
| 1990 | Cyrano de Bergerac by Jean-Paul Rappenau |
actress
Nathalie Baye
| | |
| --- | --- |
| 2007 | Passe passe by Tonie Marshall |
| | Les Bureaux de Dieu by Claire Simon |
| 2006 | Le Prix à payer by Alexandra Leclère |
| | Acteur by Jocelyn Quivrin |
| 2005 | Mon fils à moi by Martial Fougeron |
| | Le Petit Lieutenant by Xavier Beauvois |
| | La Californie by Jacques Fieschi |
| | Ne le dis à personne by Guillaume Canet |
| 2004 | L'Un reste l'autre part by Claude Berri |
| 2003 | France boutique by Tonie Marshall |
| | Les Sentiments by Noémie Lvovsky |
| | Une vie à t'attendre by Thierry Klifa |
| 2001 | Absolument Fabuleux by Gabriel Aghion |
| | La Fleur du mal by Claude Chabrol |
| 2000 | Ça ira mieux demain by Jeanne Labrune |
| | Selon Mathieu by Xavier Beauvois |
| | Barnie et ses petites contrariétés by Bruno Chiche (VCU French Film Festival 10) |
| 1999 | Venus Beauté (Institut) by Tonie Marshall |
| | Une liaison pornographique by Frédéric Fonteyne |
| 1998 | Food of love by Stephen Poliakoff |
| | Paparazzi by Alain Berberian |
| | Si je t'aime, prends garde à toi by Jeanne Labrune |
actor
Samy Seghir
| | |
| --- | --- |
| 2007 | Big City by Djamel Bensalah |
| 2006 | Bonne nuit Malik by Bruno Danan |
Comments by Thomas Gilou (director)
I wanted the imagery of the film to reflect the passage from shade to light, as the child opens up to others. Among the film's themes, the discovery of nature is important: the natural landscape of France, far from the picturesque, which would reduce it to a mystical quality. The actors form the landscapes of this film while the landscapes become characters. Michou d'Auber is the story of many Algerian children of the '60s. It's the story of today's parents and their children, in search of their roots and of a culture that brings them together. It's the universal story of parents and children and their acceptance of difference.
Interview with Nathalie Baye (actress)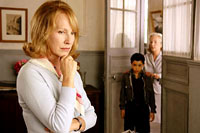 What remains with you from playing Gisèle?
Many things. I have always been touched by people who stand up for themselves but who at the same time are still very humble. Gisèle is a strong woman, she's never shrewish, she's smart, touching and tender. Women at that time were not independent but they had power behind the scenes.
You've acted opposite Gérard Depardieu before. What is your working relationship like?
We quite enjoy acting together. Each time we meet it's like a conversation between us that we pick back up and that's been going on for more than 30 years. The first time I acted with Gérard was in the theater. I was in my second year of drama school, no one had heard of me, or of him either, we were starting out. Then there was Le Retour de Martin Guerre, a little thing in La Dernière Femme by Ferreri, Rive droite, rive gauche, La Machine. … We share a deep understanding and real trust when working together. I know I can count on him and he knows he can count on me.
Was it important for you to spend some weeks in the region to better integrate the characters?
Yes, this helped us a lot, especially since we started shooting outdoors in Indre (a sub-region of Berry). Everyone living there together built a real team spirit. When you shoot in Paris, everyone goes home at night, they don't meet up or eat dinner together, it's more fragmented. And I noticed there's an added charm in filming in these parts of the country, even more so in a period film with old cars and costumes.
Interview with Gérard Depardieu (actor)
Michou d'Auber overlaps a bit with your own life…
Yes, when Thomas spoke to me about this friend, Messaoud [Hattou], who had been raised by a couple in the Berry countryside,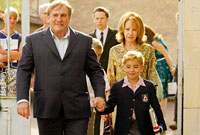 I immediately told him that I was from Berry and that I knew exactly what he was talking about. At the time I was living on a farm near Montchevrier — where the film was shot — that took in children from the foster care agency and there were Algerian kids I had so much fun playing with. I thought it was a fine idea and immediately wanted to get behind it. I left home, when I was 15 or 16 years old, at the time when I had made it into theater, it was an Algerian who gave me French lessons, a university professor. He was the one who taught me about syntax and alexandrine verse at the time when I was attending Jean-Laurent Cochet's course, who incidentally was the professor of many young actors who became "old" stars, such as Fabrice Lucchini and Daniel Auteuil.
More precisely, did you witness any stories that resemble the film?
Of course! I had even seen things even more violent that what you see in the film. I had a friend who had served in Algeria, and who had come back completely bonkers. He slept with his gun and kept a string of ears preserved in a jar and he wore it when he'd go out to beat up immigrants … and yet God knows that the people of Berry are extremely open! In any case, I understood this story exactly. The subject is magnificent and inside we find things we've avoided talking about for quite some time: the fact that in the '50s and '60s, young Algerians had to abandon their language, like the Italians who arrived in the early 20th century who no longer spoke their mother tongue because they had to learn French. Thomas Gilou, who is a true writer, mixes this past into our society, and if cinema can serve that purpose, well, that's great! Messaoud is so moving when he talks about this story, it's hard to imagine how much this man was disconcerted, sort of like Daniel Prévost who wrote a marvelous book on his identity. But how long did it take him to say "I'm Berber, I wasn't born in Normandy"?