en français | time schedule | feature films | short films | program [PDF]
2008 Festival Feature Films (March 28-30)
---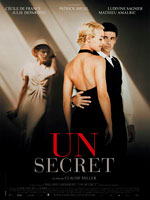 Screenwriter Natalie Carter presents Un secret by Claude Miller, honorary president of the VCU French Film Festival
director Claude Miller screenplay Claude Miller, Natalie Carter based on the novel Un secret by Philippe Grimbert published by Les Editions Grasset producer Yves Marmion starring Cécile de France, Patrick Bruel, Ludivine Sagnier, Julie Depardieu, Mathieu Amalric running time 1 h 40 min although not rated, parental guidance suggested
Synopsis
The exploration of a dark family secret and the story of a passion, told through the interior journey of François, a solitary child who invents a brother and imagines his parents' past. On his 15th birthday, a family friend reveals a shattering truth to François — one that will enable him to develop his own personality at last.

Congratulations to Claude Miller on the 11 César nominations for Un secret and to actress Julie Depardieu on her César for Best Supporting Actress.
actor/director/screenwriter
Claude Miller
| | |
| --- | --- |
| 2006 | Un ami parfait by François Girod |
| 2005 | La Vie de Michel Muller est plus belle que la vôtre by Michel Muller |
| 2003 | La Petite Lili (VCU French Film Festival 12) |
| 2001 | Betty Fisher et autres histoires (VCU French Film Festival 11) |
| 1998 | La Classe de neige (VCU French Film Festival 7) |
| 1994 | Le Sourire |
| 1992 | L'Accompagnatrice |
| 1988 | La Petite Voleuse (VCU French Film Festival 1) |
| | Notes pour Debussy by Jean-Patrick Lebel |
| 1985 | L'Effrontée |
| 1983 | Mortelle Randonnée |
| 1981 | Garde à vue |
| | Plein sud by Luc Béraud |
| 1978 | La Tortue sur le dos by Luc Béraud, Jean-François Stévenin |
| 1977 | Dites-lui que je l'aime |
| 1976 | La Meilleure Façon de marcher |
| 1970 | L'Enfant sauvage by François Truffaut |
actor
Patrick Bruel
| | |
| --- | --- |
| 2006 | O Jérusalem by Elie Chouraqui |
| | L'Ivresse du pouvoir by Claude Chabrol |
| 2004 | Une vie à t'attendre by Thierry Klifa |
| 2001 | Le Lait de la tendresse humaine by Dominique Cabrera |
| | Les Jolies Choses by Gilles Pacquet-Brenner |
| 1998 | Paparazzi by Alain Berberian |
| | Hors-jeu by Karim Dridi |
| | Les Folies de Margaret by Brian Skeet |
| 1997 | K by Alexandre Arcady |
| 1996 | Le Jaguar by Francis Veber |
| 1995 | Sabrina by Sydney Pollack |
| 1993 | Profil bas by Claude Zidi |
| 1992 | Toutes peines confondues by Michel Deville |
| 1990 | Il y a des jours et des lunes by Claude Lelouch |
| 1989 | L'Union sacrée by Alexandre Arcady |
| | Force majeure by Pierre Jolivet |
| 1988 | La Maison assassinée by Georges Lautner |
| 1987 | Attention bandits by Claude Lelouch |
| 1985 | P.R.O.F.S. by Patrick Schulmann |
| 1984 | Marche à l'ombre by Michel Blanc |
| 1982 | Ma femme s'appelle reviens by Patrice Leconte |
| 1979 | Le Coup de Sirocco by Alexandre Arcady |
actress
Cécile de France
| | |
| --- | --- |
| 2006 | Mon colonel by Laurent Herbiet |
| | Où est la main de l'homme sans tête? by Stéphane Malandrin, Guillaume Malandrin |
| | Fauteuils d'orchestre by Danièle Thompson |
| | Quand j'étais chanteur by Xavier Giannoli |
| | Mauvaise Foi by Roschdy Zem |
| | C'est la coutume by Roschdy Zem |
| | J'aurais voulu être un danseur by Alain Berliner |
| 2004 | Les Poupées russes by Cédric Klapisch |
| 2003 | Moi César 10 ans 1/2, 1m 39 by Richard Berry |
| | La Confiance règne by Etienne Chatiliez |
| 2002 | Loup! by Zoé Galeron |
| | Haute tension by Alexandre Aja |
| | Regarde-moi (en face) by Marco Nicoletti |
| 2001 | A + Pollux by Luc Pagès |
| | L'Art délicat de la séduction by Richard Berry |
| | L'Auberge espagnole by Cédric Klapisch |
| | Irène by Ivan Calbérac |
| 2000 | Toutes les nuits by Eugène Green |
| | Le Mariage en papier by Stéphanie Duvivier |
Interview with Claude Miller (director)
How did you discover Philippe Grimbert's novel, Un secret, upon which the film is based?
Since we first worked together in 2000 on Betty Fisher et autres histoires, based on Ruth Rendell's work, Yves Marmion, the producer, regularly sent me novels that he recommended I read. This is how he got me reading Philippe Grimbert's book — by heartily recommending it to me. From the outset, he was clear about the fact that UGC might be interested in an adaptation. So I very quickly read Un secret and that very evening I was determined to give Yves my answer: yes, I wanted to make a film out of this magnificent story.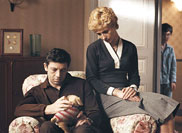 What was it that made you set on making this film?
When we talk about the victims of Nazism, we often get the impression that these people weren't just people like you and me — that they hadn't experienced affairs of the heart, that they had never known passion.
But did you not have more personal reasons?
I was born in 1942. There are not many survivors in my family; most of my uncles, aunts and grandparents did not come back from the concentration camps. As a child and then an adolescent, I was haunted by this traumatic history, it caused me anxiety. I was a fearful child, but what could be more normal since my mother was living in fear as she was carrying me? But, funnily enough, it was a theme I hadn't explored in any of my previous films. To the extent that in L'Accompagnatrice, which takes place during World War II, I didn't even touch on this theme.
Did you also want to make a political statement about this period?
More sociological than political. In the novel there's precisely this kind of dimension that quite interested me. Philippe Grimbert accurately shows the emergence in the 1930s of a veritable veneration of the body, of physical beauty and sport even before these ideas were used later by Petain and the Nazis. In my secular Jewish milieu, we happily fostered the tendency to fight against this kind of fatalism that's supposed to be typically Jewish — what I call in the film "the oy, oy, oy spirit," that is, a tendency to complain, to give up, to not be strong enough to be able to defend oneself, if necessary.
To return to the film's preparation, you organized a highly unorthodox casting for screenwriters. Why?
I've always said that the adapted book was my writing partner. But in the case of Un secret, I wanted to discuss it with a fellow screenwriter because there was all the cinematography work to be done. The novel is told from the first person perspective, with no dialogue. In other words, the project involved real screen adaptation challenges. So I set out to find a screenwriter and I asked five or six, including Natalie Carter, to write an actual first draft of the adaptation.
Interview with Cécile de France (actress)
This was the first time you worked under the direction of Claude Miller. What will you remember from the experience?
He's a filmmaker who deeply loves his actors and his craft. I know he takes a long time preparing the shooting and that's comforting. On the set, he regularly consults a little book filled with notes and information. You feel you're in good hands because he always gives you the impression of knowing where he's going and where he wants us to go.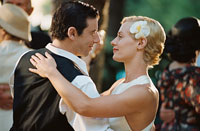 In retrospect, what image of the film will remain with you?
I felt my choice in doing this film and playing Tania was first of all my duty to the memory of the Jewish people and their history over the last century. This tragedy affects me and I wanted to express it in a role. Tania afforded me this possibility. What's more, the film tells stories of love and passion. I was very attuned to this mixing of "big" history with smaller more personal histories. It's this double dimension that will stay with me.