en français | time schedule | feature films | short films | program [PDF]
2008 Festival Feature Films (March 28-30)
---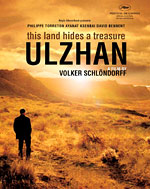 Thanks to French actor Philippe Torreton and German director Volker Schlöndorff, the VCU French Film Festival is proud to present the North American premiere of Ulzhan
director Volker Schlöndorff screenwriters Jean-Claude Carrière in cooperation with Volker Schlöndorff producers Régis Ghezelbash, Tasbolat Merecenov, Svetlana Novak starring Philippe Torreton, Ayanat Ksenbai, David Bennent, Maximilien Muller running time 1 h 35 min although not rated, parental guidance suggested for viewers under 13
Synopsis
A man named Charles leaves his native France for Kazakhstan. His initial impression is surprise; history has moved faster than he thought. His unexpected meeting of Ulzhan changes his path and his life.
Somewhere in the endless steppes of Central Asia lies a treasure. One man has the key to it — a fragment of an ancient map. In his relentless quest, Charles seeks neither fortune nor glory, only to save his soul. Ulzhan understood the moment she laid eyes on him.
director
Volker Schlöndorff
| | |
| --- | --- |
| 2004 | The Ninth Day |
| 2001 | Ten Minutes Older: The Cello |
| 2000 | The Legends of Rita |
| 1998 | Palmetto |
| 1996 | The Ogre |
| 1991 | Voyager |
| 1990 | The Handmaid's Tale |
| 1983 | A Love of Swann |
| 1981 | False Witness |
| 1980 | The Candidate |
| 1979 | The Tin Drum (Palme d'Or, 1979 Cannes Film Festival; Best Foreign Language Film, 1979 Academy Awards) |
| 1976 | Coup de grâce |
| 1975 | The Lost Honor of Katharina Blum |
| 1967 | Degree of Murder |
| 1966 | Young Torless |
actor
Philippe Torreton
2007
Jean de La Fontaine, le défi by Daniel Vigne
2005

Le Grand Meaulnes by Jean-Daniel Verhaeghe
Jaurès: naissance d'un gêant (VCU French Film Festival 14)
Adam et Eve by Michel Deutsch
2004
Les Chevaliers du ciel by Gérard Pirès
Monsieur N. by Antoine de Caunes (VCU French Film Festival 12)
Dear Hunter by Franck Saint-Cast
L'Equipier by Philippe Lioret (VCU French Film Festival 13)
2002
Corps à corps by François Hanss, Arthur-Emmanuel Pierre
2001
Vertiges de l'amour by Laurent Chouchan
2000
Félix et Lola by Patrice Leconte
1999

Ca commence aujourd'hui by Bertrand Tavernier (VCU French Film Festival 14)
Tôt ou tard by Anne-Marie Etienne
1996
Capitaine Conan by Bertrand Tavernier
Le Bel Eté, 1914 by Christian de Chalonge (VCU French Film Festival 5)
La Servante aimante by Jean Douchet
1995
L'Appât by Bertrand Tavernier
1994
L'Ange noir by Jean-Claude Brisseau
Oublie-moi by Noémie Lvovsky
1993
Une nouvelle vie by Olivier Assayas
L. 627 by Bertrand Tavernier
1991
La Neige et le feu by Claude Pinoteau
Dernier regard by Philippe Coroyer
actress
Ayanat Ksenbai
| | |
| --- | --- |
| 2005 | Hope by Anton Gonapolskii |
| 2004 | Man-Wind by Huat Ahmetov |
| 2003 | Nomads by Ivan Passer, Talgat Temenov, Sergei Bodrov |
| 2001 | Leila's Prayer by Satybaldy Narymbetov |
actor
David Bennent
| | |
| --- | --- |
| 2005 | Traumschatten by Steffen Groth |
| 2004 | She Hate Me by Spike Lee |
| 2003 | Poem — I Set My Foot upon the Air and It Carried Me by Ralf Schmerberg |
| 1985 | Legend by Ridley Scott |
| 1984 | Dog Day by Yves Boisset |
| 1979 | The Tin Drum by Volker Schlöndorff |
Director's note
The quest for ultimate meaning, the search for a mythical place at the end of the world. The desire to flee and disappear when faced with an overwhelming grief — all this can appear quite pathetic,
esoteric bordering on the ridiculous, but when the character is embodied by an actor as down-to-earth as Torreton and the country he crosses as real as Kazakhstan, this metaphysical quest can be presented as a very personal, indeed poetic, tale.
The ruins he visits are not archaic by their architecture, but only by the suffering to which they bear witness: the gulags where Lev Kopelev and Solzhenitsyn were interned.
The deserts aren't deserts because of climate alone, but because more than 500 atomic bombs were tested there. The death of the Aral Sea was decided by men just as indifferent to the sufferings of nature as nature is to the sufferings of the men she contemplates from the high splendor of the snow-capped mountains.
Our traveler would like to shut his eyes to all these images of grandeur and misery, but he can't help these images burning his retina, or, through the lens, our negative.
Nothing is neutral, he will perceive everything. Two guides will help him on his journey — one a storyteller and merchant of words, the other inevitably feminine, enigmatic and silent. The relationship that unites these three characters must be inspired by Beckett, never psychological, always realistic, opaque and impenetrable, sometimes poetic, sometimes lunatic. Their words, like their meeting, do not mean much.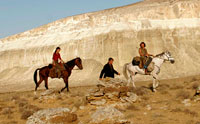 They are nothing but life's passing, which can be so meaningful provided no meaning is sought, as the traveler will discover.
A picaresque adventure film, made up of very real episodes, rich in mood and faraway locations, rendered in direct, raw photography, will explore one of the last blank spots on our minds' world map — Central Asia.
Berlin, June 1, 2006
Volker Schlöndorff