en français | time schedule | feature films | short films | program [PDF]
2008 Festival Feature Films (March 28-30)
---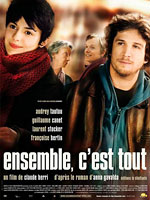 VCU French Film Festival Directors Peter and Françoise Kirkpatrick present the feature film Ensemble, c'est tout
director Claude Berri screenplay Claude Berri based on the novel Ensemble, c'est tout by Anna Gavalda, published by Éditions le Dilettante producers Pierre Grunstein, Nathalie Rheims starring Audrey Tautou, Guillaume Canet, Laurent Stocker, Françoise Bertin running time 1 h 37 min although not rated, parental guidance suggested for viewers under 13
Synopsis
This is the story of four apparently disparate lives that come together under the same Parisian roof. Camille Fauque, an artist by day, "surface technician" (or cleaning lady) by night, is wasting away in a small attic of an apartment building when she meets her neighbor, Philibert, an aristocratic history buff who suffers from bouts of anxiety. His housemate Franck is a chef who lives hard and fast, and whose only worry is the welfare of his elderly grandmother, the fragile and funny Paulette. Together, they learn to ease their doubts and sorrows and try to make their dreams come true. Through their discovery of one another, they learn that together we are stronger.

Congratulations to Claude Berri on his 2008 César nomination for Best Writing-Adaptation for Ensemble, c'est tout.

Congratulations to Laurent Stocker on his 2008 César nominations for Best Supporting Actor and Most Promising Actor for Ensemble, c'est tout.
actor/director
Guillaume Canet
| | |
| --- | --- |
| 2007 | La Clef by Guillaume Nicloux |
| 2006 | Un ticket pour l'espace by Eric Lartigau |
| | Ne le dis à personne |
| | Darling by Christine Carrière |
| 2005 | Joyeux Noël by Christian Carion |
| | L'Enfer by Danis Tanovic |
| 2004 | Narco by Tristan Aurouet and Gilles Lellouche (VCU French Film Festival 14) |
| 2003 | Jeux d'enfants by Yann Samuell |
| | Les Clés de bagnole by Laurent Baffie |
| 2002 | Le Frère du guerrier by Pierre Jolivet |
| | Mon idole |
| 2001 | Les Morsures de l'aube by Antoine de Caunes |
| | Mille Millièmes, fantaisie immobilière by Rémi Waterhouse |
| 2000 | La Plage by Danny Boyle |
| | La Fidélité by Andrzej Zulawski |
| | The Day the Ponies Come Back by Jerry Schatzberg |
| | Vidocq by Pitof |
| 1999 | Je règle mon pas sur le pas de mon père by Rémi Waterhouse |
| 1998 | Ceux qui m'aiment prendront le train by Patrice Chéreau |
| | En plein coeur by Pierre Jolivet |
| 1997 | Barracuda by Philippe Haïm |
actress
Audrey Tautou
| | |
| --- | --- |
| 2006 | Hors de prix by Pierre Salvadori |
| | The Da Vinci Code by Ron Howard |
| 2005 | Les Poupées russes by Cédric Klapisch |
| 2004 | Un long dimanche de fiançailles by Jean-Pierre Jeunet |
| 2003 | Happy end by Amos Kollek |
| | Pas sur la bouche by Alain Resnais |
| | Etat de grâce by Patrick Dell'Isola |
| 2002 | Dirty Pretty Things by Stephen Frears |
| | Les Marins perdus by Claire Devers |
| | A la folie, pas du tout! by Laetitia Colombani |
| | L'Auberge espagnole by Cédric Klapisch |
| 2001 | Dieu est grand, je suis toute petite by Pascale Bailly |
| | Le Fabuleux Destin d'Amélie Poulain by Jean-Pierre Jeunet |
| 2000 | Le Battement d'ailes du papillon by Laurent Firode |
| 1999 | Le Libertin by Gabriel Aghion |
| | Epouse-moi by Harriet Marin |
| | Voyous, voyelles by Serge Meynard |
| | Triste à mourir by Alexandre Billon |
| 1998 | Venus Beauté (Institut) by Tonie Marshall |
| | La Vieille Barrière by Lyèce Boukhitine and Franck Gourlat |
| | Casting: Archi-dégueulasse by Lyèce Boukhitine |
actor/director/screenwriter
Claude Berri
selected films from 1986
| | |
| --- | --- |
| 2005 | La Maison du bonheur by Dany Boon |
| | La Graine et le mulet by Abdellatif Kechiche |
| 2004 | San-Antonio by Frédéric Aubertin |
| | L'Un reste l'autre part |
| | Le Démon de midi by Marie-Pascale Osterrieth |
| | Les Enfants by Christian Vincent |
| 2003 | Le Bison by Isabelle Nanty |
| | Ils se marièrent et eurent beaucoup d'enfants by YvanAttal |
| 2002 | Une femme de ménage |
| 2001 | La Boîte by Claude Zidi |
| | Les Rois mages by Didier Bourdon, Bernard Campan |
| 2000 | Astérix et Obelix: Mission Cléopâtre by Alain Chabat |
| | Ma femme est une actrice by Yvan Attal |
| 1999 | Astérix et Obélix contre César by Claude Zidi |
| | Tout sur ma mère by Pedro Almodovar |
| | La Débandade |
| | Mauvaise passe by Michel Blanc |
| 1998 | Un grand cri d'amour by Josiane Balasko |
| 1997 | Le Pari by Didier Bourdon, Bernard Campan |
Group interview with Audrey Tautou (actress), Guillaume Canet and Laurent Stocker (actors)
Ensemble, c'est tout starts out with a sad theme: the solitude of these 30-somethings living in a big city and their inability to communicate.
Audrey Tautou: Solitude is the real subject of the film. By living together, Camille, Philibert and Franck realize how extremely lonely they had been before. It does them good to realize that others share this impression of not always being in sync with the world around us.
Laurent Stocker: These three characters are just like our generation. Meeting people from outside their circle seems quite difficult to them.
Guillaume Canet: To tell the truth, there's something I'd like to change about myself. I wish I were more open-minded about meeting people from outside my milieu. I'm unable to go to a party where I don't know anyone. It's my gruff side.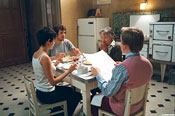 After having broken off relations with their parents, your characters become devoted to a grandmother. Isn't this an idyllic vision of intergenerational relationships? What are your relationships with your grandparents like?
G. C.: On reading the script, Franck's relationship with his grandmother touched me a lot because I understood too late the importance of having grandparents. I have lost all of mine and I really regret not having spent more time with them, not having had adult conversations on certain subjects like living in a couple, for example.
A. T.: In our society, you often get the feeling that the elderly are perceived like a herd! As if older people no longer have any personality, as if their health problems make them all identical. Quite often they don't get the respect they deserve, we forget about the lives they've led and the challenges they've had to overcome.
Your generation is sometimes judged harshly. You're said to be change-averse, indecisive, flighty. Do you see yourselves in this description?
A. T.: Every generation gets criticized. They're more this, less that. ... Listen folks: it was always better back then. Why do we always have to idealize the past and not recognize that each generation is different?
G. C.: And why do we always have to reduce an entire generation to a few clichés?
Comments reproduced with permission of La Figaro Magazine, 10/15/2007.
Interview with Claude Berri (director)
Today, Ensemble, c'est tout [the novel by Anna Gavalda] has become a film by Claude Berri. What's more, all those who've seen it consider it to be an integral part of your filmography. What has Anna Gavalda's reaction been?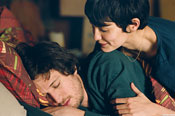 All I can say is that she saw the film and she liked it a lot. She never said anything. I think she had said that if she didn't like the film and was asked about it, she wouldn't have said anything. But, on the contrary, even though she is very reserved, if she is asked the question, I think she'll say that she liked it. She didn't say anything to me about the things I changed. I remember, after the screening, that her editor was in tears. I think Anna felt the same thing.