en français | time schedule | feature films | short films | program [PDF]
2008 Festival Feature Films (March 28-30)
---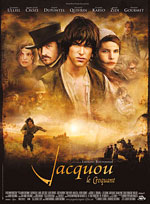 French actor Léo Legrand presents the North American premiere of Jacquou le Croquant
director Laurent Boutonnat screenplay Franck Moisnard, Laurent Boutonnat based on the novel Jacquou le Croquant by Eugène Le Roy producers Romain Le Grand, Dominique Boutonnat, Laurent Boutonnat starring Gaspard Ulliel, Marie-Josée Croze, Albert Dupontel, Jocelyn Quivrin, Tcheky Karyo, Malik Zidi, Olivier Gourmet, Léo Legrand running time 2 h 35 min although not rated, parental guidance suggested
Synopsis
The year is 1815. Jacquou, a young peasant from the Périgord in southwestern France lives happily with his parents. By the actions of a cruel and arrogant nobleman, the Count of Nansac, he is orphaned and lives in abject poverty. Vowing to take revenge, Jacquou grows up and develops under the protection of the good priest Bonal, who takes him in. Thanks to faithful friends and the patient and radiant young Lina, in a few years' time he will become a determined, handsome young man. He will learn to transform his desire for vengeance into a fight against injustice, and prove that even a simple peasant can rise above his lot.

Congratulations to Jean-Daniel Vuillermoz for his 2008 César nomination for Best Costume Design for Jacquou le Croquant.
director
Laurent Boutonnat
| | |
| --- | --- |
| 1994 | Giorgino |
| 1980 | La Ballade de la féconductrice |
actor
Gaspard Ulliel
| | |
| --- | --- |
| 2007 | L'Inconnu by Aurélien Vernhes-Lermusiaux |
| | La Troisième Partie du monde by Eric Forestier |
| | Objet trouvé by Cathy Verny, Benoît Pétré |
| | Un barrage contre le Pacifique by Rithy Panh |
| 2006 | Paris, je t'aime by Olivier Assayas, et al. |
| | Hannibal Rising by Peter Weber |
| 2004 | Un long dimanche de fiançailles by Jean-Pierre |
| | Jeunet by Olivier Assayas |
| | Le Dernier Jour by Rodolphe Marconi |
| | La Maison de Nina by Richard Dembo |
| 2002 | Les Egarés by André Téchiné |
| 2001 | Embrassez qui vous voudrez by Michel Blanc |
actor/director
Jocelyn Quivrin
| | |
| --- | --- |
| 2007 | Notre univers impitoyable by Léa Fazer |
| 2006 | Les Amours d'Astrée et de Céladon by Eric Rohmer |
| | Jean de La Fontaine, le défi by Daniel Vigne |
| | 99 Francs by Jan Kounen |
| | Deux Vies plus une by Idit Cébula |
| | Acteu |
| 2005 | L'Empire des loups by Chris Nahon |
| | Quoi? L'Eternité by Etienne Faure |
| | L'Ultimatum by Rafaël Schneider, Sébastien Lafarge |
| 2004 | Grande école by Robert Salis |
| | Le Premier Jour by Luc de Saint-Sernin |
| 2003 | Sans elle by Anna Da Palma |
| | L'Outremangeur by Thierry Binisti |
| 2001 | Clément by Emanuelle Bercot |
| | Qui veut devenir une star by Patrice Pooyard |
| 2000 | Le Prof by Alexandre Jardin |
| | Féroce by Gilles de Maistre |
| | Sans plomb by Muriel Teodori |
| | En solitaire by Stéphane Kazandjian |
| 1999 | Peut-être by Cédric Klapisch |
| 1998 | Lautrec by Roger Planchon (VCU French Film Festival 7) |
| 1997 | Elizabeth by Shekhar Kapur |
| | La Leçon de Monsieur Paillasson by Michel Fessler |
| 1995 | Au petit Marguery by Laurent Bénégui |
| | Fiesta by Pierre Boutron |
actor
Léo Legrand
2007

Les Yeux bandés by Thomas Lilti
Les Enfants de Timpelbach by Nicolas Bary
2005

Tout pour plaire by Cécile Telerman
Saison by Julien Sallé
Interview with Laurent Boutonnat (director)
Where did you get the idea to adapt Jacquou le Croquant? Was it nostalgia for the television serial that touched all of France in the late '60s?
It happened one day four or five years ago. I saw the serial again by chance. I only had a vague memory of it, I was very young at the time. Watching it again, I was struck by the force of the story and said to myself, there's the subject of a fine film. So, that led me to Eugène Le Roy's novel. I bought it and read it. It's a very dark novel, but very powerful.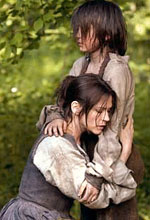 What was your mindset in working on the adaptation?
Our first task, with Franck Moisnard, was to eliminate, to cut down the book. Had we adapted the book as it was, the film would have been over eight hours long! Adapting means making choices, changing, transforming, sometimes simplifying. We only kept what seemed to us the most exciting bits and those most suited to cinema. We amalgamated some scenes, invented others, crystallized several characters into one, made up others. Whereas in the book, Eugène Le Roy tells the life story of Jacquou until he's 90 years old, we immediately agreed to devote ourselves to Jacquou's childhood and youth. And to treat these two parts of the film more or less equally. The first part — childhood — raises extremely strong emotions relating to the loss of his mother and father — loneliness, despair. In the second part, the emotion becomes action. It's of a different nature then, all the more so as romantic relationships come into play. But the two parts cannot be dissociated. The one informs the other. And when Jacquou the adult arrives, he has the benefit of everything he has overcome, and his confrontation with the Count of Nansac will carry its full weight.
Did you do a reading with all the actors before shooting began?
No, very little. In fact, we talked more at the time of the scenes themselves than beforehand. What I really like is catching what can happen on the set. That's why I hardly do any rehearsals beforehand — except for very physical scenes or complicated blocking. I prefer filming right away. Often in those moments there is something new, something we hadn't necessarily grasped or foreseen and that you mustn't let slip by. These are things that are very hard to recapture later.
Interview with Jocelyn Quivrin (actor)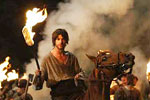 This is your first bad-guy role.
Yes. That's also what's exciting. It's a change from the young romantic lead. I had a blast. Each day was a pleasure. For a 25-year-old actor, a role like this is an enormous gift. Even today, I thank Laurent Boutonnat whenever I see him!
What was most difficult for you in playing someone who, depending on the shooting schedule, was 20 years older?
Something surprising happens. In the morning you arrive at makeup, you're Jocelyn, and then you fall asleep a little because it's very early, and it takes three hours and you can't move but just have to wait until it's over! And three hours later, when you open your eyes, it's no longer you but Nansac! It's pretty weird to see yourself aged. … I had nipples in my nostrils to make my nose slightly bigger, I had a plate attached to my teeth to make my cheeks a bit puffier, which of course made it so that my voice changed.
What do you think drives Nansac?
Revenge, power. The story takes place at the time of the Restoration. Nansac is an aristocrat who had been reduced to nothing during the Revolution, who had certainly had to flee, and who returned to his lands. He's after revenge, even though he recovered the power he'd lost. A sort of frustration remained in him, a desire for power. … At the beginning, you tell yourself that it's rather good fun to play someone like him. All the more so since he's a real bastard but one with panache. And then, after awhile, as if your own nature were getting the upper hand, you almost want to redeem him a little, to do him a bit more likeable all the same, and at the same time, you know you can't! He's a real nasty piece of work, and you can't play him the wrong way!