en français | time schedule | feature films | short films | program [PDF]
2008 Festival Feature Films (March 28-30)
---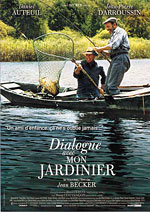 French director Jean Becker presents the American premiere of Dialogue avec mon jardinier
director Jean Becker screenplay Jean Cosmos, Jacques Monnet, Jean Becker based on the novel Dialogue avec mon jardinier by Henri Cueco, published by Éditions du Seuil producer Louis Becker starring Daniel Auteuil, Jean-Pierre Darroussin, Fanny Cottençon running time 1 h 45 min although not rated, parental guidance suggested
Synopsis
An established 50-something painter, weary of Parisian life and on the verge of a divorce, returns to the countryside of central France to live in the house where he grew up. He needs someone with the skill he lacks to bring a vegetable garden back to life from the wilderness the grounds have become. He places a local ad for a gardener and the first to apply — and who gets the job — happens to be an old grade-school classmate, whom the painter hasn't seen in years. Spending long days in each other's company, the two men live a kind of delayed and brotherly adolescence which co-mingles their families, their knowledge, carrots, pumpkins, life, death, plane travel, currant bushes, tastes and colors. And through each other's eyes they see the world's spectacle in a different light.

Congratulations to Jean-Pierre Darroussin on his 2008 César nomination for Best Actor for Dialogue avec mon jardinier.
director/screenwriter
Jean Becker
| | |
| --- | --- |
| 2007 | Deux jours à tuer |
| 2003 | Effroyables jardins (VCU French Film Festival 12) |
| 2000 | Un crime au paradis (VCU French Film Festival 9) |
| 1998 | Les Enfants du marais (VCU French Film Festival 8) |
| 1995 | Elisa |
| 1983 | L'Été meurtrier |
| 1967 | Tendre voyou |
| 1965 | Pas de caviar pour tante Olga |
| 1964 | Échappement libre |
| 1961 | Un nommé La Rocca |
actor/director
Jean-Pierre Darroussin
selected films since 1996
| | |
| --- | --- |
| 2007 | Le Coeur des hommes 2 by Marc Esposito |
| | Lady Jane by Robert Guédiguian |
| | Les Grandes Personnes by Anna Novion |
| 2006 | Fragile(s) by Martin Valente |
| | J'attends quelqu'un by Jérôme Bonnell |
| 2005 | Toute la beauté du monde by Marc Esposito |
| | Le Cactus by Gérard Bitton and Michel Munz |
| | Le Pressentiment by Jean-Pierre Darroussin |
| | Combien tu m'aimes? by Bertrand Blier |
| | Le Voyage en Arménie by Robert Guédiguian |
| 2004 | Mon père est ingénieur by Robert Guédiguian |
| | Un long dimanche de fiançailles by Jean-Pierre Jeunet |
| | Cause toujours by Jeanne Labrune |
| | Saint Jacques… La Mecque by Coline Serreau |
| 2003 | Feux rouges by Cédric Kahn |
| | Les Clés de bagnole by Laurent Baffie |
| 2002 | C'est le bouquet! by Jeanne Labrune |
| | Ah! Si j'étais riche by Michel Munz and Gérard Bitton |
| | Le Coeur des hommes by Marc Esposito |
| | Le Retour du printemps by Carlos Pardo |
| 2001 | L'Art (délicat) de la séduction by Richard Berry |
| | Mille millièmes, fantaisie immobilière by Rémi Waterhouse |
| | Une affaire privée by Guillaume Nicloux |
| | Marie-Jo et ses deux amours by Robert Guédiguian |
| 2000 | A l'attaque by Robert Guédiguian |
| | La Vie est tranquille by Robert Guédiguian |
| | Ça ira mieux demain by Jeanne Labrune |
| 1999 | Le Goût des autres by Agnès Jaoui |
| 1997 | Marius et Jeannette by Robert Guédiguian |
| | On connaît la chanson by Alain Resnais |
| 1996 | Un air de famille by Cédric Klapisch |
actor
Daniel Auteuil
selected films since 1996
| | |
| --- | --- |
| 2007 | Le Deuxième Souffle by Alain Corneau |
| | Ma fille a 15 ans by François Desagnat and Thomas Sorriaux |
| 2006 | Napoléon (et moi) by Paolo Virzi |
| | MR73 by Olivier Marchal |
| 2005 | L'Invité by Laurent Bouhnik |
| | La Doublure by Francis Veber |
| | Peindre ou faire l'amour by Arnaud Larrieu and Jean-Marie Larrieu |
| | Mon meilleur ami by Patrice Leconte |
| | L'Entente cordiale by Vincent de Brus |
| 2004 | L'Un reste l'autre part by Claude Berri |
| | Caché by Michaël Haneke (Best Actor, 2005 European Film Awards) |
| | 36, quai des Orfèvres by Olivier Marchal |
| | Le Prix du désir by Roberto Ando |
| 2003 | Après vous... by Pierre Salvadori |
| | Les Clés de bagnole by Laurent Baffie |
| 2001 | Petites coupures by Pascal Bonitzer |
| | L'Adversaire by Nicole Garcia |
| 2000 | Le Placard by Francis Veber |
| | La Veuve de St Pierre by Patrice Leconte |
| | Sade by Benoît Jacquot |
| 1999 | La Fille sur le pont by Patrice Leconte (Best Actor, 2000 César Award) |
| | Mauvaise passe by Michel Blanc |
| 1997 | Le Bossu by Philippe de Broca |
| 1996 | Lucie Aubrac by Claude Berri |
Interview with Jean Becker (director)
What was it, when reading the book by Henri Cueco, that made you want to make a film of it?
I was immediately struck by the gardener's way of speaking, of expressing himself, through very peculiar expressions. Incidentally, that's surely what struck Cueco when he met this man and what made him want to write the book — so that something of this man would remain. This gardener is a special, rather exceptional, being. His take on life is completely spontaneous and naïve, and yet just and deep. He's not your average Joe. His dialogues, as Cueco reconstructed them, are both terrifically strange and full of good sense.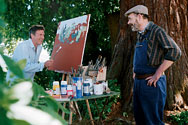 What was the primary challenge of the adaptation?
I practically had to come up from scratch with the character of the painter who, in the book, is only there for the gardener to play off of. I started writing the script alone and then, rather quickly, I felt the need to get someone to help me. I naturally thought of Jean Cosmos because we got along very well when we worked together on the adaptation of Effroyables jardins, but also because his daughter is a painter and she was surely of great help to him in developing this character. The right balance needed to be struck between the two, so as not to detract from the gardener while giving enough life and substance to the painter.
L'Été meurtrier, Les Enfants du marais, Effroyables jardins, Dialogue avec mon jardinier ... in your films there is this kind of nostalgia for life in the countryside even though you didn't grow up there.
I did, sort of. And it's coming out now ... Indeed, when the war broke out and my father was taken prisoner, we went to live in the countryside. I was 7 years old, I was on a farm and I lived like the sons of the people who put us up. Then, my father returned from captivity and he filmed Goupi mains rouges. The story took place in a farmer's world. So we went to live in Saint Léonard des Bois, again in the countryside! During the first part of my career, I suppressed these memories, these remembrances of the provinces. I think it was working on L'Été meurtrier with Sébastien Japrisot that gave me the taste for it again. I said to myself, "I feel good out here, telling stories with simple and authentic folk." And today, it's like it's important for me to re-establish the link with my childhood memories.
Interview with Jean-Pierre Darroussin (actor)
What do you find the most touching about the gardener?
He's a character who's genuine, who's in direct contact with what's real, who has found meaning in his life — exactly what the painter's character, who's in an emotional desert, is searching for. The gardener knows that the furrow he's plowed is straight. He can stand to look at himself in the mirror. He's always been honest, loyal, never hurt anyone. He is a deeply moral character. He lives authentically, and therefore his life serves a purpose. That's what's so touching on a human level, and deeply exemplary. … People like him are rare. I like this character a lot — his look, his shoes, his pants, his mo-ped. … I liked wearing his costume.
What, in your mind, touches Jean Becker in the meeting between this painter and his gardener?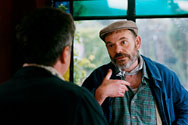 He's met lots of people, he's an open person, very sensitive and observant. When his father made Le Trou, the characters really lived and breathed. He tries to film that mystery of why people interact in life. That's his subject here too. Why do these two guys all of a sudden discover this bond? Why is a Parisian artist, an intellectual and aesthete, suddenly touched by this simple man? Precisely because something resonates within him. Jean, who's very nostalgic, who's very permeated by his father's cinema, by the people he met at that time, tries to understand what was truer about this society that wasn't just made up of consumers — why people were more into their work than into money, why they were more concerned with what they could do with their lives than with what they could expect from them ... Jean is exactly at the crossroads of these generations. He has lived in his time but with this feeling of everything we've lost because of this need for performance, image, recognition. It's a universal theme, of the ancients and the moderns. There's even something Chekhovian about it, in this examination of how the old days are dying out.