en français | time schedule | feature films | short films | program [PDF]
2008 Festival Feature Films (March 28-30)
---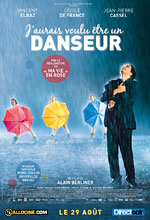 The VCU French Film Festival presents the American premiere of J'aurais voulu être un danseur
director Alain Berliner screenplay Alain Berliner, Sonia Bekhor producers Patrick Quinet, Serge Zeitoun starring Vincent Elbaz, Cécile de France, Jean-Pierre Cassel, Circé Lethem, Pierre Cassignard, Jeanne Balibar running time 1 h 47 min although not rated, parental guidance suggested
Synopsis
François Maréchal leads a happy, tranquil life. Married to a pretty young woman, he's the father of a small boy and has just been promoted — he's now the manager of a video store. Everything seems to be going wonderfully in his well-ordered life — until the day Singin' in the Rain comes out on DVD and François is caught in the spell of the wonderful world of musicals. He very quickly comes to a decision — he wants to become a tap dancer! Turning his back on his peaceful happiness, he dumps his wife, child and job to live his sudden, all-consuming passion. A mediocre but persevering dancer, he finally manages to exercise his craft in a provincial nightclub. There he must confront his past in the shape of his father, whom he thought was dead and who, like François, left home and hearth many years ago to become a tap dancer.
director/actor/co-producer
Alain Berliner
| | |
| --- | --- |
| 2002 | La Sirène rouge by Olivier Mégaton |
| 1999 | D'un rêve à l'autre |
| 1996 | Ma vie en rose |
| 1993 | Rose |
actor
Vincent Elbaz
| | |
| --- | --- |
| 2007 | La Petite Meurtrière by Julie Lipinski |
| | Tel père, telle fille by Olivier de Plas |
| 2006 | Paris-Banlieue by Didier Rouget |
| | Teen spirit by Olivier de Plas |
| | Le Dernier Gang by Ariel Zeïtoun |
| 2005 | Ma vie en l'air by Rémi Bezançon |
| | D'Artagnan et les trois mousquetaires by Pierre Aknine |
| | Test by Didier Rouget |
| 2004 | Le Parfum de la dame en noir by Denis Podalydès |
| | Dans tes rêves by Denis Thybaud |
| 2002 | Un monde presque paisible by Michel Deville (VCU French Film Festival 12) |
| 2001 | Absolument Fabuleux by Gabriel Aghion |
| | Embrassez qui vous voudrez by Michel Blanc |
| | Ni pour ni pour contre (bien au contraire) by Cédric Klapisch |
| | La Parenthèse enchantée by Michel Spinosa |
| | Rue des plaisirs by Patrice Leconte |
| | J'peux pas dormir by Guillaume Canet (short) |
| 2000 | Mémoire morte by Jean-Jacques Dumonceau (short) |
| 1999 | Peut-être by Cédric Klapisch |
| | Un pur moment de rock 'n roll by Manuel Boursinhac |
| | Quasimodo d'el Paris by Patrick Timsit |
| | Le Sourire du clown by Eric Besnard |
| | Nag la bombe by Jean Louis Milesi |
| 1998 | Grève party by Fabien Onteniente |
| | Petits désordres amoureux by Olivier Peray |
| | A tout de suite by Douglas Law |
| | Petits enfers by Edouard Deluc |
| | Suzy vend des sushis sans sursis by Delphine Quentin (short) |
| 1997 | Just do it by Frédéric Chèze, Denis Thybaud (short) |
| 1996 | Les Randonneurs by Philippe Harel |
| | La Vérité si je mens! by Thomas Gilou |
| 1995 | Le Plus bel âge by Didier Haudepin |
| | Enfants de salaud by Tonie Marshall |
| 1994 | Le Péril jeune by Cédric Klapisch |
actress
Cécile de France
| | |
| --- | --- |
| 2006 | Mon colonel by Laurent Herbiet |
| | Où est la main de l'homme sans tête? by Stéphane Malandrin, Guillaume Malandrin |
| | Fauteuils d'orchestre by Danièle Thompson |
| | Quand j'étais chanteur by Xavier Giannoli |
| | Mauvaise Foi by Roschdy Zem |
| | C'est la coutume by Roschdy Zem |
| | J'aurais voulu être un danseur by Alain Berliner |
| 2004 | Les Poupées russes by Cédric Klapisch |
| 2003 | Moi César 10 ans 1/2, 1m 39 by Richard Berry |
| | La Confiance règne by Etienne Chatiliez |
| 2002 | Loup! by Zoé Galeron |
| | Haute tension by Alexandre Aja |
| | Regarde-moi (en face) by Marco Nicoletti |
| 2001 | A + Pollux by Luc Pagès |
| | L'Art délicat de la séduction by Richard Berry |
| | L'Auberge espagnole by Cédric Klapisch |
| | Irène by Ivan Calbérac |
| 2000 | Toutes les nuits by Eugène Green |
| | Le Mariage en papier by Stéphanie Duvivier |
Interview with Alain Berliner (director)
How did this film come about?
The starting point was a script about three parallel plots that end up overlapping. One of them, which had to do with a family secret that repeated itself from generation to generation, I liked a lot more than the others. It was crowded out by the two other plots and I wasn't able to develop it like I wanted to, unless I made a three-hour film out of it, so I chose to isolate it and rewrite another script based on it.
In my reading, and through stories I had heard, I realized just how much some people unconsciously follow in their parents' footsteps and show them a sort of destructive loyalty, recreating from generation to generation the same behaviors, the same mistakes.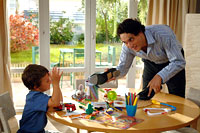 Did you have any special challenges in getting this unique, genre-mixing project off the ground?
The film is a Belgian, French, Luxembourgian and English co-production. The number of co-producing countries demonstrates just how complicated it was to set up. The mix of genres, and also this story of a guy who wants to become a dancer, with this whole psychological and "psycho-genealogical" aspect, made the film complicated for decision makers to read. They didn't really know how to classify it.
The editing of the film is very important. You feel like it has its own writing style.
Absolutely. For me, there are three writing styles in the film. That of the script, that of the shoot and then the real writing, the edit. In the script, everything is allowed, you can dream. Then on the shoot, everything is fragmented; you're filming in disorder and, quite frankly, in the middle of the shoot there's always a moment when I no longer know quite what's going on. In the edit, I have to go with what I've got and I reorganize the tale depending on what I have, although, of course, I have to have enough options to do so. If there are things that aren't exactly as I had wanted them but they're powerful and have their own logic, I yield to them. I sort of apply the logic of a documentary.
Which scenes were the most difficult to direct? The musical scenes or the more intimate acting scenes?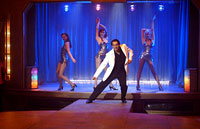 Choreography is very precise, tested and rehearsed in advance, you have very little latitude. From a technical standpoint, all the musical scenes are complicated to film but the cameramen have a good sense of rhythm, they know precisely when to come and go from one place to another. However, when tension needs to build between the characters it's more complicated, especially as here I made the choice to say that violence need not involve shouting and extremely harsh words in order to be expressed. Sometimes just a phrase or a simple look is a lot more terrible and more destructive. When we hit someone, in a way it's proof that we still bother to touch them and that the other still counts for something. When we say nothing, or we storm off with a single word, that's terrible. I call that an ice-pick! It's cold and irrevocable.
How did you work with Jean-Pierre Cassel and Vincent Elbaz on the dance scenes?
They rehearsed those numbers together. But Vincent had worked very hard on his own with the choreographer, before the shoot. In the audition scene when he's at "Chez Pépé," the step that Jean-Pierre has him do, he suggested it to him only a few hours before filming. It's very rare to be able to do that. Vincent was really amazing.