en français | time schedule | feature films | short films | program [PDF]
2008 Festival Feature Films (March 28-30)
---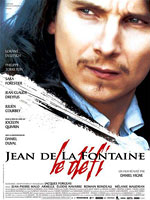 French director Daniel Vigne presents the North American premiere of Jean de La Fontaine, le défi
director Daniel Vigne screenplay Jacques Forgeas producers Fabienne Servan-Schreiber, Jean-Pierre Fayer starring Lorant Deutsch, Philippe Torreton, Sara Forestier, Jean-Claude Dreyfus, Julien Courbey, Jean-Pierre Malo, Jocelyn Quivrin running time 1 h 40 min although not rated, parental guidance suggested
Synopsis
On Sept. 5, 1661, Paris awakens to news that the superintendent of finance, Fouquet, has been arrested by order of Colbert, Louis XIV's powerful adviser. The young king is becoming an absolute ruler. While other artists betray their original patrons and rush to pay court to the almighty monarch, only the poet Jean de La Fontaine remains faithful to the fallen superintendent. Colbert vows to crush the rebel, the only artist in the kingdom to place his art above the king. But in spite of his poverty, La Fontaine remains true to his convictions and, though penniless, continues his resistance. His acute and spirited observations inspire his Fables, satirical tracts against the despotic regime.
director/screenwriter
Daniel Vigne
| | |
| --- | --- |
| 1994 | L'Attente (in 3000 scénarios contre un virus) |
| 1990 | Jeanne, la putain du roi (scriptwriter) |
| 1989 | Comédie d'été |
| 1985 | Une femme ou deux |
| 1982 | Le Retour de Martin Guerre |
| 1977 | Le Sept à la butte (short film) |
| 1973 | Les Hommes |
actor
Lorant Deutsch
| | |
| --- | --- |
| 2007 | Big City by Djamel Bensalah |
| | Toni by Alix de Maistre |
| | Le Plaisir de chanter by Ilan Duran Cohen |
| 2005 | Ze film by Guy Jacques (VCU French Film Festival 14) |
| | Le Temps des portes-plumes by Daniel Duval |
| 2004 | L'Américain by Patrick Timsit |
| | Pour le plaisir by Dominique Deruddère |
| 2003 | Ripoux 3 by Claude Zidi |
| | Nos amis les flics by Bob Swaim |
| 2002 | Bienvenue chez les Rozes by Francis Palluau |
| | Sens dessus dessous by Vincent Buffé |
| | A louer by James L. Frachon |
| | Les Amateurs by Martin Valente (VCU French Film Festival 12) |
| | Le Coût de la vie by Philippe Le Guay |
| 2001 | Le Raid by Djamel Bensalah |
| | Ta sœur by Martin Valente |
| | 3 Zéros by Fabien Onteniente |
| | Ces jours heureux by Olivier Nakache |
| 2000 | Un aller simple by Laurent Heynemann |
| | L'Envol by Steve Suissa |
| | Jet Set by Fabien Onteniente |
| | HS by Jean-Paul Lilienfeld |
| | Scenarios sur la drogue: Exta-ordinaire by Manuel Boursinhac |
| 1999 | Peut-être by Cédric Klapisch |
| 1998 | Le Ciel, les oiseaux et… ta mère! by Djamel Bensalah |
| 1997 | Y a du foutage dans l'air by Djamel Bensalah |
actor
Philippe Torreton
| | |
| --- | --- |
| 2006 | Ulzhan by Volker Schlöndorff |
| 2005 | Le Grand Meaulnes by Jean-Daniel Verhaeghe |
| | Adam et Eve by Michel Deutsch |
| 2004 | Les Chevaliers du ciel by Gérard Pirès |
| | Monsieur N. by Antoine de Caunes |
| | Dear Hunter by Franck Saint-Cast |
| | L'Equipier by Philippe Lioret |
| 2002 | Corps à corps by François Hanss, Arthur-Emmanuel Pierre |
| 2001 | Vertiges de l'amour by Laurent Chouchan |
| 2000 | Félix et Lola by Patrice Leconte |
| 1999 | Ca commence aujourd'hui by Bertrand Tavernier |
| | Tôt ou tard by Anne-Marie Etienne |
| 1996 | Capitaine Conan by Bertrand Tavernier |
| | Le Bel Eté, 1914 by Christian de Chalonge |
| | La Servante aimante by Jean Douchet |
| 1995 | L'Appât by Bertrand Tavernier |
| 1994 | L'Ange noir by Jean-Claude Brisseau |
| | Oublie-moi by Noémie Lvovsky |
| 1993 | Une nouvelle vie by Olivier Assayas |
| | L. 627 by Bertrand Tavernier |
| 1991 | La Neige et le feu by Claude Pinoteau |
| | Dernier regard by Philippe Coroyer |
Comments by Daniel Vigne (director)
When I was a child, I thought La Fontaine was at best amusing and at worst boring. As I grew up, I learned to access this author's hidden meanings and I discovered a man in permanent conflict with the established political power, which I quite like about him.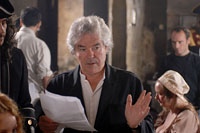 Today, La Fontaine is everywhere without our really noticing it. Comics seized upon his animals and politicians his maxims. He's quoted on the television news. What he said about the court and the king in his most openly political fables, such as "The Animals Sick of the Plague" and "The Lion's Court," is more topical than ever. He decried flatterers and empty propaganda, compared the court to a mass grave and pointed out the danger in letting a country be governed by one man.
Interview with Philippe Torreton (actor)
What was your reaction upon reading the script?
I discovered that La Fontaine was quite a free thinker at a time when it was complicated to be so. I had a misconception of him. Like many people, I was distracted with the moral aspect of his work and underestimated him, because obviously I haven't read everything he wrote — the Fables or the rest. But I then took a closer look and now see that the "morals" of his stories are rather ambiguous.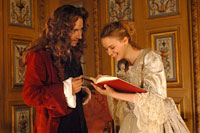 Take "The Grasshopper and the Ant." What does he want to say there? Is he denouncing the selfishness of the ant or the carelessness of the grasshopper? Coming from an artist, it would be a bit surprising to begrudge the grasshopper, wouldn't it? In the final analysis, his morals are more open-ended — he shows us a mirror and we draw our own conclusions. There is a good deal of malice in these fables and at the time, even though Aesop and others had led the way, he was clever enough and had the courage to make them fashionable again for his day. I can imagine the talk in the salons: "Oh, well, I'm reading about a tortoise and a hare and don't yet know who shall win!?!" For me, La Fontaine was a man who had the courage of his artistic ambitions — he was undoubtedly unaware that he would be so successful, but while everyone was telling him to give up, he carried on. Something in him was unable to do anything else and I find that quality to be beautiful when you see the lives of such talents as Racine or Lulli who gave in more than he did.
Jean de La Fontaine is faced by Colbert, his opposite in a way.
Colbert was an unremittingly hard worker, an intelligent man who had a rather high idea of himself, who was in any case aware of what he could contribute to France. I don't think he had any realization at the end of his life of all his accomplishments. In some letters from the time when he was still in the service of Mazarin, he complains that he doesn't have enough work to do. If he didn't have five or six important matters on the go, he felt like he was wasting his time.