en français | time schedule | feature films | short films | program [PDF]
2009 Festival Feature Films (March 27-29)
---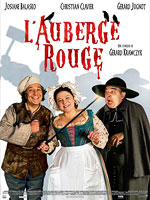 French director Gérard Krawczyk and actress Josiane Balasko present the United States premiere of L'Auberge rouge
director Gérard Krawczyk screenplay Christian Clavier and Michel Delgado producer Hervé Truffaut starring Josiane Balasko, Christian Clavier, Gérard Jugnot, Jean Baptiste Maunier, Sylvie Joly, Anne Girouard, François-Xavier Demaison, Frédéric Epaud, Juliette Lamboley, Urbain Cancelier, Laurent Gamelon, Olivier Saladin, Jean-Christophe Bouvet, Igor Skreblin, Christian Bujeau, Jan Roulier running time 1 h 35 min general audience
Synopsis
In the late 19th century, the bleak Crouteux Inn stands in the middle of the wild mountains of the Pyrenees. Martin and Rose, a couple of innkeepers, run the establishment and regularly get Violet, their deaf and mute adopted son, to murder solitary travelers in order to rob them. One stormy night, good Father Carnus, in charge of taking a young man to a remote monastery nested in the mountains, is led to take refuge at the inn. … Read more
---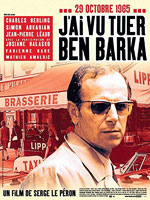 French director Serge Le Péron and actress Josiane Balasko present J'ai vu tuer Ben Barka
director Serge Le Péron with Saïd Smihi screenplay Serge Le Péron, Frédérique Moreau, Saïd Smihi starring Charles Berling, Simon Abkarian, Josiane Balasko running time 1 h 41 min general audience
Synopsis
January 1966. In a Paris apartment the police find the corpse of Georges Figon, the man who blew the whistle on the Ben Barka scandal that shook up the Gaullist government.

A year earlier … Figon, tired of dubious deals and petty scams, is on the hunt for a lucrative project. Connected to the underworld since his time in jail, he is put in charge of a substantial mission: to produce a documentary about decolonization, written by Marguerite Duras and directed by Georges Franju, assisted by the famous Moroccan militant leader, Mehdi Ben Barka, hired as the film's historical adviser.

Unknown to most of those involved in the film's production, the project is a trap.
Read more
---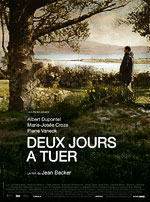 Drs. Peter and Françoise Kirkpatrick present the United States premiere of Deux jours à tuer
director Jean Becker screenplay François d'Épenoux, Eric Assous, Jérôme Beaujour, Jean Becker based on the novel Deux jours à tuer by François d'Epenoux starring Albert Dupontel, Marie-Josée Croze, Pierre Vaneck running time 1 h 25 min Although not rated, parental guidance suggested
Synopsis
Advertising executive Antoine is 42 years old and a pretty successful man. He is married to Cécile, has two children and lives in a nice house in the Paris suburbs where he gets along well with his neighbors. Of course, there is his discreet affair with the beautiful Marion, but nothing could upset this happy balance. Then one ordinary day, his life is turned upside down. During a meeting with one of his agency's big clients, he gets carried away and messes up the project. His partner suggests that he take a break and get some rest, but Antoine is determined to put an end to their partnership and offers to sell his shares. Back home for the weekend, he starts to systematically destroy everything he has built up over the years. His wife accuses him of having an affair and he does not deny it. He is unpleasant, elusive and he pushes her right to the limits, without the slightest explanation. For his birthday, his children give him some drawings. Suddenly, his usual indulgence evaporates and he comes down hard on them. An old friend asks him for his advice about buying a classic car, but instead of helping him, he simply blows up the deal. His friends are waiting for him at his house where they are throwing a surprise party, but he takes great pleasure in insulting them all, one after the other, and even insults the beautiful Virginie — too tempting for his taste. Nobody understands what is happening to him. The soirée quickly turns sour and ends in a fight. In a last fit of rage, Antoine throws everyone out. After one final dreadful conversation with Cécile from which there is no going back, he leaves the family home. In the space of a single weekend, Antoine — a seemingly trouble-free man — destroys his entire life. Is it really a midlife crisis? Or is there something else? Read more
---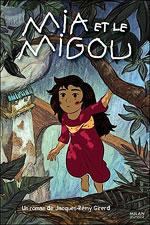 French screenwriter and art director Benôit Chieux presents the animated film Mia et le Migou
director/producer Jacques-Rémy Girerd screenplay Benoît Chieux, Antoine Lanciaux, Iouri Tcherenkov voices Dany Boon, Garance Lagraa running time 1 h 32 min general audience
Synopsis
Mia is a young girl barely 10 years old. Alerted by a premonition, she decides to leave her native village somewhere in South America in search of her father. He has been gone for some time, working on a huge construction site to transform a tropical forest into a luxurious resort hotel. Mia's journey to find her father is long. She must cross a remote mountain, surrounded by a dark forest populated by mysterious beings. In the midst of this magical world, the young girl will discover an uncommon tree and be confronted with the true forces of nature.
An extraordinary adventure. ... Read more
---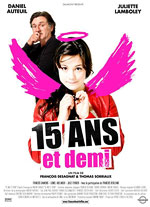 French directors François Desagnat and Thomas Sorriaux and associate producer Sandrine Paquot present the North American premiere of 15 ans et demi
directors François Desagnat, Thomas Sorriaux
screenplay François Desagnat, Thomas Sorriaux
based on the novel 15 ans et demi by Vincent Ravalec producers Luc Bossi, Patrice Ledoux associate producer Sandrine Paquot starring Daniel Auteuil, Juliette Lamboley running time 1 h 37 min general audience
Synopsis
"He has resolved all the great questions of molecular biology — except one
... his daughter!"
Philippe Le Tallec, a brilliant scientist who has been living in the United States for 15 years, decides to return to France to look after his daughter Eglantine. He hopes to grab this opportunity to develop ties with the teenage girl and to make up for lost time, but she has far more pressing concerns than hanging out with her father.
It's immediately clear that things are rather different than he imagined; Philippe is completely overwhelmed. He decides he must learn what he never really knew and takes a class for fathers in difficulty. The sessions are run by Jean-Maxence, a famous author of how-to methods of every kind. Read more
---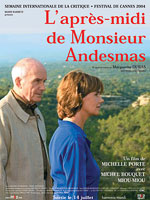 French director Michelle Porte presents the North American premiere of L'Après-midi de Monsieur Andesmas
director Michelle Porte screenplay Michelle Porte based on the novel L'Après-midi de Monsieur Andesmas by Marguerite Duras starring Michel Bouquet, Miou-Miou running time 1 h 19 min general audience
Synopsis
It's summer. The light is dazzling. We're in the south of France. The only house in the forest is the one that Mr. Andesmas has just bought for his daughter, Valerie. That afternoon, Mr. Andesmas has an appointment with a builder, Michel Arc.
He waits on the site of the future terrace, overlooking the valley. Music rises up from the village below, a tune that everyone is singing that summer. Life now unfolds far from Mr. Andesmas. At his age he is used to this. Sitting in the shade, in an old wicker armchair, he waits for Michel Arc, who doesn't appear, and thinks of his young daughter Valerie, now his only love, who dances below on the village square.
For a moment he is distracted by a passing dog and then by the arrival of a strange little girl, a messenger from Michel Arc, her father. In the heat and dizziness of the afternoon, he will also revive the memory of one of the key moments in his life: the departure of his wife 10 years earlier when she left the two of them, him and his daughter.
Then, all of a sudden, there is another woman in front of him: Michel Arc's wife. She circles him, approaching him, veering away, coming back, desperate with love and restrained suffering. "You're the only one I can talk to about her, do you understand? Valerie makes me suffer terribly."
Mr. Andesmas hears her speak and, trying not to listen, discovers a Valerie whom he does not know. … Read more
---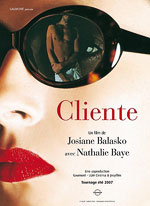 French director, actress, screenwriter, producer and author Josiane Balasko and actor George Aguilar present Cliente
director Josiane Balasko screenplay Josiane Balasko Basé sur le livre Cliente de Josiane Balasko starring Nathalie Baye, Éric Caravaca, Isabelle Carré, George Aguilar running time 1 h 45 min Although not rated, parental guidance is suggested.
Synopsis
Judith, an attractive and well-balanced woman in her 50s, runs a home shopping show. Divorced, she lives alone with her sister and confidante Irène who knows her secret: Judith regularly treats herself to sexual services from young men whom she selects from an online escort site. Like so, Judith meets Patrick, whose kindness, charm and simplicity she finds attractive. Yet Patrick, who is really Marco, is married and deeply in love with his wife Fanny, who thinks her husband is working at a construction site. … Read more
---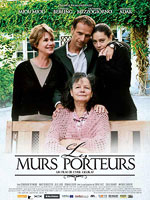 French director Cyril Gelblat presents the North American premiere of Les Murs porteurs
director Cyril Gelblat screenwriter Cyril Gelblat producers Delante Films, SND/M6 DA starring Charles Berling, Miou-Miou, Shulamit Adar and Giovanna Mezzogiorno running time 1 h 32 min general audience
Synopsis
Frida, a 75-year-old Ashkenazi Jew, is losing her memory and confuses the past with the present. Judith, her daughter, chose not to work in order to stay at home to look after her children. Now divorced, she must cope with her youngest son leaving home and her mother's aging and wonders what her purpose in life is. Simon, Frida's son, shows great perspicacity about the world because of his journalistic work, but is blind to the changes his daughter is going through and to his mother's confusion.
Frida returns to the apartment she used to live in, believing she will meet her husband, who has been dead for several years. Instead she encounters 35-year-old Manou, her tenant, who is expecting a promotion. The return to this apartment, crossroads of their lives, allows these characters to find each other and themselves again. Their stories touch upon the passing of time, the changes we experience at all ages — the inevitable things of life. Read more
---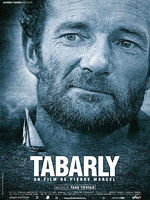 French director Pierre Marcel presents the North American premiere of Tabarly
director Pierre Marcel screenplay Pierre Marcel producers Jacques Perrin, Nicolas Dumont starring Eric Tabarly as himself running time 1 h 30 min general audience
Synopsis
We often dream of meeting those great men and women we admire — to listen to their stories and to get to know the spirit that drives them. But these figures do not just tell and retell their stories — they live them. Meeting Eric Tabarly catches you off-guard. A discret man full of humility yet what a presence he made; he was someone so down-to-earth. But I regret not having known him better; if I had known of his adventures and grand expeditions before, would I have understood the man?
Pierre Marcel's film, sponsored by the Eric Tabarly Association, tells of the unusual journey of this in-tune-with-nature sailor. Based largely on original documents from radio broadcasts to other audiovisual archives, in English and French, from both professional and amateur sources, this work brings to light the many feats and accomplishments that the Pen Duick fleet carried throughout 35 years out on the world's seas.
Tabarly: the perfect composite of a human being, a boat and the sea. He was not a man of many words, but he led rather by his actions and example. Read more
---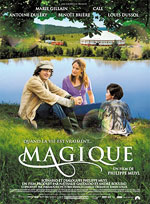 French director Philippe Muyl presents the North American premiere of Magique!
director Philippe Muyl screenplay Philippe Muyl producers Nathalie Gastaldo, Andre Rouleau starring Marie Gillain, Cali, Antoine Duléry, Benoît Brière, Louis Dussol running time 1 h 31 min general audience
Synopsis
On an isolated farm live Betty and her 10-year-old son Tommy.
Young Tommy has never met his father; his mother has always told him that she didn't know who he was. So Tommy convinced himself that his father was actually an astronaut and his mother never told him otherwise. Each night he sits and watches the sky waiting for him to return. Tommy rarely sees his mother happy and he would love to see a smile light up her face, but how? One day he discovers that a circus is coming to town. But, due to legal technicalities, they are forbidden to set up their tent in the town! Certain that he has found the solution to his problem, Tommy seizes the opportunity. He succeeds in convincing his mother to welcome the circus onto their property. The caravans come in and set up in the field next to the farm house. But another problem arises: Bingo, the man in charge of transporting the main tent got lost along the way and, without the tent, there cannot be a show!
While all the performers are waiting for the tent to arrive, Tommy gets the opportunity to learn a little bit about the joyful life of transients. Slowly, love begins for two lonely hearts. … Read more
---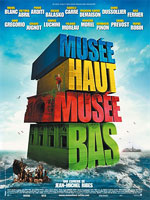 French director Jean-Michel Ribes, French producer Frédéric Brillion and French actress Josiane Balasko present the North American premiere of Musée haut musée bas
director Jean-Michel Ribes screenplay Jean-Michel Ribes producers Hervé Frédéric Brillion, Gilles Legrand based on the play by Jean-Michel Ribes starring Michel Blanc, Simon Abkarian, Victoria Abril, Pierre Arditi, Alfredo Arias, John Arnold, Sophie Artur, Hélène Babu, Josiane Balasko, Jean-Damien Barbin, Isabelle Carré, Julie Ferrier, Annie Grégorio, Gérard Jugnot, Fabrice Luchini, Yolande Moreau, François Morel, Daniel Prévost, Muriel Robin, Eva Darlan, Urbain Cancelier, Avril Benard, Xavier Gallais, Laurent Gamelon, Dominique Pinot, Milan Mauger, Aurélia Petit, Alexis Maah, Franck de la Personne, Patrick Robine, Samuel Theis, Tonie Marshall, Pierre Lescure, Valérie Mairesse, Christian Hecq, Francois-Xavier Demaison, André Dussollier, Evelyne Bouix running time 1 h 37 min general audience
Synopsis
A curator terrorized by green plants, a mother coated in plastic so as to be exhibited, a ballet of Holy Virgins, museum attendants exhausted by Rodin, a car that disappears in the Rembrandt parking deck, provincial folks in love with impressionist paintings, hoards of tourists galloping from one room to another, an illegal passenger at sea among primitive art, Picasso, Gauguin, Warhol — they are all gathered here in this little world that resembles the big one, in this museum not quite as imaginary as it appears, where the human comedy waltzes to a burlesque beat. Read more
---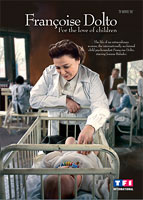 French director Serge Le Péron and actress Josiane Balasko present the North American premiere of Françoise Dolto, le désir de vivre
director Serge Le Péron screenplay Serge Le Péron, Frédérique Moreau based on the life of Françoise Dolto producer Les Films du Worso co-producer Entre Chien et Loup starring Josiane Balasko, Maxime Berger, Milan Argaud running time 1 h 38 min general audience
Synopsis
We are in the aftermath of World War II. Claude, 10 years old and the son of communist French Resistance fighters, has lost his mother who died at Auschwitz. Ben, 14, is the son of a prostitute and a small-time Jewish hoodlum. With the help of Françoise Dolto, the two young boys confront the demons that haunt them. They meet through her, become friends, share an outstanding adventure together and then separate to live opposing lives. We follow these two cases, along with the treatment of other children with severe problems, and the daily work of an outstanding doctor who invented a discipline: psychoanalysis for children. Read more