en français | time schedule | feature films | short films | program [PDF]
2009 Festival Feature Films (March 27-29)
---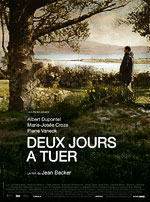 Drs. Peter and Françoise Kirkpatrick present the United States premiere of Deux jours à tuer
director Jean Becker screenplay François d'Épenoux, Eric Assous, Jérôme Beaujour, Jean Becker based on the novel Deux jours à tuer by François d'Epenoux starring Albert Dupontel, Marie-Josée Croze, Pierre Vaneck running time 1 h 25 min Although not rated, parental guidance suggested
| | |
| --- | --- |
| | Congratulations to Albert Dupontel for his 2009 César nomination for Best Actor for Deux jours à tuer. |
| | |
| --- | --- |
| | Congratulations to Pierre Vaneck for his 2009 César nomination for Best Supporting Actor for Deux jours à tuer. |
| | |
| --- | --- |
| | Congratulations to Jean Becker, Eric Assous, Jérôme Beaujour and François d'Epenoux for their 2009 César nomination for Best Writing-Adaptation for Deux jours à tuer. |
François d'Epenoux's novel Deux jours à tuer is available for purchase in the lobby.
Synopsis
Advertising executive Antoine is 42 years old and a pretty successful man. He is married to Cécile, has two children and lives in a nice house in the Paris suburbs where he gets along well with his neighbors. Of course, there is his discreet affair with the beautiful Marion, but nothing could upset this happy balance. Then one ordinary day, his life is turned upside down. During a meeting with one of his agency's big clients, he gets carried away and messes up the project. His partner suggests that he take a break and get some rest, but Antoine is determined to put an end to their partnership and offers to sell his shares.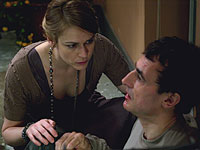 Back home for the weekend, he starts to systematically destroy everything he has built up over the years. His wife accuses him of having an affair and he does not deny it. He is unpleasant, elusive and he pushes her right to the limits, without the slightest explanation. For his birthday, his children give him some drawings. Suddenly, his usual indulgence evaporates and he comes down hard on them. An old friend asks him for his advice about buying a classic car, but instead of helping him, he simply blows up the deal. His friends are waiting for him at his house where they are throwing a surprise party, but he takes great pleasure in insulting them all, one after the other, and even insults the beautiful Virginie — too tempting for his taste. Nobody understands what is happening to him. The soirée quickly turns sour and ends in a fight. In a last fit of rage, Antoine throws everyone out. After one final dreadful conversation with Cécile from which there is no going back, he leaves the family home. In the space of a single weekend, Antoine — a seemingly trouble-free man — destroys his entire life. Is it really a midlife crisis? Or is there something else?
director/screenwriter
Jean Becker
| | |
| --- | --- |
| 2008 | Deux jours à tuer |
| 2007 | Dialogue avec mon jardinier |
| 2003 | Effroyables jardins |
| 2001 | Un crime au paradis |
| 1999 | Les Enfants du Marais |
| 1995 | Élisa |
| 1983 | L'Été meurtrier |
| 1966 | Tendre voyou |
| 1965 | Pas de caviar pour tante Olga |
| 1964 | Échappement libre |
| 1961 | Un nommé La Rocca |
actor/director
Albert Dupontel
selected films since 1992
| | |
| --- | --- |
| 2008 | Deux jours à tuer by Jean Becker |
| | Paris by Cédric Klapisch |
| 2007 | L'Ennemi intime by Florent Emilio Siri |
| | Chrysalis by Julien Leclercq |
| | Changement de propriétaire by Jean-Hugues Lime |
| | Jacquou le Croquant by Laurent Boutonnat |
| 2006 | Odette Toulemonde by Eric-Emmanuel Schmitt |
| | Président by Lionel Delplanque |
| | Fauteuils d'orchestre by Danièle Thompson |
| | Enfermés dehors |
| | Avida by Gustave de Kervern and Benoît Delépine |
| 2004 | Un long dimanche de fiançailles by Jean-Pierre Jeunet |
| | Le Convoyeur by Nicolas Boukhrief |
| 2002 | Irréversible by Gaspar Noé |
| | Petites misères by Philippe Boon and Laurent Brandenbourger |
| | Monique by Valérie Guignabodet |
| 2001 | L'Origine du monde by Jérôme Enrico |
| 1999 | La Maladie de Sachs by Michel Deville |
| | Le Créateur |
| | Du bleu jusqu'en Amérique by Sarah Lévy |
| 1998 | Serial Lover by James Huth |
| 1996 | Bernie |
| | Un héros très discret by Jacques Audiard |
| 1992 | Désiré |
actress
Marie-Josée Croze
selected films since 1992
| | |
| --- | --- |
| 2009 | Je l'aimais by Zabou Breitman |
| 2008 | Le Nouveau protocole by Thomas Vincent |
| | Deux jours à tuer by Jean Becker |
| 2007 | Le Scaphandre et le papillon by Julian Schnabel |
| | Jacquou Le Croquant by Laurent Boutonnat |
| 2006 | Ne le dis à personne by Guillaume Canet |
| | La Mémoire des autres by Pilar Anguita-MacKay |
| | Les Oiseaux du ciel by Eliane de Latour |
| 2005 | Munich by Steven Spielberg |
| | La Petite Chartreuse by Jean-Pierre Denis |
| 2004 | Ordo by Laurence Ferreira Barbosa |
| | Mensonges et Trahisons et plus si affinité by Laurent Tirard |
| 2003 | Les Invasions barbares by Denys Arcand |
| | Nothing by Vicenzo Natali |
| 2002 | Ascension by Karim Hussain |
| | Ararat by Atom Egoyan |
| | Des chiens dans la neige by Michel Welterlin |
| 2000 | Maelström by Denis Villeneuve |
| | Battlefield Earth by Roger Christian |
| 1998 | HLA identique by Thomas Briat |
actor
Pierre Vaneck
selected films since 1970
| | |
| --- | --- |
| 2007 | Deux jours à tuer by Jean Becker |
| 2006 | La Science des rêves by Michel Gondry |
| 2000 | Là-bas…mon pays by Alexandre Arcady |
| 1999 | Furia by Alexandre Aja |
| 1995 | The Proprietor by Ismail Merchant |
| | Othello by Olivier Parker |
| 1993 | Vent d'Est by Robert Enrico |
| 1992 | Sur la terre comme au ciel by Kristin Johannesdottir |
| 1990 | Les Enfants du Vent by Chritof Rogolski |
| 1988 | Les Pyramides Bleues by Arielle Dombasle |
| 1987 | Sweet Country by Michel Cacoyanis |
| 1984 | L'Année des méduses by Christopher Franck |
| 1983 | Eréndira by Ruy Guerra |
| 1980 | Le Soleil en face by Pierre Kast |
| | La Légion saute sur Kolwezi by Raoul Coutard |
| 1970 | Biribi by Daniel Moosman |
Interview with Jean Becker (director)
How did you come across François d'Epenoux's book Deux jours à tuer (published by Anne Carrière) upon which the film is based?
A friend leant it to me. I was in Scotland at the time, and once I started reading it, I couldn't put it down. I was instantly intrigued — disturbed even — by the behavior of this man who, in just a weekend, throws everything into confusion. At the start of the novel, you do not understand what is going on, and you cannot see the reason why Antoine is acting in such an incomprehensible manner. He is mean to his wife, he is tough on his kids and he attacks his friends. ... I liked the story even more in that there was a real explanation for Antoine's behavior — a credible reason that was revealed at the end of the novel.
Without revealing the plot, what can you say about the direction Antoine takes?
He says it himself at the end of the film: it is selfish, crazy, demented and brave — call it what you like — but it is his way of facing up to what happens to him. This man's attitude amazed me. I wondered what I would have done at the same age in similar circumstances. I could not come up with an answer. At my age, things are different.
Was it difficult to find the right actor to play Antoine?
I think Albert Dupontel is excellent in both his own films and those of others. I remembered characters he incarnated — with a slightly disturbing physique, with a piercing and strong eye — exactly what was needed to take on Antoine's strange behavior.
How did you find Marie-Josée Croze?
She was magnificent in The Barbarian Invasions by Denys Arcand and, indeed, the two films have a curious similarity. Marie-Josée is an exquisite person and a very great actress. She has gentleness and a look that I find deeply moving.
Three of you adapted it for the screen. How did you divide up the work?
It was the first time I had worked with Eric Assous. I entrusted him with the whole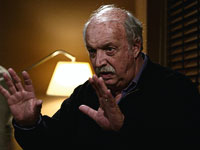 first part of the adaptation until the moment Antoine leaves home. Everything that happens after that in Ireland serves to throw light on his character. Who is he really? What is his relationship with his father? I wanted the audience to discover Antoine in a different light so I gave all of the second part to François d'Epenoux. I did not see the point in asking him to go back over what he had already written, but for the second part, our collaboration was very fruitful. When everything was ready, I took the whole thing and went to work in my ivory tower. Just like I always do now.
The Irish sequence is a perfect example of the kind of universe you like to explore.
We shot in Connemara, in Ireland. I was very keen to film those landscapes and the light there. I feel good out in the open, in those huge spaces. Everything's easier for me there.
Were there any particularly difficult situations during the shooting of the film?
Most of the work is done prior. Everything is written in the text. The actors have read the script. If they are on the set, they understood the meaning. Besides a few discussions, a few directions, because everything — the entire film — is already in my head, I do not have much to say. … I just needed to make a slight change of direction from time to time to keep the ship on the right course. I like it when shoots go well. Filmmaking is such a magnificent profession, such a privileged one that we are not entitled to create stress or aggression.
Was the dinner party scene tricky to orchestrate?
That scene required some special research. Albert and I wondered how to tackle it in order for there to be a sense of progression. Antoine had to start out being likeable and it required subtle handling. It was all in the dialogue, which once again underscores the importance of the writing. There are two essential things in any film: the writing and the editing.