en français | time schedule | feature films | short films | program [PDF]
2009 Festival Feature Films (March 27-29)
---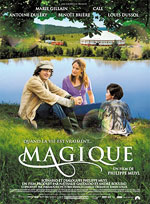 French director Philippe Muyl presents the North American premiere of Magique!
director Philippe Muyl screenplay Philippe Muyl producers Nathalie Gastaldo, Andre Rouleau starring Marie Gillain, Cali, Antoine Duléry, Benoît Brière, Louis Dussol running time 1 h 31 min general audience
Synopsis
On an isolated farm live Betty and her 10-year-old son Tommy.
Young Tommy has never met his father before; his mother has always told him that she didn't know who he was. So Tommy convinced himself that his father was actually an astronaut and his mother never told him otherwise. Each night he sits and watches the sky waiting for him to return. Tommy rarely sees his mother happy and he would love to see a smile light up her face, but how? One day he discovers that a circus is coming to town. But, due to legal technicalities, they are forbidden to set up their tent in the town! Certain that he has found the solution to his problem, Tommy seizes the opportunity. He succeeds in convincing his mother to welcome the circus onto their property. The caravans come in and set up in the field next to the farm house. But another problem arises: Bingo, the man in charge of transporting the main tent got lost along the way, and without the tent, there cannot be a show!
While all the performers are waiting for the tent to arrive, Tommy gets the opportunity to learn a little bit about the joyful life of transients. Slowly, love begins for two lonely hearts. …
director/writer
Philippe Muyl
| | |
| --- | --- |
| 2008 | Magique! |
| 2007 | Guo bao zong dong yuan by Gérard Pirès |
| | Bac + 70 by Laurent Levy |
| 2002 | Le Papillon |
| 2000 | La Vache et le président |
| 1997 | Tout doit disparaître |
| 1996 | Adorable petite bombe |
| 1993 | La Lettre inachevée by Chantal Picault |
| | Cuisine et dépendances |
| | Martineau… et le portrait de femme by Daniel Moosmann |
| 1991 | Contre l'oubli |
| 1985 | L'Abre sous la mer |
actor
Marie Gillain
| | |
| --- | --- |
| 2009 | Coco avant Chanel by Anne Fontaine |
| 2008 | La très très grande entreprise by Pierre Jolivet |
| | Magique! |
| | Les Femmes de l'ombre by Jean-Paul Salomé |
| 2007 | La Clef by Guillaume Nicloux |
| | Fragile(s) by Martin Valente |
| | Ma Vie n'est pas une comédie romantique by Marc Gibaja |
| | Pars vite et reviens tard by Régis Wargnier |
| 2005 | La Voie de Laura by Gérard Cuq |
| | L'enfer by Danis Tanovic |
| 2004 | Tout le plaisir est pour moi by Isabelle Broué |
| 2002 | Ni pour, ni contre (bien au contraire) by Cédric Klapisch |
| | Laissez-passer by Bertrand Tavernier |
| 2001 | Absolument fabuleux by Gabriel Aghion |
| | Barnie et ses petites contrariétés by Bruno Chiche |
| 2000 | Laissons Lucie faire! by Emmanuel Mouret |
| 1999 | Harem suaré by Ferzan Ozpetek |
| 1998 | La Cena by Ettore Scola |
| | Requiem pour un décor by Pierre-François Limbosch |
| 1997 | Le Bossu by Philippe de Broca |
| | Un air si pur… by Yves Angelo |
| 1996 | Le Affinità elettive by Paolo and Vittorio Taviani |
| 1995 | L'Appât by Bertrand Tavernier |
| 1994 | Marie by Marian Handwerker |
| 1993 | Un homme à la mer by Jacques Doillon |
| 1991 | Mon père, ce héros by Gérard Lauzier |
actor
Cali
| | |
| --- | --- |
| 2008 | Magique! by Philippe Muyl |
discography
| | |
| --- | --- |
| 2008 | Magique! (original soundtrack) |
| | L'Espoir |
| 2006 | Le Bordel magnifique |
| | La Vie ne suffit pas |
| 2005 | Menteur |
| 2003 | L'Amour parfait |
Interview with Philippe Muyl (director)
How was this atypical project born?
The fact that this film is very different while remaining potentially popular is something of which I am very proud. I'm not really sure how it was born, because actually,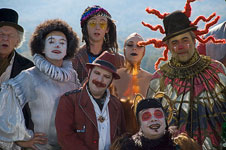 I am not a fan of the circus, nor musicals, with the exception of Moulin Rouge and Evita, which I adore. In fact, I love songs. It might be considered a "minor art" but songs always mark out so much the events of our life that they cannot be considered trivial. I had already written a song for the end credits of Le Papillon, sung by Michel Serrault and Claire Bouanich, and I told myself that it would be amusing to create an entire film out of songs. Magique! was really an adventure of a lifetime. I dedicated five years to the project and at my age, five years is enormous! Magique! is a film revolving around the question of the joy of living. Under the appearance of a created story, it is evident that it carries a very personal theme. The relationship between the child and his mother comes from my own personal history. The story was originally that of a mother who wants nothing more than to see her young son happy and not the opposite. It was only after speaking with Jaco Van Dormael, to whom I had read the script, that I changed the story. I have inverted the situation in order to hide myself a bit more.
Would you have been able to create this film without Cali?
I had immediately proposed the film to Marie Gillain, and then I searched for an actor to play Baptiste. I proposed to Cali very early on to work on the songs, and while watching him, I told myself that he had the style and the charisma of the character. After a few very convincing auditions, I offered him the role and he accepted. I'm not sure that he understood immediately what that meant exactly, but he took on the risk with an incredible generosity.
Is this young Louis Dussol's first film?
I am not the one who actually discovered Louis, he had already done one or two films beforehand, but I am thrilled to have chosen him.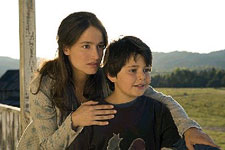 The story resembles his own a little bit because he doesn't have a father either. He really worked hard and kept a perfect attitude the entire time. There are two things very important to keep in mind when working with children: understanding their family life and, above all, treating them like grown-ups. We see a lot of children who come into the castings pushed by their parents and not from a personal desire, and that can turn out horribly. In the case of Louis, I asked his mother if I could have a one-to-one meeting with him before the shooting began in order to explain what was in store for him and what was expected of him. We gave each other high fives and that was it.
In this film, you created some very dreamlike scenes, rainy ones to good-weather ones, and scenes like the cut-up lady...
I really took a risk here. Given the difficulties that I ran into to produce this film, I told myself that I was going to make a film even more imaginative than the one that I had imagined at the beginning and I gave myself the authority to use some unusual methods. I often said during the filming, "This film escapes me." You should not believe that you control everything. I did not realize the narrative risk involved in a scene, such as the one with the cut-up woman in a box. I believe that the film belongs in the genre of "poetic realism." It started off very realistically and slowly the poetic theme began to emerge until at the end, the film resurfaced into reality, but a reality above all "poeticized."
Could we say that this is the film that resembles you the most?
Le Papillon resembles me, but this one does much more. I put into play not only my own story, but something from my childhood as well that I re-fantasized about. This film is a part of me, but I am much more than that. I am very cynical, but that's not something I want to show through film. I made a positive film, one that if I were a spectator, I would enjoy sitting down to watch. It's really a "feel-good" movie. I want the people who watch this film to look at me in the end with a smile on their face. Fiction allows me to lean toward the emotional side and to say things that I would never say otherwise. With fiction, I can hide myself through revealing myself.
What does it mean to you that the film is being distributed by Paramount?
It's a great satisfaction for a cinema lover. For me, it is also linked to my memories of childhood and the movies. Apart from the pleasure of seeing the Paramount logo attached to the film credits, it is a wonderful opportunity for the film to be distributed in such good conditions.