en français | time schedule | feature films | short films | program [PDF]
2009 Festival Feature Films (March 27-29)
---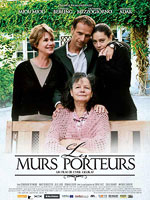 French director Cyril Gelblat presents the North American premiere of Les Murs porteurs
director Cyril Gelblat screenwriter Cyril Gelblat producers Delante Films, SND/M6 DA starring Charles Berling, Miou-Miou, Shulamit Adar, Giovanna Mezzogiorno running time 1 h 32 min general audience
Synopsis
Frida, a 75-year-old Ashkenazi Jew, is losing her memory and confuses the past with the present. Judith, her daughter, chose not to work in order to stay at home to look after her children. Now divorced, she must cope with her youngest son leaving home and her mother's aging and wonders what her purpose in life is. Simon, Frida's son, shows great perspicacity about the world because of his journalistic work, but is blind to the changes his daughter is going through and to his mother's confusion.
Frida returns to the apartment she used to live in, believing she will meet her husband, who has been dead for several years. Instead she encounters 35-year-old Manou, her tenant, who is expecting a promotion. The return to this apartment, crossroads of their lives, allows these characters to find each other and themselves again. Their stories touch upon the passing of time, the changes we experience at all ages — the inevitable things of life.
director/screenwriter
Cyril Gelbrat
| | |
| --- | --- |
| 2007 | Les Murs porteurs |
| 2002 | Ages ingrats |
| | Le Ballon prisonnier |
actress
Shulamit Adar
| | |
| --- | --- |
| 2007 | Les Murs porteurs by Cyril Gelblat |
| 2003 | Rois et reines by Arnaud Desplechin |
| 1999 | Voyages by Emmanuel Finkiel |
| 1995 | Madame Jacques sur la Croisette by Emmanuel Finkiel |
actress
Giovanna Mezzogiorno
2007
Les Murs porteurs by Cyril Gelblat
2005
La Bête dans le cœur

by Cristina Comencini

2003
Au secours j'ai 30 ans! by Marie-Anne Chazel
2001
Nobel by Fabio Carpi
actor
Charles Berling
selected films since 1996
| | |
| --- | --- |
| 2008 | L'Abolition by Jean-Daniel Verhaeghe |
| | Par suite d'un arrêt de travail by Frédéric Andréi |
| | L'Heure d'été by Olivier Assayas |
| 2007 | Les Murs porteurs by Cyril Gelbat |
| 2006 | Je pense à vous by Pascal Bonitzer |
| | L'Homme de sa vie by Zabou Breitman |
| 2005 | J'ai vu tuer Ben Barka by Serge Le Péron |
| | La Maison de Ninaby Richard Dembo |
| | Grabuge! by Jean-Pierre Mocky |
| | Un fil à la patte by Michel Deville |
| 2004 | Agents secrets by Frédéric Schoendoerffer |
| 2003 | Je reste! by Diane Kurys |
| | Le Soleil assassiné by Abdelkrim Bahloul |
| | Père et fils by Michel Boujenah |
| 2002 | Jean Moulin by Yves Boisset |
| | Cravate club by Frédéric Jardin |
| | Demonlover by Olivier Assayas |
| | Filles perdues, cheveux gras by Claude Duty |
| 2001 | Comment j'ai tué mon père by Anne Fontaine |
| | Un jeu d'enfants by Laurent Tuel |
| | Les Âmes fortes by Raoul Ruiz |
| | 15 août by Patrick Alessandrin |
| | Fils de zup by Gilles Romera |
| 2000 | Comédie de l'innocence by Raoul Ruiz |
| | Les Destinées sentimentales by Olivier Assayas |
| | Stardom by Denys Arcand |
| | Scènes de crimes by Frédéric Schoendoerffer |
| | Une affaire de goût by Bernard Rapp |
| 1999 | Fait d'hiver by Robert Enrico |
| | Un pont entre deux rives by Frédéric Auburtin |
| 1998 | L'Ennui by Cédric Kahn |
| | L'Inconnu de Strasbourg by Valeria Sarmiento |
| | Ceux qui m'aiment prendront le train by Patrice Chéreau |
| 1997 | Nettoyage à sec by Anne Fontaine |
| | Obsession by Peter Sehr |
| | Les Palmes de M. Schutz by Claude Pinoteau |
| 1996 | Love, etc. by Marion Vernoux |
| | Ridicule by Patrice Leconte |
actress
Miou-Miou
selected filmography
| | |
| --- | --- |
| 2008 | Pour un fils by Alix De Maistre |
| | Le Concert by Radu Mihaileanu |
| | Mia et le Migou (voice) by Jacques-Rémy Girerd |
| 2007 | Affaire de famille by Claus Drexel |
| | Le Grand Alibi by Pascal Bonitzer |
| 2005 | La Science des rêves by Michel Gondry |
| | Riviera by Anne Villacèque |
| | Avril by Gérard Hustache-Mathieu |
| | Le Héros de la famille by Thierry Klifa |
| | Les Murs porteurs by Cyril Gelblat |
| 2004 | Folle embellie by Dominique Cabrera |
| | L'après-midi de Monsieur Andesmas by Michelle Porte |
| | L'un reste l'autre part by Claude Berri |
| 2003 | Mariages! by Valérie Guignabodet |
| 2000 | Tout va bien, on s'en va by Claude Mouriéras |
| 1997 | Nettoyage à sec by Anne Fontaine |
| 1996 | Le Huitième Jour by Jaco van Dormael |
| 1995 | Ma femme me quitte by Didier Kaminka |
| 1994 | Un Indien dans la ville by Hervé Palud |
| 1993 | Germinal by Claude Berri |
| | Montparnasse – Pondichéry by Yves Robert |
| 1992 | Tango by Patrice Leconte |
| 1991 | La Totale by Claude Zidi |
| 1990 | Milou en mai by Louis Malle |
| 1988 | La Lectrice by Michelle Deville |
| 1986 | Tenue de soirée by Bertrand Blier |
| 1983 | Coup de foudre by Diane Kurys |
| 1982 | Guy de Maupassant by Michel Drach |
| | Josepha by Christopher Frank |
| 1978 | Les Routes du sud by Joseph Losey |
| 1976 | Jonas qui aura 25 ans en l'an 2000 by Alain Tanner |
| 1973 | Les Valseuses by Bertrand Blier |
Interview with Cyril Gelblat (director/screenwriter)
Les Murs porteurs (The load-bearing walls) — what is the symbolism of this title for you?
The symbolism of places is fundamental to me in what I wanted to express.
Load-bearing walls are those that one cannot remove. There is a parallel between identity, transmission and symbolism of places, with the return of the characters to the place of their childhood.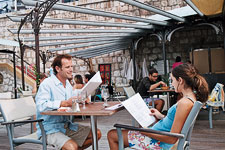 It is possible to move away from your culture, your origins, and to construct yourself differently, but each one inevitably keeps in himself certain foundations, certain resonances of his past, sometimes tied to a precise place. I liked the idea that the children confront one another on the fate of this place, that it is Simon who initially wants to sell this apartment, although what he is experiencing throughout the movie, brings him back head-on to this place. It is he who goes to look for his mother there, he who returns to the communication agency, who recognizes the place of his childhood in touching the wallpaper, whereas Judith, his sister, finds herself again in this place only in the final sequence. There is a very strong relationship to that place which appeals to me. I wanted this place to be inhabited and for Frida to return to it in an instinctive, animal-like manner. The resolution of the film for me is that the characters end up reinvesting this lifeless place. This is why the place is temporarily occupied by a communication agency, a very contemporary image, although I wanted the film to be timeless; timelessness that we find again in the last scene.
For the duo, the brother and the sister, what made you chose the actors Miou-Miou and Charles Berling?
With Miou-Miou, it was a real challenge for me to propose this role to her. It did not stick with the image I had of her and, at the same time, I found in her this faculty to give a great lightness to her characters. It is one of the directions toward which I wanted to head for, a character having to face up to dramatic events while having, in parallel, an incredible energy, a real thirst for life. I felt that she would give much depth to this woman and I was amazed. She seized the part with great accuracy and invested herself fully in this adventure. It is incredible to see, embodied on the film set, the characters that you have created — filming becomes exhilarating. I take enormous pleasure in directing that way. For Charles, judging from his previous roles, I had the impression that he was an actor who had no problem in displaying a feminine side. The character of Simon was rather impressionistic; he internalized a lot. I was hoping Charles would tackle this internalization with all its feminine aspects and I do not think I was mistaken; he gave the character astonishing sensitivity.
For the character of the mother, what steered you toward Shulamit Adar? Was it the strength of her gaze?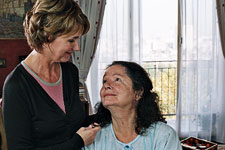 She is Israeli and we worked quite a bit together on her pronunciation. It was a real challenge, but she is extraordinary; she expresses so much through her gaze, her facial features. All you have to do is film her without her saying anything.
And for the character of the tenant, why did you choose Giovanna Mezzogiorno?
Giovanna is an Italian actress who was a part of Peter Brooke's troupe and who speaks fluent French. I found it interesting to have a face unknown to the public in France to interpret this character. Manou is in fact the tenant, the inhabitant of the place, but exterior to this family. I wanted to show things about this family through her perspective, as she will end up being part of this family. I looked for a very expressive actress, with a very special piercing eye in order to be able to work on this idea of an observant character.
What stands out about this adventure for you?
Like each of the characters in the film, I came out totally different at the end of this film. I, myself, made a journey. I think really that this film made me reach another stage in my life, given all the incidents I encountered in order to make this film. These incidents finally allowed me to construct myself. My relationship with others and with my career is now totally different.