en français | time schedule | feature films | short films | program [PDF]
2009 Festival Feature Films (March 27-29)
---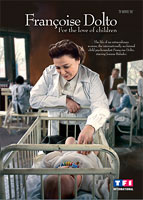 French director Serge Le Péron and actress Josiane Balasko present the North American premiere of Françoise Dolto, le désir de vivre
director Serge Le Péron screenplay Serge Le Péron, Frédérique Moreau based on the life of Françoise Dolto producer Les Films du Worso co-producer Entre Chien et Loup starring Josiane Balasko, Maxime Berger, Milan Argaud running time 1 h 38 min general audience
Synopsis
We are in the aftermath of World War II. Claude, 10 years old and the son of communist French Resistance fighters, has lost his mother who died at Auschwitz. Ben, 14, is the son of a prostitute and a small-time Jewish hoodlum. With the help of Françoise Dolto, the two young boys confront the demons that haunt them. They meet through her, become friends, share an outstanding adventure together and then separate to live opposing lives. We follow these two cases, along with the treatment of other children with severe problems and the daily work of an outstanding doctor who invented a discipline: psychoanalysis for children.
director/screenwriter
Serge Le Péron
| | |
| --- | --- |
| 2008 | Françoise Dolto, le désir de vivre |
| 2005 | J'ai vu tuer Ben Barka |
| 2005 | Chaplin Today: The Gold Rush |
| 2001 | Léaud l'unique |
| 2000 | L'Affaire Marcorelle |
| 1990 | Sésame, ouvre-toi! |
| 1984 | Laisse béton |
| 1976 | L'Olivier |
actress
Josiane Balasko
For selected filmography see Cliente.
actor
Maxime Berger
| | |
| --- | --- |
| 2008 | Françoise Dolto, le désir de vivre by Serge Le Péron |
actor
Milan Argaud
| | |
| --- | --- |
| 2008 | Françoise Dolto, le désir de vivre by Serge Le Péron |
| | On Choisit pas ses parents by Thierry Binisti |
| | Sans arme, ni haine, ni violence by Jean-Paul Rouve |
| 2007 | Faits divers by Bill Barluet |
| 2006 | Coup de sang by Jean Marboeuf |
| | Premier suspect by Christian Bonnet |
| 2004 | Le P'tit Curieux by Jean Marboeuf |
Who is Françoise Dolto?
Françoise Dolto (1908-1988) left her mark on French psychoanalysis through her reflections on the status of the "child" in contemporary society. A renowned and pioneering psychoanalyst, Dolto was one of the founders of the Paris Freudian School alongside Jacques Lacan, and she was responsible for the opening of the Maison Verte, a place for the "sociabilization" of parents and their children.
Françoise Dolto's legacy: child as a person
One of Dolto's main contributions was to recognize the child, from a very young age, as a subject in itself: "Our role as psychoanalysts is not to want something for somebody, but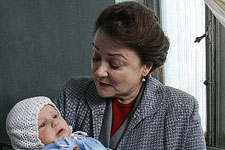 to be the one through which he/she may attain his/her desire," she said.
She would therefore listen to patients in their own right, with the view that 1-year-old children are, in their own way, fully aware of things. By doing this, she took them out of their "infans" social status, etymologically the one not entitled to speak.
To Freud, dreams, as well as any pathological symptom, were a language to be decoded. To Dolto, the human being is a being of language, even before knowing how to speak. In the mother's womb, the symbolic function is already at work for the fetus. This strong belief allowed Dolto to listen for and to hear what "makes sense" through the baby's body.
To her great astonishment, she discovered that a word spoken to an unweaned infant who cannot yet speak can have therapeutic effects. This is why she always suggested to parents to talk to the child about everything that affects him/her, to "tell him/her how things really are" right from birth. Because the worst thing for human beings is what remains devoid of meaning: that which has not passed into language.
Dolto describes the child's development as a series of "castrations" (umbilical at birth, oral at weaning, anal at the walking and learning) to be clean stages. Each time, the child has to detach him/herself from one world in order to become aware of another world. Each of these castrations is a sort of test from which the child emerges grown and more human. The parents' responsibility is to help the child to successfully overcome them.
What is Françoise Dolto's legacy? What she was expounding 50 years ago, which seemed scandalous or absurd at the time, has become normal practice.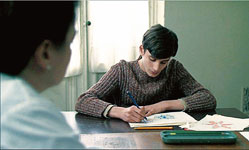 While she had no wish to collect a following, her teaching nevertheless spread among all those involved in looking after or educating young children, notably through the educational work to which she personally devoted her time at the end of her life. Nor did she rest until she reached the general public through her profuse editorial output or live radio broadcasts in the 1970s. She was able, thus, to make psychoanalysis lively and accessible, seeking to offer parents the opportunity of devising their own methods in respecting, listening to and trusting their children.
– From Jean-Claude Liaudet, psychoanalyst and psychosociologist (L'héritage de Françoise Dolto: l'enfant est une personne, Label France, no. 43, 2001).
Françoise Dolto selected bibliography
| | |
| --- | --- |
| 1995 | La Difficulté de vivre, Gallimard, Paris |
| | Tout est langage, Gallimard, Paris |
| 1990 | Lorsque l'enfant paraît, Editions du Seuil, Paris |
| 1989 | Autoportrait d'une psychanalyste, Editions du Seuil, Paris |
| 1985 | La Cause des enfants, Robert Laffont, Paris |
| 1984 | L'Image inconsciente du corps, Edition du Seuil |