en français | time schedule | feature films | short films | program [PDF]
2009 Festival Feature Films (March 27-29)
---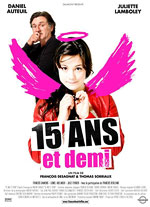 French directors François Desagnat and Thomas Sorriaux and associate producer Sandrine Paquot present the North American premiere of 15 ans et demi
directors François Desagnat, Thomas Sorriaux
screenplay François Desagnat, Thomas Sorriaux
based on the novel 15 ans et demi by Vincent Ravalec producers Luc Bossi, Patrice Ledoux associate producer Sandrine Paquot starring Daniel Auteuil, Juliette Lamboley running time 1 h 37 min general audience
Synopsis
"He has resolved all the great questions of molecular biology — except one ... his daughter!"
Philippe Le Tallec, a brilliant scientist who has been living in the United States for 15 years, decides to return to France to look after his daughter Eglantine. He hopes to grab this opportunity to develop ties with the teenage girl and to make up for lost time, but she has far more pressing concerns than hanging out with her father.
It's immediately clear that things are rather different than he imagined; Philippe is completely overwhelmed. He decides he must learn what he never really knew and takes a class for fathers in difficulty. The sessions are run by Jean-Maxence, a famous author of how-to methods of every kind.
directors/screenwriters
François Desagnat, Thomas Sorriaux
| | |
| --- | --- |
| 2004 | Les 11 Commandements |
| 2003 | La Beuze |
| 2000 | La Malédiction de la Mamie |
author of the novel
Vincent Ravalec
| | |
| --- | --- |
| 2008 | 15 ans et demi |
| 2002 | La Merveilleuse odyssée de l'idiot Toboggan |
| 1999 | Un pur moment de rock'n roll |
| 1998 | Cantique de la racaille |
| 1996 | Conséquences de la réalité des morts |
| | Le Masseur |
| 1995 | Never Twice |
| | Portrait des hommes qui se branlent |
| 1994 | Les Mots de l'amour |
| 1993 | Par delà l'ère glacière |
actor
Daniel Auteuil
selected accomplishments since 1996
| | |
| --- | --- |
| 2007 | Le Deuxième Souffle by Alain Corneau |
| 2006 | Dialogue avec mon jardinier by Jean Becker |
| | Napoléon (et moi) by Paolo Virzi |
| | MR73 by Olivier Marchal |
| 2005 | L'Invité by Laurent Bouhnik |
| | La Doublure by Francis Veber |
| | Peindre ou faire l'amour by Arnaud Larrieu and Jean-Marie Larrieu |
| | Mon meilleur ami by Patrice Leconte |
| | L'Entente cordiale by Vincent de Brus |
| 2004 | L'Un reste l'autre part by Claude Berri |
| | Caché by Michaël Haneke (European Film Award, Best Actor 2005) |
| | 36, quai des Orfèvres by Olivier Marchal |
| | Le Prix du désir by Roberto Ando |
| 2003 | Après vous... by Pierre Salvadori |
| | Les Clés de bagnole by Laurent Baffie |
| 2001 | Petites coupures by Pascal Bonitzer |
| | L'Adversaire by Nicole Garcia |
| 2000 | Le Placard by Francis Veber |
| | La Veuve de St Pierre by Patrice Leconte |
| | Sade by Benoît Jacquot |
| 1999 | La Fille sur le pont by Patrice Leconte (César 2000 for Best Actor) |
| | Mauvaise passe by Michel Blanc |
| 1997 | Le Bossu by Philippe de Broca |
| 1996 | Lucie Aubrac by Claude Berri |
| | Passage à l'acte by Francis Girod |
| | Les Voleurs by André Téchiné |
| | Le Huitième Jour by Jaco Van Dormael (Best Actor, Cannes Film Festival 1996) |
actress
Juliette Lamboley
| | |
| --- | --- |
| 2008 | Mes stars et moi by Laetitia Colombani |
| 2007 | L'Auberge rouge by Gérard Krawczyk |
| | Le Lien by Denis Malleval |
| 2006 | Inséparables by Elisabeth Rappeneau |
| | Mademoiselle Gigi by Caroline Huppert |
| | Je hais les parents by Didier Bivel |
| | Le Procès de Bobigny by François Luciani |
| 2005 | Une vie en retour by Daniel Janneau |
| 2003 | Martin by Raphael de Vellis |
| 2001 | Le Pacte des loups by Christophe Gans |
| | Le Magicien by Eric Willaume |
| 2000 | L'Instit by Pierre Grimblat |
| | L'Enfant de la honte by Claudio Tonetti |
Interview with Daniel Auteuil
What made you wish to participate in this project?
The first time that Patrice Ledoux, the producer, spoke to me about the project, he told me that it was a comedy about the relationship between a father and a daughter, which right away aroused my interest. I then met François and Thomas and I really liked their ways of looking at things.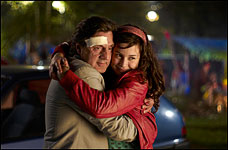 But what ended up convincing me was the screenplay. It had real potential, in terms of situations as well as emotion.
The theme of the film is timeless, eternal and universal, but seen through the eyes of young people who do cinema as it is done today. They have their rhythm, their irony, their tenderness, they go farther and finally their laughter says many things. In their ways, they reinvent the genre.
How do you look at the father/daughter relationship?
I have two girls, one of whom is 15. So inevitably the character speaks to me, but the seriousness of this generation surprises me. I think that parents imagine far more pranks than children actually do. Of course, there are exceptions! I nevertheless find myself on the sidelines. I believe that what is against us, us adults, is the development of communication devices. For us, the notion of freedom did not include cell phones, MSN and all these extremely powerful tools, of which we can make the worse or the best. We never experimented with what our children now have at their disposal. And this gap has always existed: my parents did not go to nightclubs; my great-grand-parents did not even go to ballroom dances. Everything changes! It's the story of the world. Between parents and children there will always be a time gap.
The most surprising, the most astonishing, is that although we all have been children, as soon as we become parents, it's as though we cross an invisible border. The world of adolescence is then on the other side. The responsibility, the position and role we invent ourselves, makes their world completely airtight to us.
How did you work with Thomas and François?
They have a real viewpoint and things are done step by step, very smoothly. Little by little, with finesse, they built up their vision. Very quickly, I had confidence and I was at ease with them.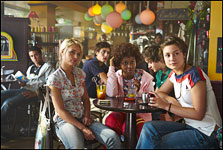 Since our first conversation, I saw that we were completely on the same track. They have their own personality and we share numerous common references. Their cultural baggage permits them to meet all their frenzies. They are very good. Regularly, they add a second level of meaning to their scenes. They like to have several levels of vision and of interpretation. For example, I can act in a serious scene with Juliette and, behind, in the background, hilarious things are going on. I like this middle ground which prompts laughter. And in addition, I did not have anything to do! I like that when comedy has this dimension, this energy; I appreciate that the humor is not born from a calculated effort, but that it crops up naturally. All of a sudden you find emotion at the foreground and comic relief in the background. It is terrific!
Would you be ready, as a father, to do a "Papa zero fault" workshop?
Not the one in the film, but another apprenticeship, why not? Children educate us every day but it is not necessary to show it to them. They should never know that we are always a step behind. I believe authority means to know how to allow, not to forbid! Sometimes it is necessary to say no, but the most difficult thing to do is to say yes. It's a skillful balance.
You alternate genres and ranges as few actors are able to do. What place does this film have for you?
This film is important for me. I like its energy, its rhythm, its humor. It belongs to its period. There was La Gifle, La Boum and now, in the daughter/father relationship genre, there is 15 ans et demi. I notice though that with time, the age of "problems" comes earlier and earlier!
François and Thomas brought a real freshness and a point of view which opens horizons that is great. Parents and children can go to see the film together and can find themselves happily reunited by all that separates them. That's not bad, eh?