en français | time schedule | feature films | short films | program [PDF]
2009 Festival Feature Films (March 27-29)
---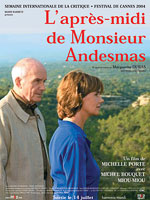 French director Michelle Porte presents the North American premiere of L'Après-midi de Monsieur Andesmas
director Michelle Porte screenplay Michelle Porte based on the novel L'Après-midi de Monsieur Andesmas by Marguerite Duras starring Michel Bouquet, Miou-Miou running time 1 h 19 min general audience
Les Lieux de Marguerite Duras
By Marguerite Duras and Michelle Porte

| | |
| --- | --- |
| 2009 | Reedition |
| | INA Galimard |
DVD collection Les Grandes Entretiens
Synopsis
It's summer. The light is dazzling. We're in the south of France. The only house in the forest is the one that Mr. Andesmas has just bought for his daughter, Valerie. That afternoon, Mr. Andesmas has an appointment with a builder, Michel Arc.
He waits on the site of the future terrace, overlooking the valley. Music rises up from the village below, a tune that everyone is singing that summer. Life now unfolds far from Mr. Andesmas. At his age he is used to this. Sitting in the shade, in an old wicker armchair, he waits for Michel Arc, who doesn't appear, and thinks of his young daughter Valerie, now his only love, who dances below on the village square.
For a moment he is distracted by a passing dog and then by the arrival of a strange little girl, a messenger from Michel Arc, her father. In the heat and dizziness of the afternoon, he will also revive the memory of one of the key moments in his life: the departure of his wife 10 years earlier when she left the two of them, him and his daughter.
Then, all of a sudden, there is another woman in front of him: Michel Arc's wife. She circles him, approaching him, veering away, coming back, desperate with love and restrained suffering. "You're the only one I can talk to about her, do you understand? Valerie makes me suffer terribly."
Mr. Andesmas hears her speak and, trying not to listen, discovers a Valerie whom he does not know. …
director/screenwriter
Michelle Porte
| | |
| --- | --- |
| 2004 | L'Après-midi de Monsieur Andesmas |
| 1996 | Un siècle d'écrivains – Françoise Sagan |
| 1995 | Le Gardien du feu |
| 1993 | La Maison de Jean-Pierre Raynaud 1969-1993 |
| 1992 | Jean Degottex |
| | Signalement, le voyage au Pérou |
| | Une maison en Allemagne |
| 1990 | Portrait de famille avec mon père Maurice Denis |
| 1989 | Edmond Jabès |
| 1988 | D'un Nord à l'autre |
| | Ballade en Champagne |
| 1987 | Le Tour de Victor Laloux |
| 1986 | A la recherche de Carl Theodor Dreyer |
| 1985 | La Princesse Palatine à Versailles |
| 1984 | Savannah Bay c'est toi with Marguerite Duras |
| 1982 | La Peste Marseille 1720 |
| 1981 | Les Lieux de Virginia Woolf |
| 1976 | Les Lieux de Marguerite Duras |
second assistant director
| | |
| --- | --- |
| 1977 | Baxter, Véra Baxter by Marguerite Duras |
interviews
1978

Les Lieux de Marguerite Duras by Marguerite Duras and Michelle Porte.

Les Éditions de Minuit

.

1977

Le Camion. Entretiens avec Michelle Porte by Marguerite Duras.

Éditions de Minuit

.
director of photography
Dominique Le Rigoleur
| | |
| --- | --- |
| 2005 | Emmenez-moi by Edmond Bensimon |
| 2004 | L'Après-midi de Monsieur Andesmas by Michelle Porte |
| 2001 | Clandestino by Paule Muxel |
| 2000 | Tout près des étoiles: Les danseurs de l'Opéra de Paris by Nils Tavernier |
| 1999 | Balkan Baroque by Pierre Coulibeuf |
| 1998 | La vie rêvée des anges by Erick Zonca |
| 1992 | L'Homme de ma vie by Jean-Charles Tacchella |
| 1990 | Dédé by Jean-Louis Benoît |
| | Dames galantes by Jean-Charles Tacchella |
| 1988 | La Lectrice by Michel Deville |
| | La Vallée des anges by Aline Issermann |
| 1987 | Résidence surveillée by Frédéric Compain |
| | Buisson ardent by Laurent Perrin |
| 1986 | L'Amant magnifique by Aline Issermann |
| 1985 | Passage secret by Laurent Perrin |
| | Cent francs l'amour by Jacques Richard |
| 1984 | Louise l'insoumise by Charlotte Silvera |
| | La Triche by Yannick Bellon |
| 1983 | Le Destin de Juliette by Aline Issermann |
| | Lettres d'amour perdues by Robert Salis |
| | Rendez-vous avec Marguerite by Nicolas Klotz |
| 1982 | Agatha et les lectures illimitées by Marguerite Duras |
| 1981 | L'Homme atlantique by Marguerite Duras |
actor
Michel Bouquet
selected filmography
| | |
| --- | --- |
| 2004 | L'Après-midi de Monsieur Andesmas by Michelle Porte |
| | Le Promeneur du Champ de Mars by Robert Guédiguian |
| 2003 | Les Côtelettes by Bertrand Blier |
| 2001 | Comment j'ai tué mon père by Anne Fontaine |
| 1994 | Elisa by Jean Becker |
| 1993 | L'Œil de Vichy by Claude Chabrol |
| 1991 | Toto le héros by Jaco van Dormael |
| | Tous les matins du monde by Alain Corneau |
| 1985 | Poulet au vinaigre by Claude Chabrol |
| 1982 | Les Misérables by Robert Hossein |
| | La Raison d'état by André Cayatte |
| 1975 | Vincent mit l'âne dans un pré (et s'en vint dans l'autre) by Pierre Zucca |
| 1973 | Le Serpent by Henri Verneuil |
| | Il n'y a pas de fumée sans feu by André Cayatte |
| | France S.A. by Alain Corneau |
| 1971 | Juste avant la nuit by Claude Chabrol |
| | Papa les petits bateaux by Nelly Kaplan |
| 1970 | La Rupture by Claude Chabrol |
| 1969 | La Sirène du Mississippi by François Truffaut |
| | Borsalino by Jacques Deray |
| | La Femme infidèle by Claude Chabrol |
| 1967 | La Route de Corinthe by Claude Chabrol |
| | La Mariée était en noir by François Truffaut |
actress
Miou-Miou
selected filmography
| | |
| --- | --- |
| 2008 | Pour un fils by Alix De Maistre |
| | Le Concert by Radu Mihaileanu |
| | Mia et le Migou (voice) by Jacques-Rémy Girerd |
| 2007 | Affaire de famille by Claus Drexel |
| | Le Grand Alibi by Pascal Bonitzer |
| 2005 | La Science des rêves by Michel Gondry |
| | Riviera by Anne Villacèque |
| | Avril by Gérard Hustache-Mathieu |
| | Le Héros de la famille by Thierry Klifa |
| | Les Murs porteurs by Cyril Gelblat |
| 2004 | Folle embellie by Dominique Cabrera |
| | L'Après-midi de Monsieur Andesmas by Michelle Porte |
| | L'un reste l'autre part by Claude Berri |
| 2003 | Mariages! by Valérie Guignabodet |
| 2000 | Tout va bien, on s'en va by Claude Mouriéras |
| 1997 | Nettoyage à sec by Anne Fontaine |
| 1996 | Le Huitième Jour by Jaco van Dormael |
| 1995 | Ma femme me quitte by Didier Kaminka |
| 1994 | Un Indien dans la ville by Hervé Palud |
| 1993 | Germinal by Claude Berri |
| | Montparnasse – Pondichéry by Yves Robert |
| 1992 | Tango by Patrice Leconte |
| 1991 | La Totale by Claude Zidi |
| 1990 | Milou en mai by Louis Malle |
| 1988 | La Lectrice by Michelle Deville |
| 1986 | Tenue de soirée by Bertrand Blier |
| 1983 | Coup de foudre by Diane Kurys |
| 1982 | Guy de Maupassant by Michel Drach |
| | Josepha by Christopher Frank |
| 1978 | Les Routes du sud by Joseph Losey |
| 1976 | Jonas qui aura 25 ans en l'an 2000 by Alain Tanner |
| 1973 | Les Valseuses by Bertrand Blier |
Interview with Michelle Porte (director/screenwriter)
Michelle Porte, you were friends with Marguerite Duras and worked with her regularly. You first met her in 1966, on the set of her film La Musica. In 1976, you made a film, Les Lieux de Marguerite Duras, followed in 1977 by a book of interviews. That same year, you published another series of interviews about her film Le Camion. In 1983 you filmed the rehearsals for Duras' production of her play Savannah Bay, at the Théâtre du Rond-Point in Paris, with Madeleine Renaud and Bulle Ogier. When and how did you have the idea of adapting L'Après-midi de Monsieur Andesmas for the screen?
I have always been fond of this book of Marguerite's. The story immediately touched me: the love of this old man for his daughter Valerie,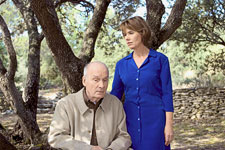 the last love of his life, so totally absolute, is something that can touch us all. It was this simplicity that drew me to the subject. I always told Marguerite, "If there's one work of yours that I would like to adapt for the screen, it is L'Après-midi de Monsieur Andesmas." She would reply, "If I do not make it, you will do it after my death." It is a film that she would have liked to make.
In writing this book, Marguerite Duras said that she used a precise geographic setting, a house that she had seen between Saint-Tropez and Gassin, and that she describes as being isolated, "on a hill covered by the forest … with the Mediterranean in the distance." In the film, the house is located near Gordes, without the sea, and yet it is clearly Mr. Andesmas' house. How did you pick this setting as the location for the film?
For a long time, when I started adapting the novel, I naïvely tried to find a place that would be like the one Marguerite described in her book; in other words a place from which you could see the sea, a house overlooking a village far below. At the same time, I live in an isolated place, surrounded by the forest, but which is not on the seashore since it is in the Vaucluse hills. I know the place very well — I know all the trees, the land, the light. Then I remembered when Marguerite Duras first visited me there: right away, she said, "Oh, this is Mr. Andesmas' house!" Little by little, I realized that I wanted to shoot there, in that setting, to enclose the story in that location.
It is the story of two kinds of suffering, two forms of dispossession. The beauty and originality of the film lie in the fact that this tragedy doesn't unfold within a closed setting but that it is located in a totally open space.
I wanted the characters in the story to be rooted in the setting just like the trees that I film. This place is not a simple set but a character in its own right. The place where Miou-Miou expresses her suffering in this sort of desperate wandering had to be felt by me, I had to know it well.
At several points in the film, we have a fleeting glimpse of the beach outside the residence-hotel Les Roches Noires, in Trouville. Les Roches Noires, where Duras bought an apartment in 1963, is a key feature of her imaginary world, set of several of her films. Why does it appear here?
In the book, we know very little about Mr. Andesmas; we only know that his wife left him for another man. So I chose to set this scene at Les Roches Noires, a place that was Marguerite's, rather than anywhere else.
Michel Bouquet plays Mr. Andesmas while Miou-Miou is Michel Arc's wife. Miou-Miou is very moving, with a blend of fragility and strength …
Yes, and vitality, which is the wonderful thing about Miou-Miou. I have always felt that there was something very graceful about her too. This is very important in the film where there is no action in the traditional sense but where the bodies move around a great deal. Movements had to be a means of expression, just like words.
On the screen, the character of Valerie is glowing, like a sort of shining icon. We are also struck by the concentration with which Paloma Veinstein, playing Michel Arc's daughter, looks at things and people.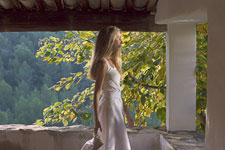 How did you choose your supporting cast?
For the part of Valerie Andesmas, I wanted a beautiful blonde girl because there's a sort of myth of blondeness in Duras' work. I did not want someone who would play on her powers of seduction but rather a girl who was beautiful without realizing it. For the little girl, that was another immediate attraction. She immediately understood the strangeness and complexity of her character.
The music has a genuine presence in the film. We are particularly struck by a melody played on the cello that was composed by Carlos d'Alessio. For the audiences of India Song, Duras' "cult film," the music of Carlos d'Alessio is inseparable from the magic of the images. How did this composition become the music for your film?
Delphine Seyrig and Sami Frey once gave a recital of Duras' works, at the La Roque-d'Anthéron music festival, on a piano accompaned by Carlos d'Alessio. There was one particular text entitled "When the lilac blooms, my love." Those are the words of the song that Anne Isserman sings with a great deal of talent in the film. That immediately provided the atmosphere; Carlos was someone who understood Marguerite's work completely.
– Interview conducted by Joëlle Pagès-Pindon.