en français | time schedule | feature films | short films | program [PDF]
2007 Festival Feature Films (March 30 - April 1)
---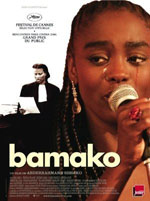 Director Abderrahmane Sissako presents this special screening of Bamako
director Abderrahmane Sissako screenwriter Abderrahmane Sissako producers Denis Freyd, Abderrahmane Sissako starring Aïssa Maïga, Tiécoura Traoré, Hélène Diarra running time 118 min
general audience
Description
Over the course of a few days, a trial pitting African civil society against the World Bank and the International Monetary Fund has set its stage inside the domestic courtyard of Chaka and Melé's home in Bamako, the capital city of Mali. Judges have been appointed, witnesses have been summoned and lawyers from both sides have arrived armed with passionate, scathing and uncompromising accusations. Is the World Bank guilty of not following its mandate to serve mankind or is Africa to blame for her suffering? Meanwhile, life in the courtyard presses forward.
Framed against the urgency of the trial, the case of a stolen gun leads a local detective to Chaka who lives in a home within the courtyard with his wife Melé. Melé is a popular bar singer, her husband Chaka is out of work and the couple is on the verge of breaking up …
In the midst of the powerful testimonials and pleas being made at the trial, the juxtaposition of Chaka and Melé's story and those of their courtyard neighbors give a voice to Africa's silent majority and further fortifies Africa's case against the International institutions. Read more
---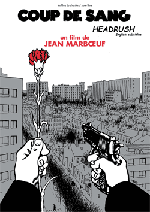 French director Jean Marbœuf and French actress Sandrine Le Berre present this North American premiere of Coup de sang
director Jean Marbœuf screenplay Jean Marbœuf production Les Films du Chantier starring Pierre Arditi, Marie-Christine Barrault, Sandrine Le Berre running time 84 min general audience
Description
He is a widower.
He is retired.
He is no longer happy.
He drags his sorrow from day to day.
So he watches.
He watches the city, the people, life, the world.
He hears the sounds, the noise, the voices, the cries.
He thinks his happiness was nothing but an anesthetic cocoon.
So he says to himself that misfortune may be a source of altruism.
And he acts …
until the boiling point. Read more
---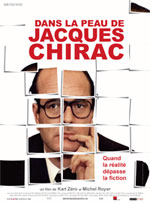 French directors Karl Zéro and Michel Royer present this U.S. premiere of Dans la peau de Jacques Chirac
directors Karl Zéro and Michel Royer screenwriters Karl Zéro and Michel Royer producers Yves Darondeau, Christophe Lioud and Emmanuel Priou starring Jacques Chirac, Dider Gustin (voice) running time 90 min general audience
Description
The unauthorized biography. A funny-mentary. An homage to the greatest French actor: Jacques Chirac, president of France. Since 1967, Jacques Chirac has appeared every day on television: millions of hours of automatic gestures, jerky speeches and feverish cavalcades. What if, in this crucial period of his life and term of office, he had decided to disclose it all, to restore the truth? Being Jacques Chirac aims to do just so. Karl Zéro and Michel Royer explored these 40 years of footage and have made the president explain the meaning of this inexhaustible quest for power. When truth is stranger than fiction. Read more
---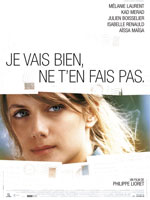 French director Philippe Lioret presents this screening of Je vais bien, ne t'en fais pas.
director Philippe Lioret screenplay Philippe Lioret and Olivier Adam from the novel by Olivier Adam producer Christophe Rossignon (Nord-Ouest production) starring Mélanie Laurent, Kad Merad, Julien Boisselier, Isabelle Renaud running time 110 min parental guidance
Description
When she gets home from vacation, Lili, age 19, learns from her parents that her twin brother Loïc has left home after a huge fight with their father. When she hears nothing from Loïc, Lili ends up convincing herself that something has happened to him. Consumed with worry, she stops eating and goes into a dangerous decline [depression]. She is hospitalized but it's not working [does not help] and Lili is letting herself slip away, when finally, a letter arrives from Loïc. In the letter, he apologizes for the lack of news, and says he's been going from town to town, doing little jobs here and there, and he criticizes his father whom he holds responsible for their sad little life to which he has decided never to return. Lili gets better, leaves the hospital and goes to look for her brother. But what she discovers goes beyond all understanding. Read more
---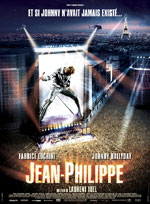 French director Laurent Tuel presents
this North American premiere of
Jean-Philippe
director Laurent Tuel screenwriter Christophe Turpin and Laurent Tuel producers Marc Missonier, Olivier Delbosc (Fidélité Films), Marc Fiszman (Bankable Films) starring Fabrice Luchini, Johnny Hallyday, Antoine Dulery running time 90 min general audience
Description
Fabrice is a big, perhaps the biggest, fan of Jean-Philippe Smet, better known as Johnny Hallyday, the greatest rocker France has ever produced. But one day Fabrice wakes up in a parallel world where Johnny doesn't exist. Dazed, orphaned of his hero, Fabrice sets out to find out what happened to Jean-Philippe in this other dimension. He finds him running a bowling alley. Jean-Philippe is a regular guy who played in a band as a kid but never became a star. Fabrice becomes obsessed with putting his idol back on his pedestal where he belongs. He will rouse the Johnny in Jean-Philippe. But in just a few months, can Jean-Philippe emulate what it took Johnny Hallyday years to achieve? Read more
---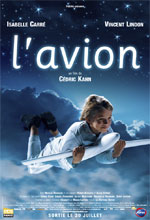 French director Cédric Kahn presents the U.S. premiere of L'Avion.
director Cédric Kahn screenwriter Cédric Kahn, Ismael Ferrouhki, Gilles Marchand, raphaelle Valbrune, Denis Lapéire based on the comic book Charly et Cap'tain Foudre by Magda Séron and Denis Lapière producers Marc Missonier, Olivier Delbosc (Fidélité Productions), Akkord Film Produktion starring Isabelle Carré, Vincent Lindon, Roméo Botzaris running time 100 min
general audience
Description
Little Charly is terribly disappointed by his Christmas present. Instead of the bicycle that he was so eagerly expecting, his father Pierre gives him the prototype of a plane that he has built himself. Several days later, Pierre disappears in a tragic accident. Shortly after, the model comes to life.
An extraordinary bond develops between the child and this mysterious toy, whose fascinating powers soon captures the attention of Charly's mom Catherine, and arouses the envy of a former colleague of Charly's father.
Determined to hang on to his father's very last gift, Charly is about to experience an incredible adventure, and his dream of seeing his father one more time just might come true. Read more
---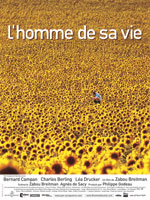 French director Zabou Breitman presents L'Homme de sa vie
director Zabou Breitman screenplay Zabou Breitman and Agnès de Sacy producer Philippe Godeau starring Bernard Campan, Charles Berling, Léa Drucker running time 114 min mature audience
Description
Just like they do every year, Frederic and his wife Frederique are spending their summer secluded in the middle of the Drôme with a large part of their family. One evening they invite Hugo, their new neighbor who comically flaunts his homosexuality, to dinner. While discussing love until dawn, Hugo and Frederic form a bond which begins to inject tension into their hearts and lives. Read more
---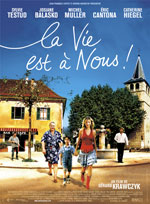 French director Gérard Krawczyk and
French actress Josiane Balasko
present this North American premiere of
La vie est à nous!
director Gérard Krawczyk based upon the novel L'eau des fleurs by Jean-Marie Gourio screenplay Gérard Krawczyk producer Jean-François Lepetit (Flach Film) starring Sylvie Testud, Josiane Balasko, Eric Cantona, Michel Muller, running time 100 min parental guidance
Description

Louise and her mother, Blanche, run "The Stopover," a small café in a village in the Savoy region of France. "The Stopover" is not just a café; it's also a new family for a multitude of problem children that the two women have been taking in over the years. Louise, who has a caustic sense of humor, believes that words can heal wounds. Facing their café, on the other side of the main road, is another café, "The Bend," that is run by Lucie Chevrier and her daughters. The longstanding rivalry between the two cafés comes to a head during a truckers' strike with roadblocks that seal off the village. And it worsens when Pierre, the leader of the truckers, wreaks havoc within the lives of all these women and the routine of small-town existence. It's a blend of fanfare and tenderness that adds up to love. Isn't that what life is all about? Read more
---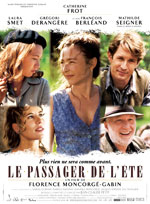 French director Florence Moncorgè-Gabin and French actor Gregori Derangère present this North American premiere of Le Passager de l'été
director Florence Moncorgé-Gabin screenplay Florence Moncorgé-Gabin producers Alain Terzian, Christine Gozlan starring Catherine Frot, Gregori Derangère, Laura Smet, Mathilde Seigner, François Berléand running time 97 min parental guidance
Description
When seasonal laborer Joseph offers his services at Monique's farm, she doesn't refuse. For this austere woman whose husband strays into a new family life when leaving the battlefield, a man's help is valuable, especially at the start of a particularly busy summer. Little by little, Joseph finds his place between Monique, the boss, Jeanne, her school teacher daughter, and the old mother-in-law. It doesn't take long for his reputation as a hard worker and handsome man to reach the village, inciting curiosity and envy. As the days go by, Monique begins to see him differently, gripped by feelings she never imagined she would feel again. As the season passes, Joseph and Jeanne become friends. They are young and she can teach him to read and write. Silent and passionate, ambiguous and powerful bonds are formed between this man and these women. A storm is brewing that will mark the future of every one of them. Read more
---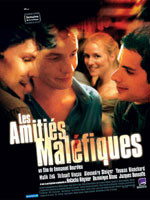 French director Emmanuel Bourdieu presents this North American premiere of Les Amitiés maléfiques
director Emmanuel Bourdieu screenplay Emmanuel Bourdieu, Marcia Romano producers Mani Mortazavi, David Mathieu-Mahias, Yorick Le Saux starring Malik Zidi, Thibault Vinçon, Alexandre Steiger, Thomas Blanchard, Dominique Blanc, Natacha Régnier running time 100 min general audience
Description
Eloi and Alexandre meet André, the brightest student of their class, on the first day of the academic year at the University La Sorbonne. Seduced by his cool behavior and his charismatic personality, they easily fall prey to his charm. André offers them his friendship if they pledge utmost loyalty to him. Overcome with admiration, Eloi and Alexandre bow to this harsh discipline as best as they can until the day when André leaves them, pretending that he has earned a scholarship to an American university. Suddenly left to their own devices, Eloi and Alexandre have nobody to turn to and must grow up. Read more
---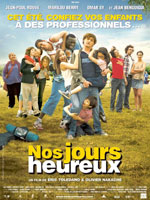 VCU French Film Festival presents this North American premiere of Nos jours heureux
directors and screenwriters Eric Toledano and Olivier Nakache producers Nicolas Duval, Bruno Chiche and Thomas Langmann starring Jean-Paul Rouve, Marilou Berry, Omar Sy, Julie Fournier running time 100 min parental guidance
Description
Vincent, 35, recalls his yearly summer jobs as counselor at a children's summer camp in Southwest France. At age 25 he had reached the top, and that summer became director in charge. But it takes a lot of nerve to manage the cries, laughs and daily mischief of 80 kids and 10 camp counselors, and at 25, though you're just over adolescence, you're not yet quite an adult. Vincent will have to learn to deal with a close yet tense relationship with Lisa, the sexiest camp counselor. One thing's for sure, though. Whether you're a participant, a counselor or the director, you're a different person after three weeks at camp and those transitional years will make for the most unforgettable memories of a lifetime. Read more