en français | time schedule | feature films | short films | program [PDF]
2007 Festival Feature Films (March 30 - April 1)
---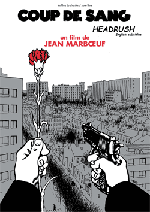 French director Jean Marbœuf and French actress Sandrine Le Berre present this North American premiere of Coup de sang
director Jean Marbœuf screenplay Jean Marbœuf production Les Films du Chantier starring Pierre Arditi, Marie Christine Barrault, Sandrine Le Berre running time 84 min general audience
Description
He is a widower.
He is retired.
He is no longer happy.
He drags his sorrow from day to day.
So he watches.
He watches the city, the people, life, the world.
He hears the sounds, the noise, the voices, the cries.
He thinks his happiness was nothing but an anesthetic cocoon.
So he says to himself that misfortune may be a source of altruism.
And he acts …
until the boiling point.
director/screenwriter
Jean Marbœuf
| | |
| --- | --- |
| 2005 | Coup de sang |
| 2003 | P'tit curieux |
| 1997 | Temps de chien |
| 1993 | Pétain |
| 1990 | Voir l'éléphant |
| 1988 | Corentin ou les infortunes conjugales |
| 1987 | Grand Guignol |
| 1985 | Vaudeville |
| 1982 | La Passion lumière |
| 1979 | La Ville des silences |
| 1977 | Genre Masculin |
| 1975 | Monsieur Balboss |
| 1973 | Belle Ordure |
actor
Pierre Arditi
| | |
| --- | --- |
| 2006 | Le Grand Appartement by Pascal Thomas |
| | Cœurs by Alain Resnais |
| | Nos Amis les terriens by Bernard Weber |
| 2005 | Coup de sang by Jean Marboeuf |
| | Le Parfum de la dame en noir by Bruno Podalydès |
| | Le Courage d'aimer by Claude Lelouch |
| | L'Un reste, l'autre part by Claude Berri |
| 2004 | Les Parisiens by Claude Lelouch |
| | Victoire by Stéphanie Murat |
| | La Première Fois que j'ai eu 20 ans by Lorraine Levy |
| | Pourquoi (pas) le Brésil by Laetitia Masson |
| 2003 | Les Clefs de bagnole by Laurent Baffie |
| | Pas sur la bouche by Alain Resnais |
| | Le Mystère de la chambre jaune by Bruno Podalydès |
| 2000 | Les Acteurs by Bertrand Blier |
| | La Fausse Suivante by Benoît Jacquot |
| 1998 | Hasards ou coïncidences by Claude Lelouch |
| | Que la lumière soit by Arthur Joffe |
| 1997 | On connaît la chanson by Alain Resnais |
| | Messieurs les enfants by Pierre Boutron |
| 1996 | Hommes, femmes, mode d'emploi by Claude Lelouch |
| | Les Caprices d'un fleuve by Bernard Giraudeau |
| | Beaumarchais l'insolent by Edouard Molinaro |
| 1995 | Le Hussard sur le toit by Jean Paul Rappeneau |
| 1993 | Smoking/No smoking by Alain Resnais |
actress
Marie Christine Barrault
| | |
| --- | --- |
| 2007 | Trivial by Sophie Marceau |
| 2005 | Coup de sang by Jean Marboeuf |
| 1999 | La Dilettante by Pascal Thomas |
| 1994 | Bonsoir by Jean Pierre Mocky |
| 1990 | Les Dames galantes by Jean-Charles Tacchela |
| 1989 | Jésus de Montréal by Denys Arcand |
| 1988 | Prisonnières by Charlotte Silvera |
| | L'Œuvre au noir by André Delvaux |
| 1986 | Vaudeville by Jean Marbœuf |
| 1985 | Le Soulier de satin by Manuel de Oliveira |
| | Paradigma by Krzysztof Zanussi |
| | Le Meilleur de la vie by Renaud Victor |
| | Louise… l'insoumise by Charlotte Silvera |
| 1984 | Un Amour de Swann by Volker Schlondorff |
| | Pianoforte by Francesca Comencini |
| 1983 | Liebe in Deutschland, Eine by Andrzej Wajda |
| | Les Mots pour le dire by José Pinheiro |
| 1981 | L'Amour trop fort by Daniel Duval |
| 1980 | Stardust Memories by Woody Allen |
| 1978 | Perceval le Gallois by Eric Rohmer |
| | L'Etat sauvage by Francis Girod |
| 1976 | Du côté des tennis by Madeleine Hartman Clauset |
| 1975 | Cousin, cousine by Jean-Charles Tacchela |
| 1972 | L'Amour l'après-midi by Eric Rohmer |
actress
Sandrine Le Berre
| | |
| --- | --- |
| 2006 | L'Equilibre de la terreur by Jean Martial Lefranc |
| 2005 | Coup de sang by Jean Marboeuf |
| 2003 | Le P'tit curieux by Jean Marbœuf |
| | Tristan by Philippe Harrel |
| | Toutes les filles sont folles by Pascale Pouzadoux |
| 2002 | Sexes très opposés by Eric Assous |
| 2001 | Tanguy by Etienne Chatiliez |
| | Les Gens en maillot de bain ne sont pas (forcément) superficiels by Eric Assous |
| 2000 | Virilité by Ronan Girre |
| 1999 | La Vie est dure, nous aussi by Charles Castela |
| 1996 | L'Elève by Olivier Scharzky |
| | Beaumarchais, l'insolent by Edouard Molinaro |
| 1995 | Rai by Thomas Gilou |
| | Un Bruit qui rend fou by Alain Robbe Grillet |
Interview with the film crew
Once you had the fundamental concepts of the film, notably those of the subjective camera, did the work consist of adapting to the constraints imposed by these choices?
Jean Marboeuf: When we start shooting a project, new and unexpected problems present themselves during the course of the shoot. When you write a screenplay, everything seems possible, but when it comes to shooting Coup de Sang, I thought that the physical absence of the lead actor would allow a unique flexibility in the shooting schedule, the other characters being only episodic. The film was made digitally, which was rather new for me. For this film, I was hoping for an image that was spontaneous, natural and aleatoric. The screenplay called for this type of freedom. This is a film made of long takes, off-camera shots and memory lapses. The subject lended itself to this form: the subjective camera. Technologically speaking, we were launched into the unknown.
What moves you about the films of Jean Marbœuf?
Sandrine Le Berre: Some think that it's marginal filmmaking. I believe, on my part, that it is the opposite: it is profoundly important, it is a cinema that speaks to me about who we are, what we feel. As an actress or a member of the audience, what draws me to films is daily life more than anything else, even if it is a little bit sad, the life of a neighbor rather than a millionaire in Hollywood. I expect a film to move me, and the films of Jean Marboeuf truly do.
The voices belong to two categories: direct voice and commentary voice …
Pierre Arditi: I would not say commentary; it is more of an interior monologue. The voice allows us to understand all of the profound inner workings of the character. He is at the same time part of what we see on the screen, while his voice being apart from it, as if the character is in conflict with himself. The voice becomes active and independent; it leaves him, to eventually return. The character uses his voice to reveal his suffering; he speaks when he can do nothing else, but never comments on what happens to him.
Interview with Jean Marboeuf (director)
Was the choice of subjective camera made from the beginning?
I thought that the simplest thing was to erase the lead actor. The film is then the fruit of an encounter between undergoing constraints, technology and a boiling point.
Movies that use subjective camera for the entirety of the film are not very common. Have you watched the classics of the genre, La Dame du lac, Les Passagers de la nuit, La Femme défendue?
I am a longtime cinephile; I've seen them. I would like to say that for me the subjective camera is not just a frivolity. What is the use of cinema? To show a subject in a specific scope, with a subjective eye. There we have the eye of the actor which gives sight to the spectator, the two become one. Most often movies show an external view of the world. The subjective camera allows each spectator to be in the skin of the character.
The other specific choice of this movie is that it is in black and white. It's your second time, 20 years after Vaudeville … but in Coup de Sang, color appears intermittently and breaks the black and white …
Here again you will find harmony between the content and the form. The content of the story is dark. I do not see why the picture should escape this darkness, this black and white. The color which appears in fragments represents happiness. Pierre sees the world in black and white as if colors are just a trick compelling us to think life is beautiful. Pierre consciously ignores all those shams. But life has a tendency to take over, which explains these sparkles of colors which add a bit of luster to reality.
Was the editing more difficult because of the subjective viewpoint, which calls for many long takes?
We had to start with long takes. So that the audience would accept the idea of the subjective viewpoint, it's necessary for them to enter into the head of the character as fast as possible. They must be convinced that they will no longer leave him, and will look at the world just through his eyes. Once they are settled with that principle, it's easier to speed up the editing.
The couple is fundamental to the film, so the widowing of Pierre resembles a real haunting fear.
It's a fear. for the other! Anne-France and I are so close that it's hard to imagine ourselves living without the other.
What motivates the final act of violence of this character? Is the happiness of others so unbearable to him?
What is unbearable is the polish, the coating. It is the lack of lucidity or of honesty. We lie so easily to ourselves …
Apart from the melancholy, the film is also a social commentary. From the man walking his dog, the drunkard in the café, to the beggar in front of the cemetery, they are each witnesses of a society that is going down the drain …
The film is based around working-class people. I don't believe this feature was forced. Society is really going to the dogs. Melancholy is everywhere because there is no way out. Human relations have become stained, the gap between rich and poor is widening. I do not know what kind of world we are leaving to our children. Cinema enables us to discuss all these issues.
What are your cinematographic influences?
Let's say Vigo, Melville, Mocky, Vecchiali andBrisseau, Belvaux. I would have liked to have been part of the constellation "Godard" because A bout de souffle and Bande à part are some of the most important films of my life but it appears that these spots have been taken.