en français | time schedule | feature films | short films | program [PDF]
2007 Festival Short Films (March 30 - April 1)
---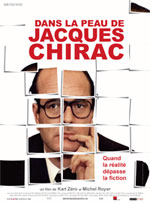 French directors Karl Zéro and Michel Royer present this U.S. premiere of Dans la peau de Jacques Chirac
directors Karl Zéro and Michel Royer screenwriters Karl Zéro and Michel Royer producers Yves Darondeau, Christophe Lioud and Emmanuel Priou starring Jacques Chirac, Dider Gustin (voice) running time 90 min general audience
Description
The unauthorized biography. A funny-mentary. An homage to the greatest French actor: Jacques Chirac, president of France. Since 1967, Jacques Chirac has appeared every day on television: millions of hours of automatic gestures, jerky speeches and feverish cavalcades. What if, in this crucial period of his life and term of office, he had decided to disclose it all, to restore the truth? Being Jacques Chirac aims to do just so. Karl Zéro and Michel Royer explored these 40 years of footage and have made the president explain the meaning of this inexhaustible quest for power. When truth is stranger than fiction.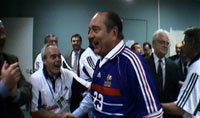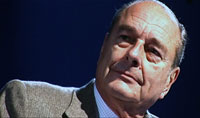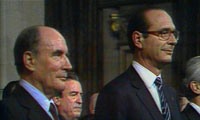 « Une œuvre malicieuse et passionnante »
– Thierry Cheze, Studio Magazine
« Un faux autoportrait absolument irrésistible. (...) On peut hurler de colère devant ces dérives de la démocratie, choisissons d'en hurler de rire. »
– Grégory Alexandre, Rolling Stone

Congratulations to the team of the film Dans la peau de Jacques Chirac for its 2007 César nomination for Best Documentary.
director/screenwriter/actor
producer
Karl Zéro
| | |
| --- | --- |
| 2004 | Les Dalton by Philippe Haïm |
| 2003 | Le Furet by Jean-Pierre Mocky |
| 2003 | Le Contre Journal (TV series) |
| 2003 | 60 jours, 60 nuits (TV series) |
| 2002 | Le Journal des bonnes nouvelles (TV series) |
| 2000 | Les Misérables (TV) by Josée Dayan |
| 1997 | Le Jour et la nuit by Bernard-Henri Lévy |
| 1996 | Le Vrai Journal (TV series) |
| 1993 | Le Tronc |
director/screenwriter/actor
Michel Royer
| | |
| --- | --- |
| 2006 | A la recherche de la folle perdue |
| 1997 | Le Don de Yussuf by Ralph Seiler |
politician
Jacques Chirac
| | |
| --- | --- |
| 2002 | Reelected President of the Republic of France (in 2nd round of polling) with 82.21 percent of votes cast versus 17.79 percent of votes cast for Jean-Marie Le Pen |
| 1995 | Elected president of the Republic of France (in 2nd round of polling) with 52.64 percent |
| 1986 | Prime minister ("Cohabitation" period) |
| 1977 | Elected mayor of Paris |
| 1976 | Elected president of the Rally for the Republic |
| 1974 | Appointed prime minister |
| 1974 | Minister of the interior |
| 1967 | State secretary for social affairs, with responsibility for employment problems |
| 1967 | Deputy for the Corrèze department |
| 1957 | ENA - National School of Administration |
Interview with Karl Zéro (director)

How did you come up with the idea of the film?
Michel Royer had been discussing it for years. He'd worked with me on our show at Canal+, "Le Vrai Journal," and each week he would find some funny archives, relating to our political guest on the show. He has this incredible talent for spotting those little nuggets. Jacques Chirac, who as the president of the Republic of France, doesn't often attend such shows therefore Michel had done a piece on unemployment seen through the eyes of Chirac. It was hilarious. It was on that day that we started to fool around with the idea of a film, which would be a comedy and also a movie, not political, but about politics.
Do you feel close to the work of Michael Moore on Bush? Is it a model for you?
No, he's a friend. A long time before Fahrenheit 9/11 or Bowling for Colombine, when he had his TV show "TV Nation" in the U.S., I invited him a couple of times to our set at "Le Vrai Journal." His film on Bush came in the middle of his reelection campaign in 2004; the film was propaganda against Bush's reelection. A bit like Moretti did recently with Berlusconi. We know that Chirac won't run for a third term (unless he feels rejuvenated by Being Jacques Chirac!) and we didn't want to do a shoot-them-up type of movie. The simple fact of telling the story with his voice, with his way of thinking, of imagining how he could defend himself in private, creates a distance from a very tough type of criticism, more like the Moore approach. We've made an autobiography, though unauthorized, which is bound to create controversy. But it's still an autobiography. What we are looking for is to enable a form of debate with the audience — who are first and foremost citizens — on the role that this man had, and still has, on what it really implies to be a politician, a President, and on the very strong influence he's had on French society, on the crisis that this country has been in, which, to us, seems like the result of the last 40 political years … It's a movie without any form of violence, without gunshots, but with a lot of dead bodies.