en français | time schedule | feature films | short films | program [PDF]
2007 Festival Short Films (March 30 - April 1)
---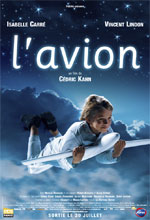 French director Cédric Kahn presents the U.S. premiere of L'Avion.
director Cédric Kahn screenwriter Cédric Kahn, Ismael Ferrouhki, Gilles Marchand, raphaelle Valbrune, Denis Lapéire based on the comic book Charly et Cap'tain Foudre by Magda Séron and Denis Lapière producers Marc Missonier, Olivier Delbosc (Fidélité Productions), Akkord Film Produktion starring Isabelle Carré, Vincent Lindon, Roméo Botzaris running time 100 min
general audience
Description
Little Charly is terribly disappointed by his Christmas present. Instead of the bicycle that he was so eagerly expecting, his father Pierre gives him the prototype of a plane that he has built himself. Several days later, Pierre disappears in a tragic accident. Shortly after, the model comes to life.
An extraordinary bond develops between the child and this mysterious toy, whose fascinating powers soon captures the attention of Charly's mom Catherine, and arouses the envy of a former colleague of Charly's father.
Determined to hang on to his father's very last gift, Charly is about to experience an incredible adventure, and his dream of seeing his father one more time just might come true.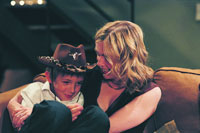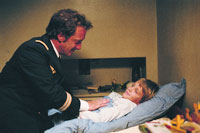 Critiques du film
« Un film fantastique (…) Cédric Kahn a enlevé le superflu. Reste la pureté métaphysique du genre. »
– Vincent Ostria pour L'Humanité
« Unconte lumineux, éclairé par l'interprétation de ses jeunes acteurs. »
– Alain Spira pour Paris Match
« Le pari est gagné haut la main et le cinéaste en profite pour explorer ce qui lui était assez étranger jusqu'ici: l'émotion. »
– Claire Vassé pour Zurban
« Un film dont la simplicité déroutante abrite des zones d'ombres qui donnent à réfléchir et à aimer. »
– Olivier de Bruyn pour Première
director/screenwriter
Cédric Kahn
| | |
| --- | --- |
| 2006 | Les Ambitieux by Catherine Corsini |
| 2005 | L'Avion by Cédric Kahn |
| 2004 | Feux Rouges by Cédric Kahn |
| 2001 | Roberto Succo by Cédric Kahn |
| 1998 | L'Ennui by Cédric Kahn |
| 1994 | Trop de bonheur by Cédric Kahn |
| 1993 | Les gens normaux n'ont rien d'exceptionnel by Laurence Ferreira Barbosa |
| 1991 | Bar des rails by Cédric Kahn |
| 1990 | Les dernières heures du millénaire (short film) |
| | Outremer by Brigitte Roüan |
actress
Isabelle Carré
| | |
| --- | --- |
| 2005 | Coeurs by Alain Resnais |
| | L'Avion by Cédric Kahn |
| | Quatre étoiles by Christian Vincent |
| | Entre ses mains by Anne Fontaine |
| 2004 | Eros Thérapie by Danièle Dubroux |
| | Holy Lola by Bertrand Tavernier |
| 2003 | La légende de Parva by Jean Cubaud (voice) |
| | Les Sentiments by Noémie Lvovsky |
| | Toute une histoire by Jean Rousselot (short film) |
| 2002 | Se souvenir des belles choses by Zabou Breitman (César Best Actress) |
| | A la folie… pas du tout by Laetitia Colombani |
| 2001 | Mercredi, folle journée! by Pascal Thomas |
| | Bella ciao by Stéphane Guisti |
| 2000 | J'Peux pas dormir… by Guillaume Canet (short film) |
| | L'Envol by Steve Suissa |
| | Ça ira mieux demain by Jeanne Labrune |
| | Le Goût du couscous by Claude Duty (short film) |
| 1999 | Superlove by Jean-Claude Janer |
| | Les Enfants du Marais by Jean Becker |
| | Les Enfants du siècle by Diane Kurys |
| | La Bûche by Danièle Thompson |
| | De source sûre by Laurent Tirard (short film) |
| 1998 | Sentimental Education by C.S. Leigh |
| | La Mort du Chinois by Jean-Louis Benoît |
| 1997 | La Femme défendue by Philippe Harel |
| 1996 | Beaumarchais l'insolent by Edouard Molinaro |
| | Les Sœurs Soleil by Jeannot Szwarc |
| 1995 | Le Hussard sur le toit by Jean-Paul Rappeneau |
| | Belle Époque by Gavin Millar |
| 1992 | Beau fixe by Christian Vincent |
| | Dober Man by Timothy Southam (short film) |
| 1991 | La Reine blanche by Jean-Loup Hubert |
| 1989 | Romuald et Juliette by Coline Serreau |
actor/screenwriter
Vincent Lindon
| | |
| --- | --- |
| 2006 | Je crois que je l'aime by Pierre Jolivet |
| 2005 | L'Avion by Cédric Kahn |
| | La Moustache by Emmanuel Carrère |
| | Selon Charlie by Nicole Garcia |
| 2004 | La Confiance règne by Etienne Chatiliez |
| 2003 | Le Coût de la vie by Philippe Le Guay |
| | Les Clés de bagnole by Laurent Baffie |
| 2002 | Filles Uniques by Pierre Jolivet |
| 2001 | Mercredi, folle journée! by Pascal Thomas |
| | Le Frère du guerrier by Pierre Jolivet |
| | Chaos by Coline Serreau |
| | Vendredi soir by Claire Denis |
| 2000 | Cyrano by Vincent Lindon (short film) |
| 1999 | Pas de scandale by Benoît Jacquot |
| 1998 | L'Ecole de la chair by Benoît Jacquot |
| | Belle Maman by Gabriel Aghion |
| | Ma petite entreprise by Pierre Jolivet |
| 1997 | Le Septième ciel by Benoît Jacquot |
| | Paparazzi by Alain Berbérian |
| 1996 | Fred by Pierre Jolivet |
| 1995 | La Belle verte by Coline Serreau |
| | Les Victimes by Patrick Grandperret |
| | Le Jour du chien by Ricky Tognazzi |
| | La Haine by Mathieu Kassovitz |
| 1993 | L'Irrésolu by Jean-Pierre Ronssin |
| 1992 | La Crise by Coline Serreau |
| | Tout ça... pour ça! by Claude Lelouch |
| 1991 | La Belle histoire by Claude Lelouch |
| 1990 | Gaspard et Robinson by Tony Gatlif |
| | Netchaïev est de retour by Jacques Deray |
| 1989 | Il y a des jours... et des lunes by Claude Lelouch |
| | La Baule-les-Pins by Diane Kurys |
| 1988 | L'Etudiante by Claude Pinoteau |
| 1987 | Quelques jours avec moi by Claude Sautet |
| | Dernier été à Tanger by Alexandre Arcady |
| 1986 | Un Homme amoureux by Diane Kurys |
| | Yiddish Connection by Paul Boujenah |
| | Escort girl by Bob Swaim |
| | Prunelles Blues by Jacques Otmezguine |
| | Suivez mon regard by Jean Curtelin |
| 1985 | Betty Blue by Jean-Jacques Beineix |
| | Half moon street by Bob Swaim |
| | 37º2 le matin by Jean-Jacques Beineix |
| 1984 | Parole de flic by José Pinheiro |
| | Notre histoire by Bertrand Blier |
| 1983 | L'Addition by Denis Amar |
| | Le Faucon by Paul Boujenah |
The film is based on the comic strip Charly et Cap'tain Foudre
Conversation with Cédric Kahn (director)
I'd dreamt of making a film with a child for a long time. I wanted to make a film my kids could see. This project came along at a perfect time. When I read the screenplay I was immediately seduced by the idea. I knew this story was for me. It touched on all the themes I hold dear: denial of death, escaping reality, the power of the imagination and the search for one's father.
I wanted the film to speak to both children and adults. It took a lot of work to attain the illusion of simplicity. I was fearful that the subject matter would make the film too serious, too dark. I wanted to strike a balance between lightness and profundity. Children actually have fewer taboos about death than we do. They don't dwell on the drama. For them, the film is an adventure. For adults, however, it's more of a melodrama. As I worked on this film, it became increasingly important to me. It took me back to my childhood and put me in touch with myself. Before, I had always done dark films with complex, impulsive characters who are prisoners of their own contradictions. I was always very involved in the subject matter but kept emotion at a safe distance. But with this story I knew I would have to open up and show my feelings. This film is the most expensive and complicated film I've ever directed, and yet at times I felt like I was making my first film again.
I was really nervous when I showed the film to my children. They told me they liked it, but I'm their father and maybe they just wanted to make me happy! We also showed the film to two groups of kids between [the ages of] eight and 10, and I can't tell you how moving it was for me to see those 70 little faces riveted to the screen, and to hear them laugh and shudder and vibrate with the film.
Catherine by Isabelle Carré
I liked the fact that this was a film for children, a kind of minimalist fairy tale, very streamlined. I was also seduced by the mother-son relationship, and the purity and simplicity of the dialogues and situations.
Projects about childhood interest me. My character is a young woman who is both very much in love with her husband and highly fulfilled as a mother. It's also the story of a child trying to escape his mother's sorrow. When we're little and we discover that adults also have weaknesses, that they feel pain and can cry, we are profoundly marked by this. It feels like the world is falling apart around us. We have to find a way to adapt to this new reality.
For me, this film was a luminous, human interlude — very pure. The scenes we shot on the Dune du Pilat best illustrate what the film means to me. We were working with a skeleton crew, so the children wouldn't be distracted, and this is quite unusual. I loved the experience.
Charly by Roméo Botzaris
One day, when I was coming home from school, a lady came up to me on the street. She looked me over and asked me if I'd like to pass an audition. At first I wasn't sure. I never thought of being in a movie and I didn't even know how they were made. My parents said we could at least go check it out.
The first time I went, they asked me to imitate an animal. Everyone was really nice and I decided I liked doing this. They asked me back a few times and I met Cédric. I memorized some lines, and he asked me to act sad or amazed, lots of things. The more I went, the more I wanted them to pick me.
Cédric is the one who called me. He said, "You're the one we chose, do you want to do the film?" I said yes! Cédric gave me the screenplay. I liked the story. Charly loves his father and mother the way I love my parents. I also liked the idea of having a magic toy.
For me it was like a game, it was really fun. What I liked the best were the chase scenes and action scenes. My favorite scene of all was the scene where I fly with the plane. Now I know how many people you need to make a film and how much work it takes. At the end of the shoot, they gave me one of the airplanes from the film. It's hanging in my bedroom, kind of like in the story, and sometimes at night, when I go to sleep, I dream it starts moving all by itself.