en français | time schedule | feature films | short films | program [PDF]
2007 Festival Feature Films (March 30 - April 1)
---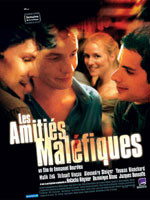 French director Emmanuel Bourdieu presents this North American premiere of Les Amitiés maléfiques
director Emmanuel Bourdieu screenplay Emmanuel Bourdieu, Marcia Romano producers Mani Mortazavi, David Mathieu-Mahias, Yorick Le Saux starring Malik Zidi, Thibault Vinçon, Alexandre Steiger, Thomas Blanchard, Dominique Blanc, Natacha Régnier running time 100 min general audience
Description
Eloi and Alexandre meet André, the brightest student of their class, on the first day of the academic year at the University La Sorbonne. Seduced by his cool behavior and his charismatic personality, they easily fall prey to his charm. André offers them his friendship if they pledge utmost loyalty to him. Overcome with admiration, Eloi and Alexandre bow to this harsh discipline as best they can until the day when André leaves them, pretending that he has earned a scholarship to an American university. Suddenly left to their own devices, Eloi and Alexandre have nobody to turn to and must grow up.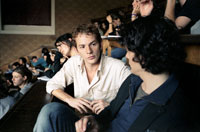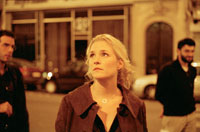 Congratulations to the movie on his Grand Prix de la Semaine de la Critique and the Prix SACD in Cannes 2006.

Congratulations to Malik Zidi for his 2007 César for Most Promising Actor.
« ( …) un magnifique portrait des aspirations adolescentes » – Julien Welter, Score
director/screenwriter
Emmanuel Bourdieu
| | |
| --- | --- |
| 2006 | Les Amitiés maléfiques by Emmanuel Bourdieu |
| 2004 | Vert Paradis by Emmanuel Bourdieu |
| | Léo en jouant « Dans la compagnie des hommes » by Arnaud Desplechin |
| 2001 | Candidature by Emmanuel Bourdieu |
| | Les Trois théâtres by Emmanuel Bourdieu |
| 2000 | Esther Kahn by Arnaud Desplechin |
| 1999 | La Nouvelle Eve by Catherine Corsini |
| 1998 | Place Vendôme by Nicole Garcia |
| 1996 | Comment je me suis disputé… (ma vie sexuelle) by Arnaud Desplechin |
actor
Malik Zidi
| | |
| --- | --- |
| 2007 | Jacquou Le Croquant by Laurent Boutonnat |
| 2006 | Le Grand Meaulnes by Jean-Daniel Verhaeghe |
| | Les Amitiés maléfiques by Emmanuel Bourdieu |
| | Oublier Cheyenne by Valérie Minetto |
| 2004 | Les Temps qui changent by André Téchiné |
| | Les Oiseaux du ciel by Eliane de Latour |
| 2003 | Mes enfants ne sont pas comme les autres by Denis Dercourt |
| 2002 | Un monde presque paisible by Michel Deville |
| | Un moment de bonheur by Antoine Santana |
| 2000 | Deuxième vie by Patrick Braoudé |
| | Gouttes d'eau sur pierres brûlantes by François Ozon |
| 1998 | Place Vendôme by Nicole Garcia |
| | Le Onzième commandement by Mama Keita |
| 1997 | Les Corps ouverts by Sébastien Lifshitz |
actor
Thibault Vinçon
| | |
| --- | --- |
| 2005 | Les Amitiés maléfiques by Emamnuel Bourdieu |
| 2004 | Le Dernier Jour by Rodolphe Marconi |
| 2001 | Résistances by Todd Komarnicki |
actress
Natacha Régnier
| | |
| --- | --- |
| | Les Amitiés maléfiques by Emmanuel Bourdieu |
| | Carmen by Jean-Pierre Limosin |
| | La Raison du plus faible by Lucas Belvaux |
| | Le Pont des arts by Eugène Green |
| | Trouble by Harry Cleven |
| 2003 | Demain on déménage by Chantal Akerman |
| | Vert Paradis by Emmanuel Bourdieu |
| 2001 | Comment j'ai tué mon père by Anne Fontaine |
| 2000 | Tout va bien, on s'en va by Claude Mouriéras |
| | Combien tu m'aimes by Pierre Lacan (short film) |
| | Les Amants criminels by François Ozon |
| 1998 | La Vie rêvée des anges by Erick Zonca |
| 1996 | Encore by Pascal Bonitzer |
| 1995 | Dis-moi oui by Alexandre Arcady |
Interview with Natacha Régnier (actress)
Cynical characters?
I don't find cynicism in Emmanuel Bourdieu's personality. There is a tender view of the characters and we come to like the flaws they have. I see people at the end of adolescence wandering in search of their place and one person takes on the role of the leader who will place himself in charge because others have not yet taken hold of who they are. There is something touching here. Emmanuel Bourdieu has a sense of romanticism, a taste for little idiosyncrasies. The characters are human with beautiful characteristics, while others are a little twisted. His view of the characters touches me a lot.
– Interview for Allociné
Interview with Emmanuel Bourdieu (director)
The story of Les Amitiés maléfiques takes place in college. It's a world Emmanuel Bourdieu knows: son of the famous sociologist Pierre Bourdieu, he graduated from a top university and is a doctor in philosophy.
Have you ever come across someone like André before?
I wanted to continue to collaborate with Marcia, so we spoke at a restaurant and told each other our stories. The stories were scattered, but at the core they spoke of the same thing: me, from the side of an Eloi, and her, from the other side as the obviously dominant one, and I liked that a lot. At the end, nothing remains autobiographical except the fact that I lived in this social class, even if I was studying philosophy.
You focus on the behaviors of young people. What motivates your interest?
I am not a proponent of raw autobiographical films because I find it uncomfortable to presume that my life should be interesting to the world. Nevertheless, it's a glance back on our romanticized past when we are almost 40 and went through that period. While filming, I was sometimes upset paternally by the actors and I have complete empathy for my characters and tell myself sometimes: How naïve I was! I am no longer able to live like this, but I like the world of André, very dark, narcissistic, violent, a world that goes through excess and enormity. He is already dead to his own youth.
– Interview conducted by Christophe Berthemin for dvdrama