en français | time schedule | feature films | short films | program [PDF]
2007 Festival Feature Films (March 30 - April 1)
---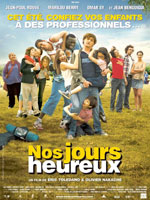 VCU French Film Festival presents this North American premiere of Nos jours heureux
directors and screenwriters Eric Toledano and Olivier Nakache producers Nicolas Duval, Bruno Chiche and Thomas Langmann starring Jean-Paul Rouve, Marilou Berry, Omar Sy, Julie Fournier running time 100 min parental guidance
Description
Vincent, 35, recalls his yearly summer jobs as counselor at a children's summer camp in Southwest France. At age 25 he had reached the top, and that summer became director in charge. But it takes a lot of nerve to manage the cries, laughs and daily mischief of 80 kids and 10 camp counselors, and at 25, though you're just over adolescence, you're not yet quite an adult. Vincent will have to learn to deal with a close yet tense relationship with Lisa, the sexiest camp counselor. One thing's for sure, though. Whether you're a participant, a counselor or the director, you're a different person after three weeks at camp and those transitional years will make for the most unforgettable memories of a lifetime.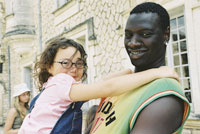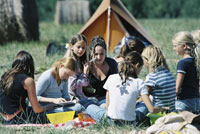 « Des jours vraiment heureux pour un film épatant de bout en bout »
– Alain Grasset, Le Parisien

[client – do you want to include in English?]
directors/screenwriters
Eric Toledano and Olivier Nakache
| | |
| --- | --- |
| 2006 | Nos jours heureux |
| 2005 | Je préfère qu'on reste amis |
| 2001 | Ces jours heureux (short presented at the 10th French Film Festival) |
| 1998 | Les Petits souliers (short) |
| 1995 | Le Jour et la nuit (short) |
actor
Jean-Paul Rouve
| | |
| --- | --- |
| 2007 | L'Ile aux trésors by Alain Berbérian |
| 2006 | La Môme by Olivier Dahan |
| | Nos jours heureux by Olivier Nakache and Eric Toledano |
| | Le Temps des porte-plumes by Daniel Duval |
| | Bunker Paradise by Stefan Liberski |
| 2005 | Boudu by Gérard Jugnot |
| | Je préfère qu'on reste amis by Olivier Nakache and Eric Toledano |
| | Arthur et les Minimoys (voice) by Luc Besson |
| 2004 | RRRrrrr!!! by Alain Chabat |
| | Podium by Yann Moix |
| | Casablanca Driver by Maurice Barthélémy |
| | Un long dimanche de fiançailles by Jean-Pierre Jeunet |
| | Un petit jeu sans conséquence by Bernard Rapp |
| 2003 | Moi, César 10 ans et demi 1m39 by Richard Berry |
| | Mais qui a tué Pamela Rose? by Eric Lartigau |
| | Les Clefs de la bagnole by Laurent Baffie |
| 2002 | Asterix et Obélix: mission Cléopâtre by Alain Chabat |
| | Monsieur Batignole by Gérard Jugnot |
| | Jojo la frite by Nicolas Cuche |
| | Mon Idole by Guillaume Canet |
| 2001 | Le Petit Poucet, by Olivier Dahan |
| | Tanguy by Etienne Chatiliez |
| 1999 | Trafic d'influence by Dominique Farrugia |
| | Karnaval by Thomas Vincent |
| 1998 | Serial lover by James Huth |
| 1997 | Amour déchiré by Yann Piquer (short) |
| 1996 | Le Souffleur by Bruno Sauvard and Mickaël Viger (short) |
actress
Marilou Berry
| | |
| --- | --- |
| 2006 | Nos jours heureux by Olivier Nakache and Eric Toledano |
| | On ne devrait pas exister by HPG |
| 2005 | La Boîte noire by Richard Berry |
| | Il était une fois dans l'Oued by Djamel Bensalah |
| 2004 | La Première fois que j'ai eu 20 ans by Lorraine Lévy |
| | Comme une image by Agnès Jaoui |
| 1991 | Ma vie est un enfer by Josiane Balasko |
actor
Omar Sy
2006
Nos jours Heureux by Olivier Nakache and Eric Toledano
2004
Le Carton by Charles Nemes
2001
Le Boulet by Alain Berberian and Frédéric Forestier
Le Raid by Djamel Bensalah
Samouraïs by Giordano Gederlini
2000
Asterix et Obelix, Mission Cléopåtre by Alain Chabat
La Tour Montparnasse infernale by Charles Nemes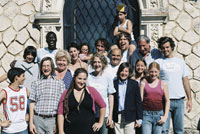 An interview with Eric Toledano, Olivier Nakache and Nicolas Duval
Eric Toledano, the co-writer and co-director of the film with Olivier Nakache, explains: For us, this film is really a special project. Olivier and I met at an agency which organizes children's vacations, and we found we shared the same passion for films. Once we got a hold of a camera, we shot our first short film which was about a summer camp called Ces Jours Heureux. When we started to work in film, we often recalled that a lot of our experiences at camp could be part of any dramatic work. Just like in the movies, there are tender, funny and moving moments, as well as characters that evolve throughout the story. A three-week visit to camp changes everyone, from the kids to the counselors.

Nicolas Duval, producer: The story deals not only with the group but the personality of each character involved. It is one of the movie's strengths. They didn't make a film about a group as one entity, but about very distinct characters that form a group. It's extremely vivid. That's what attracted me to this subject, and why it moves many people. Watching their film is a pleasure. You are immersed in your own memories of youth and childhood.

Olivier Nakache: What interests us is making a comedy anchored in reality, written about life with humor, without looking for the easy gag.
MILLIONS OF EXPERIENCES FOR A MEMORY

Eric Toledano: With our experiences, we could've written two screenplays. This film is full of real anecdotes embedded within the story. The characters in our movie are all inspired by people we actually met. A lot of the characters exist in real life. From a child's perspective, I have great memories of camp, but our film centers around the counselors' view of children. If there is a main character, it's the camp director. Around him are the other counselors, each with a different personality. In the film we put the types of children and counselors that we remember from our own experiences.

Olivier Nakache: We were just kids trying to lead other kids. "Education of the young by the young" as we said at the time. This is what gives camps their magical aspect. This mix, these special encounters and the countdown before the end of the summer bring a unique reaction and create unique relationships that are not possible elsewhere. At the end of camp, you've made friends for life. You write love letters and the greatest of friendships are born. We're a good example.

Nicolas Duval: This film couldn't have been made by anyone but them. The directors had to have knowledge of camp life as well as true cinematic talent. It's surprising that in spite of the number of people this subject concerns, it is a theme that hasn't really been explored in film.

Olivier Nakache: We hope that people will be amused and feel something in watching this comedy, a little bit of nostalgia, a path leading to this part of us that's buried, but very important.