en français | time schedule | feature films | short films | program [PDF]
2010 Festival Feature Films (March 25-28)
---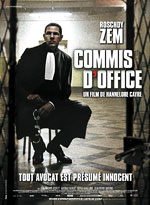 French director, screenwriter and author Hannelore Cayre presents Commis d'office
director Hannelore Cayre screenplay Hannelore Cayre based on the novel Commis d'office by Hannelore Cayre starring Roschdy Zem, Jean-Philippe Ecoffey, Juliette Lamboley, Mathias Melkluz, Sophie Guillemin, Jacky Nercessian, Jean-Pierre Martins, Robert Chartier running time 1 h 31 min parental guidance
Synopsis
At 40 years old, Antoine Lahoud is a criminal lawyer, enthusiastic but let down by his profession. He applies his good samaritan soul to handle court-appointed and misdemeanor cases. It is there, during a defense, that he is noticed by Henry Marsac, a lawyer with a diabolical reputation. Marsac employs Lahoud as his associate to defend big-time gangsters and allows him to taste the fruits of prosperity. It won't take Lahoud long to realize that the sudden keen interest that his colleague takes in him is far from benevolent. Read more
---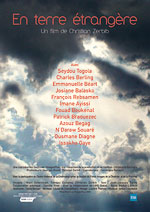 French director Christian Zerbib, assistant director Touria Benzari and special guest Seydou Togola present En terre étrangère
director Christian Zerbib screenplay Christian Zerbib interviews with Charles Berling, Emmanuelle Béart, Josiane Balasko, Seydou Togola, François Rebsamen running time 1 h 16 min general audience
Synopsis
The interwoven stories of illegal immigrants who have left behind everything in search of a better life in France, and who now almost regret having come, and of those in Africa who are ready to follow their example and to risk their lives by crossing the seas. We are shown the unknown dimensions of these men who remain so close and yet so far from us, our brothers despite the borders drawn by men. Read more
---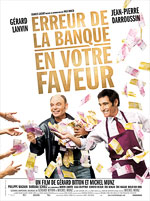 French directors Gérard Bitton and Michel Munz present Erreur de la banque en votre faveur
directors Gérard Bitton, Michel Munz screenplay Gérard Bitton, Michel Munz producer Charles Gassot starring Gérard Lanvin, Philippe Magnan, Jean-Pierre Darroussin, Barbara Schulz, Scali Delpeyrat, Martin Lamotte, Éric Berger, Jennifer Decker, Roger Van Hool, Éric Naggar, Eric Gamelon running time 1 h 44 min parental guidance
Synopsis
When Julien Foucault, maître d' of the reputable investment bank Berthin-Schwartz, learns that he has been laid off, he sees the opportunity to accomplish his lifelong dream: to open a restaurant with his best friend Étienne. However, after 17 years of good and loyal service, the bank refuses him any financial assistance. Julien then decides to take advantage of confidential information used by his employers, but they soon discover this insider trading and decide to play a Machiavellian trick on him. … Read more
---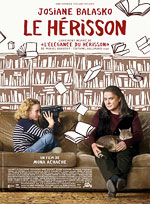 French director Mona Achache and actress Josiane Balasko present Le Hérisson
director Mona Achache screenplay Mona Achache, Muriel Barbery based on the novel L'Elégance du Hérisson by Muriel Barbery starring Josiane Balasko, Garance Le Guillermic, Togo Igawa, Anne Brochet, Ariane Ascaride, Wladimir Yordanoff, Sarah Le Picard, Jean-Luc Porraz, Gisèle Casadesus, Mona Heftre, Samuel Achache, Valérie Karsenti, Stephan Wojtowicz running time 1 h 40 min general audience
Synopsis
The story of an unlikely encounter: that of Paloma Josse, a highly intelligent, yet suicidal, 11-year-old girl; Renée Michel, an unassuming and reclusive Parisian concierge; and the mysterious Mr. Kakuro Ozu. Read more
---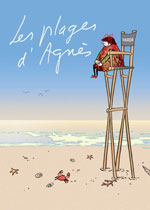 Les Plages d'Agnès
director Agnès Varda screenplay Agnès Varda running time 1 h 50 min general audience
Synopsis
Returning to the beaches that have been part of her life, Agnès invents a kind of self-portrait-documentary. Agnès stages herself among excerpts of her films, images and reportages.
She shares with humor and emotion her beginnings as stage photographer, then as early filmmaker of the French New Wave, her life with French director Jacques Demy, her feminism, her trips to Cuba, China and the U.S., her life as an independent film producer, her family life and her love of beaches.
A free and curious woman! Read more
---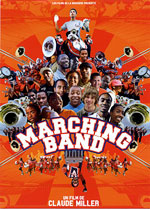 French director Héléna Cotinier, cinematographer Luis Armando Arteaga with French producer Annie Miller and production manager Isaac Regelson present their documentary film Marching Band
directors Claude Miller, Héléna Cotinier, Pierre-Nicolas Durand executive producers Annie Miller, Claude Miller director of photography Luis Armando Arteaga sound recordists François Favayard, Emmanuel Angrand, Cédric Lionnet editors Morgane Spacagna, Christina Lack running time 1 h 35 min general audience
Synopsis
2008: The election of the 44th president of the U.S.
Within their universities, campus marching bands provide the public, which is fond of them, uplifting parades that are highly colorful, both musically and visually. This film, driven by the extraordinary energy of these marching bands, paints a portrait of American youth today and shows the position some of these students take with regard to a political event that will no doubt change their lives, and with them, the face of the world. Read more
---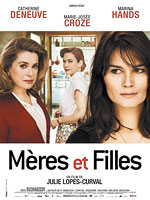 French director Julie Lopes-Curval presents Mères et filles
director Julie Lopes-Curval screenplay Julie Lopes-Curval, Sophie Hiet starring Catherine Deneuve, Marie-Josée Croze, Marina Hands, Michel Duchaussoy, Jean-Philippe Ecoffey, Carole Franck, Éléonore Hirt running time 1 h 45 min general audience
Synopsis
Three women, three generations.
In the 1950s, Louise left her husband when their children were still very young. She was never heard from again. Her daughter, Martine, stayed in the small seaside town, where she became a doctor.
Martine's daughter, Audrey, an independent 30-year-old, returns to visit her parents. By chance, she finds a notebook that belonged to her grandmother — a diary that may at last explain her departure.
Will it reveal the things left unsaid that have altered the relationships within the heart of the family ever since? In it, will Audrey find answers to the questions that she asks herself about her own future? Read more
---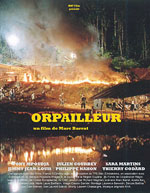 French director Marc Barrat and actor George Aguilar present Orpailleur
director Marc Barrat screenplay Marc Barrat, Apsita Berthelot starring Tony Mpoudja, Julien Courbey, George Aguilar, Sara Martins, Philippe Nahon, Thierry Godard, Malick Bowens, Ricky Tribord running time 1 h 30 min parental guidance
Synopsis
Rod decides to return to French Guiana, his native country, accompanied by Gonz, his childhood friend. In Cayenne, the past and Rod's family history catch up to them, pushing them into a frenzied quest for truth. From then on, they will be caught in a downward spiral, carried away to the end of the river, to the heart of the virgin forest, into the hostile and savage world of illegal gold prospectors. Read more
---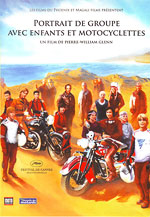 French director and screenwriter Pierre-William Glenn, French producer Magali Potier and French actresses Lucine Sanchez and Amélie Demoulin present Portrait de groupe avec enfants et motocyclettes
director Pierre-William Glenn screenplay Pierre-William Glenn producer and distributer Les Films du Phoenix starring Pierre Guyonnet, Nicolas Dussauge, Amélie Demoulin, Lucine Sanchez, Martin Bellabois, Hugues and Jules Fougeaud, Thibault Gourin, Hugo Monamy, Corentin Accigliaro, Roméo Pageot, Rémi Guyot, Jules and Simon Danilo, Robin Anne, William Wallart, Hugo Casadessus also starring Giacomo Agostini, Rosine Rougerie running time 1 h 31 min general audience
Official selection at the 2009 Cannes Film Festival
Synopsis
Pierre-William Glenn, well known for his film Cheval de fer, with Portrait de groupe avec enfants et motocyclettes, has made the film of his life.
The aspirations of a group of child motorcyclists serve as the catalyst that reveals all Glenn's life passions: motorcycle racing and all its great champions; French and American cinema and their most famous stars. Native Americans Audrey Hepburn, Clint Eastwood, Marlon Brando — just like long gone motorcycle champions Mike Hailwood, Michel Rougerie, Patrick Pons — are reincarnated in Pierre-William Glenn's eyes through the passion of these young drivers. Is that not what is called the immortality of stars?
A fascinating documentary on speed, life, danger, youth, motorcycles, stardom ... beautifully filmed.
Note the remarkable interviews with champions like Giacomo Agostini, Christophe Guyot and even Nicolas Dussauge on their experiences and their passion for motorcycle racing, as well as the breathtaking excerpts from American film classics. Read more
---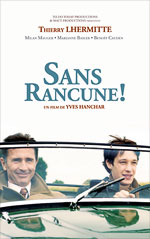 French director Yves Hanchar presents Sans rancune!
director Yves Hanchar screenplay Yves Hanchar starring Thierry Lhermitte, Milan Mauger, Marianne Basier, Benoit Cauden, Christian Crahay, Benoit Van Dorsiaer, Alexandra Vandernoot, John Flanders, Bernard Eylenbosch running time 1 h 44 min general audience
Synopsis
1955: A boarding school in Belgium.
Seventeen-year-old Laurent Matagne believes that his French teacher, nicknamed "Steam," is actually his father, who disappeared during an air raid in 1940. Steam is eccentric, mysterious, troubling and brilliant, and he quickly communicates his passion for literature to Laurent, to the point of stirring the young man's desire to become a writer. Matagne and his friend Boulette decide to carry out an investigation. While they hatch a plan to trap Steam, Matagne gets down to writing his first novel. Read more
---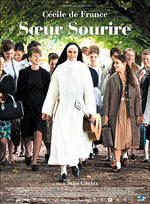 Belgian director Stijn Coninx presents Sœur Sourire
director Stijn Coninx screenplay Stijn Coninx, Ariane Fert, Chris Vander Stappen based on the life of Jeannine Deckers, Sœur Sourire starring Cécile De France, Sandrine Blancke, Jan Decleir, Johan Leysen, Chris Lomme, Jo Deseure, Marie Kremer, Filip Peeters, Christelle Cornil, Tsilla Chelton running time 2 h parental guidance
Synopsis
At the end of the 1950s, in the vicinity of Brussels.
Like all young people of the time, Jeannine Deckers thirsts for freedom and discovery. There is no way that she will accept the choices her parents have made for her: find a husband and take over the family bakery. She aspires to have another life, traveling and helping people. Initially attracted to art studies, she eventually decides to enter a convent. Jeannine discovers that being a Dominican nun is a difficult vocation. She is asked to renounce all worldly things, including music. She is just not ready to do that. Despite the incomprehension of the other sisters, but with the support of the mother superior, she holds firm and even composes a hit song, "Dominique." Jeannine then becomes known by the whole world as "Sister Smile."
She will become famous and her records will sell millions. Her success will be compared to that of Elvis Presley.
This film tells the unique and moving story of this young woman who never gave up on her dreams. Read more
---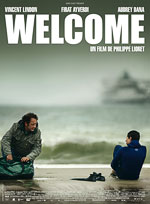 Actor Firat Ayverdi presents Welcome
director Philippe Lioret screenplay Philippe Lioret, Olivier Adam, Emmanuel Courcol starring Vincent Lindon, Firat Ayverdi, Audrey Dana, Thierry Godard running time 1 h 55 min general audience
Synopsis
To impress and win back his wife's heart, Simon, an instructor at the Calais swimming pool, decides to defy the law by helping a 17-year-old Kurdish illegal immigrant reach England by swimming across the English Channel. Read more