en français | time schedule | feature films | short films | program [PDF]
2010 Festival Feature Films (March 25-28)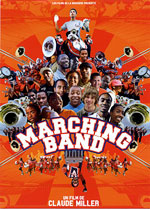 French director Héléna Cotinier, cinematographer Luis Armando Arteaga with French producer Annie Miller and production manager Isaac Regelson, present their documentary film Marching Band
directors Claude Miller, Héléna Cotinier, Pierre-Nicolas Durand executive producers Annie Miller, Claude Miller director of photography Luis Armando Arteaga sound recordists François Favayard, Emmanuel Angrand, Cédric Lionnet editors Morgane Spacagna, Christina Lack running time 1 h 35 min general audience
Synopsis
2008: The election of the 44th president of the U.S.
Within their universities, campus marching bands provide the public, which is fond of them, uplifting parades that are highly colorful, both musically and visually. This film, driven by the extraordinary energy of these marching bands, paints a portrait of American youth today and shows the position some of these students take with regard to a political event that will no doubt change their lives, and with them, the face of the world.
director/screenwriter/actor
Claude Miller
| | |
| --- | --- |
| 2009 | Je suis heureuse que ma mère soit vivante, with Nathan Miler |
| | Marching Band, with Héléna Cotinier and Pierre-Nicolas Durand |
| 2006 | Un secret |
| | Un ami parfait by Francis Girod |
| 2004 | La Vie de Michel Muller est plus belle que la vôtre by Michel Muller |
| 2003 | La Petite Lili |
| 2000 | La Chambre des magiciennes |
| | Betty Fisher et autres histoires |
| 1998 | La Classe de neige |
| 1994 | Le Sourire |
| 1992 | L'Accompagnatrice |
| 1988 | La Petite Voleuse |
| | Notes pour Debussy by Jean-Patrick Lebel |
| 1985 | L'Effrontée |
| 1983 | Mortelle randonnée |
| 1981 | Garde à vue |
| | Plein sud (screenwriter and actor) by Luc Béraud |
| 1977 | Dites-lui que je l'aime |
| 1976 | La Meilleure façon de marcher |
| 1970 | L'Enfant Sauvage by François Truffaut |
Interview with Claude Miller and Héléna Cotinier
How was this project born?
Miller: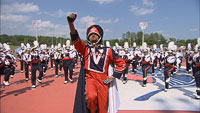 The urge came from watching Block Party by Michel Gondry, a documentary about a concert in New York featuring a marching band. I realized the extent to which I love this tradition of marching bands. But I said to myself, at the same time, that this wasn't really a subject of a film. When the campaign for the American presidential elections began, I had the idea to give a voice to these young people in the marching bands by asking them to take a stand on this event, which they were living through. So, we decided to start filming three months before the elections and to follow these young Americans up until election day.
Why did you decide to film in the south of the U.S.?
Miller: We had to make a decision very quickly when we found out that we had the opportunity to film. So, I called my friends who are professors at universities in Virginia, Françoise and Peter Kirkpatrick, and they opened doors for us at the University of Virginia and Virginia State University. We came here under those circumstances, but these two universities turned out to be perfect for our subject.
The camera seems to blend in completely with the students and be forgotten.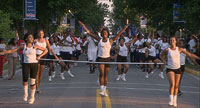 Miller: I think that one of our trump cards was the youthfulness of my two co-directors and of our cameraman, who were very quickly accepted.
Cotinier: What also helped us was that at UVA, we accompanied the members of the orchestra who had a week of band camp, during which they got together to practice intensely. So we were with them 24/7, which allowed us to be accepted in a friendly atmosphere. We took advantage of this by filming the rehearsals on the practice field, where the camera was in the middle of the marching band. This created real trust between us; they saw that we respected their work and they were respectful of ours.