en français | time schedule | feature films | short films | program [PDF]
2010 Festival Feature Films (March 25-28)
---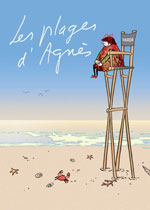 Les Plages d'Agnès
director Agnès Varda screenplay Agnès Varda running time 1 h 50 min general audience
Synopsis
Returning to the beaches that have been part of her life, Agnès invents a kind of self-portrait-documentary. Agnès stages herself among excerpts of her films, images and reportages.
She shares with humor and emotion her beginnings as stage photographer, then as early filmmaker of the French New Wave, her life with French director Jacques Demy, her feminism, her trips to Cuba, China and the U.S., her life as an independent film producer, her family life and her love of beaches.
A free and curious woman!
director/screenwriter
Agnès Varda
| | |
| --- | --- |
| 2007 | Les Plages d'Agnès |
| 2004 | Cinévardaphoto |
| | Ydessa, les ours et etc. ... |
| 2003 | Le Lion volatil |
| 2002 | Deux ans après |
| 2000 | Les Glaneurs et la glaneuse |
| 1995 | L'Univers de Jacques Demy |
| 1994 | Les Cent et une nuits |
| 1993 | Les Demoiselles ont eu 25 ans |
| 1991 | Jacquot de Nantes |
| 1988 | Jane B. par Agnès V |
| | Kung-Fu-Master |
| 1985 | Sans toit ni loi |
| | 7p., cuis., s. de b., … à saisir |
| 1981 | Documenteur |
| 1977 | L'Une chante, l'autre pas |
| 1976 | Daguerréotypes |
| 1969 | Lion's love |
| 1966 | Les Créatures |
| 1965 | Le Bonheur |
| 1962 | Cléo de 5 à 7 |
| 1955 | La Pointe-Courte |
executive producer
| | |
| --- | --- |
| 2005 | Ô pieds by Valentin Vignet |