en français | time schedule | feature films | short films | program [PDF]
2010 Festival Feature Films (March 25-28)
---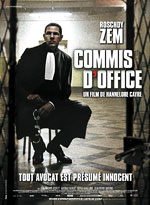 French director, screenwriter and author Hannelore Cayre presents Commis d'office
director Hannelore Cayre screenplay Hannelore Cayre based on the novel Commis d'office by Hannelore Cayre starring Roschdy Zem, Jean-Philippe Ecoffey, Juliette Lamboley, Mathias Melkluz, Sophie Guillemin, Jacky Nercessian, Jean-Pierre Martins, Robert Chartier running time 1 h 31 min parental guidance
Synopsis
At 40 years old, Antoine Lahoud is a criminal lawyer, enthusiastic but let down by his profession. He applies his good samaritan soul to handle court-appointed and misdemeanor cases. It is there, during a defense, that he is noticed by Henry Marsac, a lawyer with a diabolical reputation. Marsac employs Lahoud as his associate to defend big-time gangsters and allows him to taste the fruits of prosperity. It won't take Lahoud long to realize that the sudden keen interest that his colleague takes in him is far from benevolent.
director/screenwriter
Hannelore Cayre
| | |
| --- | --- |
| 2007 | Commis d'office |
| 1994 | Vivre son patrimoine |
| 1992 | Albertina a maigri |
actor/director
Roschdy Zem
selected filmography
| | |
| --- | --- |
| 2010 | A bout portant by Fred Cavayé |
| 2009 | London River by Rachid Bouchareb |
| | Tête de Turc by Pascal Elbé |
| 2008 | Très très grande entreprise by Pierre Jolivet |
| 2007 | Détrompez-vous by Bruno Dega |
| | Go fast by Olivier Van Hoofstadt |
| | The Girl from Monaco by Anne Fontaine |
| 2006 | Indigènes by Rachid Bouchareb |
| | La Californie by Jacques Fieschi |
| 2005 | Mauvaise Foi |
| | Le Petit Lieutenant by Xavier Beauvois |
| 2004 | 36, quai des Orfèvres by Olivier Marchal |
| | Camping à la ferme by Jean-Pierre Sinapi |
| | Ten'ja by Hassan Legzouli |
| 2003 | Chouchou by Merzak Allouache |
| | Merci... Dr. Rey! by Andrew Litvack |
| | Le Piège by Alix Delaporte |
| 2002 | Blanche by Bernie Bonvoisin |
| 2001 | Le Raid by Djamel Bensalah |
| 2000 | Ma femme est une actrice by Yvan Attal |
| | Betty Fisher et autres histoires by Claude Miller |
| | L'Origine du monde by Jérôme Enrico |
| | Change-moi ma vie by Liria Bégéja |
| | Stand-By by Roch Stéphanik |
| 1999 | Louise – Take 2 by Siegfried |
| | Ma petite entreprise by Pierre Jolivet |
| | Vivre au paradis by Bourlem Guerdjou |
| | Les Petits Souliers by Eric Toledano, Olivier Nakache |
| 1998 | For Sale by Laetitia Masson |
| | Ceux qui m'aiment prendront le train by Patrice Chéreau |
| | Le Monde à l'envers by Rolando Colla |
| | La Ville-El Medina by Yousry Nasrallah |
actress
Juliette Lamboley
| | |
| --- | --- |
| 2008 | Mes stars et moi by Laetitia Colombani |
| 2007 | L'Auberge rouge by Gérard Krawczyk |
| | Le Lien by Denis Malleval |
| 2006 | Inséparables by Elisabeth Rappeneau |
| | Mademoiselle Gigi by Caroline Huppert |
| | Je hais les parents by Didier Bivel |
| | Le Procès de Bobigny by François Luciani |
| 2005 | Une vie en retour by Daniel Janneau |
| 2003 | Martin by Raphaël de Vellis |
| 2001 | Le Pacte des loups by Christophe Gans |
| | Le Magicien by Eric Willaume |
| 2000 | L'Instit by Pierre Grimblat |
| | L'Enfant de la honte by Claudio Tonetti |
Interview with Hannelore Cayre (director)
Commis d'office is adapted from your book of the same title, which was a great success. Why did you decide to move from novel to film?
It is a little bit cliché, but making movies is a childhood dream. Once I finished my law studies, I made an attempt to enter this world through film production. Then, I made short films (Albertina a maigri, which was received well at festivals). Since what I do is based on a universe that is a little too personal, it was difficult to find money to make the film. But as I clung to my literary rights as if I were possessed, I finally found a crazy nut, Marc Irmer, who agreed to share the adventure with me.
Why focus specifically on a court-appointed lawyer?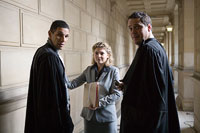 As with any private practice, if nobody knocks at your door, you do not eat at night. Believing that all lawyers are rich is incorrect. Like physicians who work around the clock as medico-legal or school doctors. Court appointments certainly lack panache but it is a welcome livelihood when in need. As for choosing to become a criminal lawyer, criminal law is the only branch of law where all lawyers are equal regarding what clients they get, regardless of their own social origin. Only their talent counts.
One feels the loneliness of this character every day.
Indeed, he is alone with the imperative of earning a living in this highly competitive universe. Nobody ever considered lawyers were fighting amongst themselves about who will defend the biggest gangster with the most money. Nobody has even asked this simple question: how, where and from whom does a criminal lawyer obtain his fees? It's strange; as if this phantasmagorical aspect of the profession annihilated all critical judgment.
Does the film denounce the system?
Yes, there is a severe lack of resources in an area as important as justice. Even if it is not the direct subject, I hope it is apparent in the film.
Interview with Roschdy Zem (actor)
You interpret Antoine Lahoud, the main character in Commis d'office. Tell us about this young lawyer.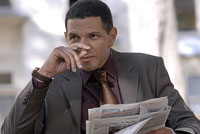 Yes, he is a fairly young, ordinary lawyer, like any other. He tries to get by, defending small misdemeanor cases far from the big circuit court affairs about which every one speaks. He is a court-appointed lawyer, the typical case, fighting to make ends meet, and this is more common than one believes. However, regarding his profession, even if he struggles in this environment, he holds on to strong convictions. I attended several hearings. In the film, the profession is presented in a totally different manner from what one usually imagines. But it is actually the truth.
Indeed, usually, we are presented with the image of the brilliant lawyer — rich and powerful. Yet this changes our view.
Yes, usually we think of the lawyers seen in the media who are dealing with cases that make the headlines. Here, we shed light on the bottom rung, so to speak. The most common cases are those involving small dealers or urban assaults that have to be dealt with too — defendants with little or no financial means — and it is this kind of case that my character is involved in.
Can you find a link between the actor and the lawyer?
Lawyers have to strengthen their arguments to move judges. They work on the power and strength of conviction. They will make every effort to defend their client by applying a range of emotions. An actor must be a little more sober, and more subtle.