en français | time schedule | feature films | short films | program [PDF]
2010 Festival Feature Films (March 25-28)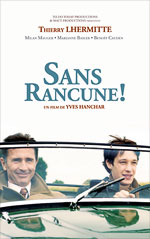 French director Yves Hanchar presents Sans rancune!
director Yves Hanchar screenplay Yves Hanchar starring Thierry Lhermitte, Milan Mauger, Marianne Basier, Benoit Cauden, Christian Crahay, Benoit Van Dorsiaer, Alexandra Vandernoot, John Flanders, Bernard Eylenbosch running time 1 h 44 min general audience
Synopsis
1955: A boarding school in Belgium.
Seventeen-year-old Laurent Matagne believes that his French teacher, nicknamed "Steam," is actually his father, who disappeared during an air raid in 1940. Steam is eccentric, mysterious, troubling and brilliant, and he quickly communicates his passion for literature to Laurent, to the point of stirring the young man's desire to become a writer. Matagne and his friend Boulette decide to carry out an investigation. While they hatch a plan to trap Steam, Matagne gets down to writing his first novel.
director/screenwriter
Yves Hanchar
| | |
| --- | --- |
| 2009 | Sans rancune! |
| 2001 | Slogans |
| 2000 | En vacances |
| 1994 | La partie d'échecs |
| 1992 | 8 en jeu |
actor
Thierry Lhermitte
selected filmography
| | |
| --- | --- |
| 2009 | Sans rancune! by Yves Hanchar |
| | Thelma, Louise et Chantal by Benoît Pétré |
| | Gigola by Laure Charpentier |
| 2008 | Le Siffleur by Philippe Lefèbvre |
| 2007 | La Clef by Guillaume Nicloux |
| | Notre univers impitoyable by Léa Fazer |
| 2005 | Les Bronzés 3: Amis pour la vie by Patrice Leconte |
| 2004 | Qui perd gagne! by Laurent Bénégui |
| | L'Ex-femme de ma vie by Josiane Balasko |
| 2003 | Le Divorce by James Ivory |
| 2002 | And Now … Ladies and Gentlemen by Claude Lelouch |
| | Effroyables Jardins by Jean Becker |
| 2000 | Deuxième vie by Patrick Braoudé |
| | Le Prince du Pacifique by Alain Corneau |
| | Le Placard by Francis Veber |
| 1998 | Le Dîner de cons by Francis Veber |
| 1997 | Quatre garçons pleins d'avenir by Jean-Paul Lilienfeld |
| 1994 | Grosse fatigue by Michel Blanc |
| | Un Indien dans la ville by Hervé Palud |
| 1992 | Le Zèbre by Jean Poiret |
| 1991 | La Totale by Claude Zidi |
| 1990 | Les Mille et une nuits by Philippe de Broca |
| 1986 | Nuit d'ivresse by Bernard Nauer |
| 1982 | Le Père Noël est une ordure by Jean-Marie Poiré |
| 1979 | Les Bronzés font du ski by Patrice Leconte |
| 1978 | Les Bronzés by Patrice Leconte |
| 1976 | Que la fête commence by Bertrand Tavernier |
| 1974 | Les Valseuses by Bertrand Blier |
actor
Milan Mauger
| | |
| --- | --- |
| 2009 | Sans rancune! by Yves Hanchar |
| 2007 | Les Yeux bandés by Thomas Lilti |
| | Musée haut musée bas by Jean-Michel Ribes |
Interview with director Yves Hanchar
Sans Rancune! is certainly a fiction, but supports a strong link with my adolescence from which I extracted somehow a fantasy and possibly one of my grandfather's fantasies as well.
My grandfather's disappearance during the war, the urge to leave my adolescence behind at all costs and to make something of my life, my difficulty, like everyone's,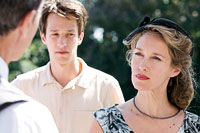 to know what to do and how to do it, a brilliant French professor, a role model, are the elements that helped me construct the plot of my film: A young student sees the image of his father, who disappeared during the war, in his French professor, nicknamed "Steam."
Through this comedy, I wanted to show the complexities of entering the real world. All our life we sway between good and bad intuitions, aspirations, between laughter and tears … but is it not what living is all about?
Interview with Thierry Lhermitte
Why did you choose to be in the film Sans Rancune!?
The story was very well written, original and intriguing. I read the script with extreme interest until the last page. The complexity of my character, this French professor nicknamed "Steam," raises questions about his real identity, which reinforces the plot. I found great pleasure in reading the script, which is not always the case! In this film, there are reminiscences of other films that I liked, Dead Poets Society, The Chorus, The Class.
Sans Rancune! addresses many different themes. It tells of an apprenticeship, the search for a father by a child, the emergence of a vocation, the transferral of a passion between two men. Why did these themes inspire you?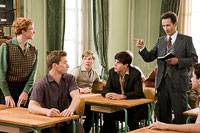 Simply because they are the themes that inspire everyone. There is also this reflection between real and invented life, between reality and writing. Are imagination and creation worth more than life? The important point of this film, that adds credibility to the subject and to the viewers' emotion, is that the director shared a similar situation to the one of my character. And the most astonishing thing is that he learned about this after having written the script!
Steam, your character, is a curious French professor with unorthodox methods!
A colorful character indeed. A professor we all dream about meeting or having in class.
How did you go about tackling this role?
The character was so well written that I didn't look into bringing additional theatrics. I try to become the character by reading and rereading aloud his dialogues tirelessly, until there is something that emerges and guides me. I fully rehearse the text once a day for a month and a half. After a while, when you have read it 300 times, the text becomes your words, you don't think about it anymore. You can quickly see that you are dealing with a man that has a certain gift of speech, a charmer. He enjoys his time with his students although he's an authority figure at the same time. The trap to avoid is missing the actual truth of such a colorful character. Steam is the kind of guy who is always performing, playing, lying. So it is necessary to be vigilant, the viewer should not hear only his words. It is the truth of the character that the viewer is seeking … even if he is always overplaying.
What are the qualities of Yves Hanchar?
He brings you into the unusual world of his imagination. The themes of all of his films are very original. There is a quote by Radiguet, which defines Yves Hanchar very well: "Originality consists of trying to be like everyone else and failing."