Special 20th Anniversary Screening Event
Saturday, March 31st 7:00p.m.
Hard to believe that it has been twenty years now
since French director Jean-Paul Rappeneau participated in the 1st French Film Festival.
Directors and actors participated during the first three years of the Festival
by teleconferences which were held after the screenings.
Since that first Festival when "Cyrano de Bergerac" was screened,
other films of Jean-Paul Rappeneau have been programmed at the Byrd Theatre during the Festival
In honor of the first French director who participated in the Festival,
the Byrd Theatre, the French Ministry of Foreign Affairs – Cultural Services, the French Embassy in Washington and the Institut Français – Cinéma present this special 20th Festival anniversary free screening of French cinema's classic blockbuster:

"Cyrano de Bergerac"
and welcome to Richmond French director Jean-Paul Rappeneau

Donations to the Byrd Theatre Foundation can be made in the lobby following the screening
Synopsis
The extremely sharp-witted and articulate young officer Cyrano de Bergerac is hopelessly in love with his cousin Roxane. Yet his love remains undeclared, for he is convinced that she will reject him because of his unusually prominent nose. Instead, Cyrano expresses his love for Roxane anonymously by crafting beautiful love poems on behalf of his shy but handsome friend Christian, who also happens to be in love with her. Roxane becomes smitten with the author of the poems, whom she believes is Christian, though she has unwittingly fallen in love with Cyrano himself.
Cast & Crew

Director : Jean-Paul Rappeneau
Screenwriter : Jean-Paul Rappeneau and Jean-Claude Carrière
Starring : Gérard Depardieu, Anne Brochet, Vincent Perez, Jacques Weber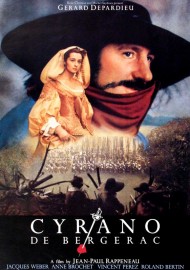 Schedule & Presentation

Presentation by and discussion with director Jean-Paul Rappeneau

Saturday, March 31 – 7:00 p.m at the Byrd Theater ~

2h15 ~ General Audience
More informations
Pictures
Filmography
Choose a picture to see the filmography (source : IMDB)