en français | time schedule | feature films | short films | program [PDF]
2011 Festival Short Films (March 24-27)
---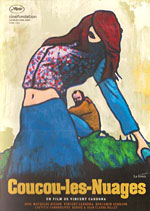 Director Vincent Cardona presents Coucou-les-Nuages
director Vincent Cardona starring Mathilde Bisson, Vincent Cardona, Tanya Drouginska, Benjamin Georjon, Laëtitia Camboulives running time 37 min
general audience
Synopsis
Frida is in love with Hans, but he only dreams about one thing: travelling in space. He believes that he has found a way to do it. Read more
---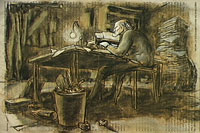 Director Julien Dexant presents Ego Sum Petrus
director/screenwriter Julien Dexant running time 5 min general audience
Synopsis
Petrus, an old poet, lives in the "poetry shop" he closed a long time ago due to a lack of customers. Reclusive, he is attached to his typewriter in a dark and filthy room. But bitterness and hatred have paralyzed his inspiration. The poor man looks in vain for an idea that could boost his creativity, but the failed poems pile up around him and threaten to overwhelm him. Read more
---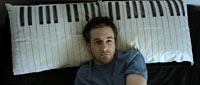 Director Olivier Treiner presents L'Accordeur
director/screenwriter Olivier Treiner starring Grégoire Leprince-Ringuet, Grégory Gadebois, Danièle Lebrun running time 13 min general audience
Synopsis
Adrien is a young piano prodigy. However, after failing in an international competition, he suffers a psychological collapse and now works as a piano tuner. As a cure for his hollow life, he schemes up the idea of being blind in order to get more customers. This trick revives Adrien's passion for music. But seeing things he should not see makes Adrien fall into his own trap when his lie leads him to witness a murder. Read more
---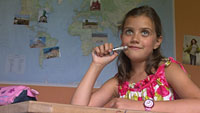 Director Marc-Etienne Schwartz presents L'Incroyable Voyage de Margaux
director/screenwriter Marc-Etienne Schwartz starring Mathias Mlekuz, Nadia Fossier, Margaux Montaldier, Florent Chesné
running time 20 min general audience
Synopsis
Margaux, a 7-year-old girl, dearly loves Ticky, her golden retriever. But the dog falls ill and dies prematurely. Christian, Margaux's father, does not know how to break the news to his daughter and comes up with a plan to allow Ticky to remain alive in his daughter's heart. Read more
---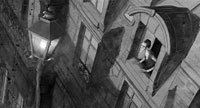 Director of photography Sara Sponga presents Le Concile lunatique
directors/screenwriters Christophe Gautry, Arnaud Demuynck director of photography Sara Sponga running time 13 min
general audience
Synopsis
A young man opens the window of his attic room and discovers a lunar landscape which submerges him and threatens to imprison him in an eternal sheet of ice. He closes the window to escape this vision and hears from deep inside his soul the sound of a poem being sung. "Methinks it is time to be reborn mocking," he calls out to a singing streetlamp that has come up to his window.
This short is part of a collection of movies dedicated to French romantic poets from the 19th century. Like La Vita nuova for Gérard de Nerval and Un spectacle interrompu for Stéphane Mallarmé, Le Concile lunatique is a cinematographic palimpsest directly inspired by the work and life of Jules Laforgue. Read more
---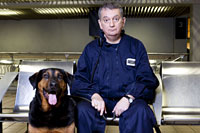 Director Vincent Mariette presents Le Meilleur Ami de l'homme
Director/screenwriter Vincent Mariette
starring Jules-Edouard Moustic, Noémie Lvovsky, Christophe Vandevelde, Nicholas Maury running time 13 min general audience
Synopsis
Henri, a 40-year-old burnout, works as a canine security guard in a suburban train station. One day, his boss tells him he will have to get rid of his only friend, Oedipus, his narcoleptic old Rottweiler. Unable to go through with it, Henri seeks comfort in a beer at the Bistrot de la Gare, the train station bar, and may find the solution to keep his four-legged friend. Read more
---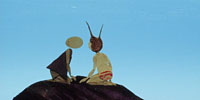 Director Violaine Lécuyer presents Le Sans-Nom
director/screenwritter Violaine Lecuyer producers Yves Smadja, Bruno Nahon
editors Olivier Gillon, Barthélemy Péron sound editor Jean Mallet special effects Barthélemy Péron running time 13 min general audience
Synopsis
A young boy, the nameless, lives apart from the world, in a place he helped to create, both protected and shut in. One day, aroused by sounds and images from the outside, he decides to leave and explore the world. He has to face the wrath of his abandoned creation and his fear of the unknown. He then encounters a young girl. Read more
---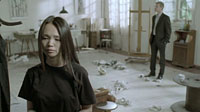 French director of photography Benoît Mars presents Les Larmes de la luciole
director/screenwriter Antoine Mocquet
starring Momoko Fructus, Manuel Pirès, Luc Antoni, Maguy Fournereau, Franck Neckebrock, David Ctiborsky running time 16 min general audience
Synopsis
Lei has lost her inspiration. One evening, she visited an old friend, a tattoo artist, to re-color the picture of a bud she wears on her forearm. Back in her studio, while she is looking for a new texture of ink, a few drops of blood fall from the tattoo and mingle with the black on the canvas. Inspiration comes back! As her paintings get more and more illuminated, larger and larger, Lei becomes slimmer and slimmer, paler and paler. Read more
---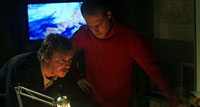 Director Samuel Tilman presents Nuit blanche
director/screenwriter Samuel Tilman
starring Alain Eloy, Myriem Akeddiou, Corenthin Lobet running time 20 min general audience
Synopsis
As night is falling, a group of mountain climbers is trapped at the top of the mountain by a storm. Leading them is Ariane, a young woman. A rescue patrol goes out after them. While waiting for the patrol to arrive, their only lifeline is a state policeman, Serge, who tries over the phone to reassure them and help them fight the cold. But the storm does not subside and Serge gradually realizes that he might not be able to help them to survive through the night. Read more
---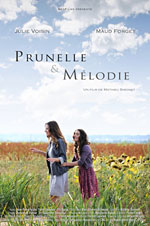 Director Mathieu Simonet, producer Marc-Etienne Schwartz, actresses Julie Voisin and Maud Forget, actor Olli Barbé, and still photographer Matthieu Normand present Prunelle & Mélodie
director/screenwriter Mathieu Simonet producer Marc-Etienne Schwartz starring Julie Voisin, Maud Forget, and Olli Barbé director of photography Christophe Pottier
still photographer Matthieu Normand running time 34 min general audience
Synopsis
Prunelle is blind, Mélodie deaf and mute. These two women become friends in an education center, which is meant to facilitate their adaption to daily life. Having created a system which permits them to communicate with each other, one day they share a common dream: to join a world where their handicap is no longer one. Determined to live out their great escape,
they must tap into their ingenuity to realize their dream… Read more
---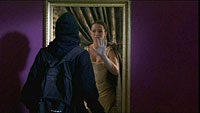 Director Charlotte Michel presents Son esquisse
director Charlotte Michel starring Benjamin Abitan, Anaïs Tellenne, Florent Cheippe, Alain Debruyne running time 11 min
general audience
Synopsis
The portrait of a young woman of the 19th century falls in love with an art student and, while escaping with him, takes out of his routine a very Cartesian police inspector. Read more
---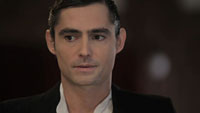 Director Yzabel Dzìsky presents Un jour sans
director Yzabel Dzìsky screenwriters Yzabel Dzìsky, Jean-Yves Proverbio starring Nicolas Herman, Artus de Penguern, Julie Bargeton, Yor, Sylvain Frydman, Pierre-Yves Touzot running time 9 min general audience
Synopsis
Fine Arts Academy in Vienna, 1908. Members of a jury having gotten a little tipsy over their lunch are making fun of the first candidate, who looks innocent and anxious.
All is at stake for him now. ...
All is at stake for the Future at this moment.