en français | time schedule | feature films | short films | program [PDF]
2011 Festival Feature Films (March 24-27)
---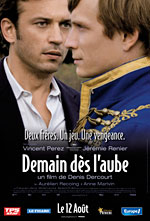 French actor Aurélien Recoing presents Demain dès l'aube
director Denis Dercourt screenplay Denis Dercourt, Jacques Sotty starring Vincent Perez, Jérémie Rénier, Aurélien Recoing, Anne Marivin running time 1 h 40 min
general audience
Synopsis
A story about the relationship between two brothers … the younger is obsessed with historic battles to the point of being cut off from reality and only existing through role-playing games re-enacting the Napoleonic period. Mathieu, the older, following his mother's request, tries to entice Paul away from this mysterious and secret world where the border between game and reality doesn't always exist. To do so, he has no other choice than to also enter into the game. Read more
---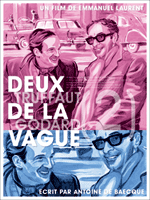 French director Emmanuel Laurent presents Deux de la Vague
director Emmanuel Laurent screenplay Antoine De Baecque starring Islid Le Besco
running time 1 h 30 min general audience
Synopsis
Deux de la Vague is the story of a friendship. It's 1950, Jean-Luc Godard is 20 years old, François Truffaut two years younger. Their love of cinema brings them together. Soon, they go to the same film clubs, write for the same reviews, Les Cahiers du Cinéma and Arts. When Truffaut becomes a filmmaker, with The 400 Blows, which triumphs at Cannes in 1959, he helps his older friend make the shift into directing by offering him a screenplay with the title of Breathless.
Throughout the 1960s, they stick together. Between them, actor Jean-Pierre Léaud is like a child loved in a different way by two older brothers. Then, he's torn apart, as though his parents have split up. Politics is what separates the two friends. Around 1968, Godard gets involved in the social upheaval rocking France and starts making militant films, whereas Truffaut continues to pursue his own filmmaking path, someway, somehow, no matter the cost. Their breakup is violent and heart-wrenching.
Read more
---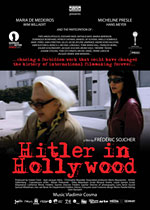 Director Frédéric Sojcher presents Hitler à Hollywood
director Frédéric Sojcher screenplay Renaud Andris, Lionel Samain starring Maria de Medeiros, Micheline Presle, Wim Willaert, Hans Meyer
running time 1 h 26 min general audience
Synopsis
In this movie, Pulp Fiction actress Maria de Medeiros presents herself as the director of a documentary paying homage to another actress whom she admires, Micheline Presle, whose career started in the early 1930s. Evoking the renowned filmmakers with whom she worked, Micheline Presle mentions Luis Aramcheck, who directed her in 1939. Maria tries to track the mysterious director and in doing so is unaware that she may be putting her life in danger. The fragments of one of Aramcheck's films, missing since the Second World War, launch de Madeiros on the trail of a forbidden work that could have changed the history of international filmmaking forever, Hitler à Hollywood. Using the form of a treasure hunt, Hitler à Hollywood is a thriller that blends archives and recomposed images, true or false interviews and action scenes. Read more
---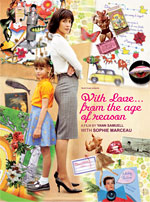 French actress Juliette Chappey presents L'Âge de raison
director Yann Samuell screenplay Yann Samuell
starring Sophie Marceau, Juliette Chappey, Marton Csokas, Michel Duchaussoy, Jonathan Zaccaï, Thierry Hancisse
running time 1 h 37 min general audience
Synopsis
"Dear Me,
Today I'm 7 years old and I am writing you this letter to help you remember the promises that I've made during the Age of Reason and to also remind you that I want to become ..."
So begins the letter that Margaret, an accomplished businesswoman, receives on her 40th birthday. Read more
---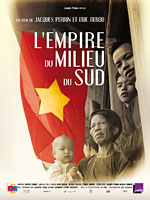 French director Jacques Perrin and production manager Olli Barbé present L'Empire du Milieu du Sud
directors Jacques Perrin, Eric Deroo
executive producers Jacques Perrin, Nicolas Dumont
production manager Olli Barbé
running time 1 h 26 min general audience
Synopsis
Using images of unreleased archives about Vietnam coming from all parts of the world, accompanied by literary texts of Vietnamese (Nguyen Trai, Nguyen Du, Bao Ninh), French (André Malraux, Albert de Pouvourville, Marguerite Duras, Pierre Schoendoerffer) and Americans, Jacques Perrin and Eric Deroo retrace the fascinating and painful story of Vietnam, from the French colonization to the fall of Saigon.
Coming from the south of China thousands of years ago, the Vietnamese have not ceased fighting against invaders from neighboring regions. As subjects of the Empire du Milieu du Sud, the Vietnamese people have continuously claimed their legitimacy over the northern Delta and then the entire long peninsula, while expelling their successive Western invaders. Read more
---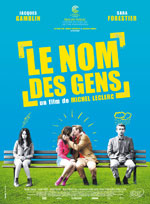 French cinematographer Vincent Mathias presents Le Nom des gens
director Michel Leclerc cinematographer Vincent Mathias screenplay Michel Leclerc, Baya Kasmi starring Jacques Gamblin, Sara Forestier, Zinedine Soualem, Carole Franck, Jacques Boudet, Michèle Moretti
running time 1 h 44 min parental guidance
Synopsis
Young extrovert Bahia Benmahmoud lives by this classic motto: "Make love, not war." In order to convert them to her cause, she sleeps with her political enemies — which means a lot of men, because every conservative is her enemy. So far, she has gotten good results. That is, until she meets Arthur Martin, a 40-something, unassuming man and skilled at avoiding risks. She figures that with such a common name (Arthur Martin is a brand of stove), he is bound to be a real conservative and thus hard to convert. Yet, names are treacherous and things are not always what they seem. Bahia and Arthur are as different as two people can be, but when they fall in love, sparks fly. Read more
---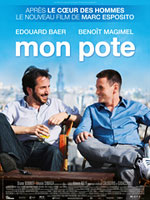 Festival directors present Mon Pote
director Marc Esposito screenplay Marc Esposito, Jean-Luc Levesque starring Édouard Baer, Benoît Magimel, Diane Bonnot, Léonie Simaga, Atmen Kelif, Riton Liebman, Albane Duterc, Lucie Phan, Françoise Michaud, Solo, Jean-Michel Lahmi, Rémi Martin, Alexandre Le Provost, Julien Hérichon running time 1 h 45 min general audience
Synopsis
Victor is the editor of an automobile magazine. One day, he is invited to talk about his work at a local prison. After the talk, one of the prisoners slides a letter in his pocket. His name is Bruno; he is a former robber and a recidivist. He is a fan of Victor's magazine and asks for a job as part of the work release program. He would spend the day at the office, the night in prison. Victor accepts. A friendship develops between the two men: The story line, taken from a true event, is about a second chance and a common passion. Read more
---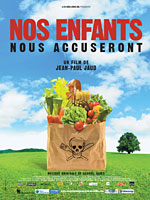 French director Jean-Paul Jaud presents Nos enfants nous accuseront
director Jean-Paul Jaud assistant director Georges Gonner executive producer Béatrice Camurat Jaud
screenplay Jean-Paul Jaud directors of photography Jöel Pierron, Ammar Arhab editor Isabell Szumny
sound engineer Eric Münch
running time 1 h 47 min general audience
Synopsis
In Europe every year, 100,000 children die of diseases caused by the environment. Seventy percent of cancers are linked to the environment, 30 percent to pollution and 40 percent to food. Cases of cancer in children have been increasing by 1.1 percent yearly for 30 years. In France, the number of cancers in males has increased by 93 percent in 25 years.
In a little French community at the foot of the Cévennes Mountains, the mayor has decided to take a stance by making the school canteen organic. Here, as they are everywhere, people are faced with the anxiety of the dangers of industrial and agro-chemical pollution. It is the start of a fight against a process that could become irreversible, a fight to stop our children from accusing us in the future. Read more
---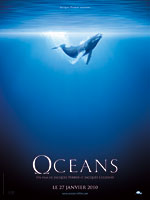 French director Jacques Perrin, production manager Olli Barbé and still photographer Mathieu Simonet present Océans
directors Jacques Perrin, Jacques Cluzaud
screenplay Jacques Perrin, Jacques Cluzaud, John Collee production manager Olli Barbé still photography Mathieu Simonet
running time 1 h 43 min general audience
Synopsis
Swirling along at 10 knots an hour in a school of hunting tuna fish, leaping with dolphins in their unruly contortions, swimming shoulder to fin with the great white shark … Oceans is to be a fish among fishes.
After Winged Migration, Jacques Perrin and Jacques Cluzaud, with groundbreaking filming resources, lead us into the heart of the oceans to discover unknown or unrecognized marine creatures. Oceans queries the impact of the human footprint on wildlife and replies to the question "Ocean? What is the ocean?" through images and emotions. Read more
---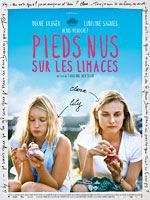 French director Fabienne Berthaud presents Pieds nus sur les limaces
director Fabienne Berthaud screenplay Fabienne Berthaud, Pascal Arnold starring Diane Kruger, Ludivine Sagnier, Denis Menochet, Brigitte Catillion, Jacques Spiesser, Anne Benoît
running time 1 h 48 min parental guidance
Synopsis
Lily is like no other girl. She lives in a whimsical world in harmony with nature in the middle of the countryside at her mother's house. Her elder sister, Clara, is married to a young lawyer who has a bright future; she lives and works in a big city far from home. When their mother dies, Clara must turn her life upside down in order to take care of Lily. Influenced by her sister, Clara starts questioning her own life values and enjoying a new freedom. Read more
---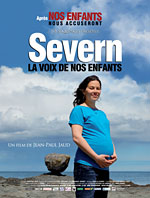 French director Jean-Paul Jaud presents Severn, la voix de nos enfants
director Jean-Paul Jaud screenplay Jean-Paul Jaud
voice Jean-Paul Jaud executive producers Béatrice Camurat Jaud, Lucile Moura director of photography Cyril Thépenier sound engineer Emmanuel Guionet
running time 2 h general audience
Synopsis
At the Rio de Janeiro International Earth Summit in 1992, for the first time in history, a 12-year-old child stood up and questioned those responsible for taking care of our planet. Our actions do not reflect our words: Planet Earth is still in the same state today, and Severn, now an adult, is expecting her first child. She once again takes the floor, explaining that although the situation is urgent, there is still time to make a change.
In this emotional documentary filled with hope, Severn stands as a reference for those who, from Canada to Japan and France, are taking concrete and positive action to respect biodiversity. Read more
---